What is the best outboard motor?
That's a tricky question if you ask for recommendations of the best outboard motors without any specific background information.
There is no outboard motor solution that suits all.
But no worries. Here we prepared an ultimate guide for you with the most important things to consider during purchase and the most practical tips to help you easily select the best outboard motors.
Are you in a hurry and want a quick decision?
Check out our list of the most reliable outboard motors that are recommended by hundreds and thousands of happy users worldwide (with reviews, videos, and test reports in real life).
What comes after your purchase?
We understand the possible anxiety if you are a new outboard owner. That's why we also include many useful resources in this post, including the outboard maintenance tips.
Now let's get into the journey of discovering the best outboard motor for your needs.
Table of content:
Editor's Note: In this post, we are talking about the best electric outboard motors only since they are the industry trends with unbeatable advantages over their combustion counterparts.
If you want the best outboard motors with a premium boating experience, going electric will definitely save you a lot of trouble (Click to learn more about electric vs petrol outboards).
Best Outboard Motor Buying Guide
Selecting the best outboard motors from the endless brands on the market can be painful.
It seems that reviews for major outboard players are all hit or miss, making it hard for you to make the final decision.
Below are the top 5 factors you should consider to help you select the best outboard motor according to your specific needs.
#1. Customer Service
It can be a surprising fact that customer service can be a deciding factor for the best outboard motors. This is especially important if you are a first-time owner of an outboard motor who might need help local to you.
I put it first since its importance is so underrated that many people get frustrated with how little help they can get from that brand.
Basically, if you can't get service and support for a brand within 400 miles of you, then it is not a good choice. Remember to check the dealer map of any specific brand to make sure you can get someone who can work on the outboard motors close to you.
Note: Remember to check out and compare the accessibility between different outboard motor brands. Some popular models can be sold out quickly.
#2. Performance
The best outboard motor can always bring the top performance and best boating experiences.
If you've researched around and compared the specifications carefully, you may notice some difference in the outboard performance even with outboards in the same power range. And the difference can make a difference in real-world applications.
Therefore, you will have a much higher chance of getting the best outboard motor that lives up to your expectations with some test reports from the existing users.
Besides that, don't forget to check out the authentic reviews from customers before deciding on the best outboard motor for your boat. For example, here is a comparison video from an avid outboard motor lover Anthony Jones:
You may search for any specific outboard motor brand you desire to see if anyone has done similar comparisons for more insights.
#3. Efficiency
For the best electric outboard motor, battery efficiency comes as a top priority since it decides the runtime and range of the outboard.
However, there is no need to worry about efficiency if you choose the battery wisely.
With today's technology, the LiFePO4 battery allows you to have about 50% more useable electrical capacity with up to 70% less weight than lead-acid batteries, making the best outboard motor highly efficient in energy use.
To give you a picture of how the best outboard motor performs with a typical LiFePO4 battery, here is an example from the ePropulsion E175 battery:
You can get 90 minutes of runtime with a speed of 15 mph when testing with a 9.9 HP ePropulsion Navy 6.0 outboard motor on a 12-foot aluminum boat.
#4. Reliability
Reliability is one of the most prominent concerns for outboard motor users. No one wants to waste time on repairing and maintenance issues.
If you want to select the best outboard motor with high reliability, always choose electric motors if possible due to their simplicity in design and operation, reducing tons of trouble and potential risks for repair and maintenance.
Some electric outboard motors feature brushless and direct drive motors to further minimize internal moving parts, improving their reliability.
If you are looking for the best outboard motor for saltwater, a high level of corrosion resistance is a must for the best and durable outboard.
#5. Price
The price can be a deal breaker. The best outboard motor for you should be the best in quality within your budget.
It seems to be a no-brainer tip to compare prices before purchase. However, the price tag or initial investment is not the only thing you need to care about. You also need to consider the maintenance and other possible costs for future use, including getting the engine repaired in a proper repair shop if something goes wrong.
In that sense, the extended warranty is also an indicator of the best outboard motor. Generally, outboard motors are backed up with a one-year, two-year, or three-year extended warranty. With other factors being the same, always choose the outboard motor brand offering the best warranty policies.
Best Outboard Motors Recommendations
If you want a quick recommendation on the best outboard motors, check out the models below that are most popular among industrial and recreational boating users worldwide.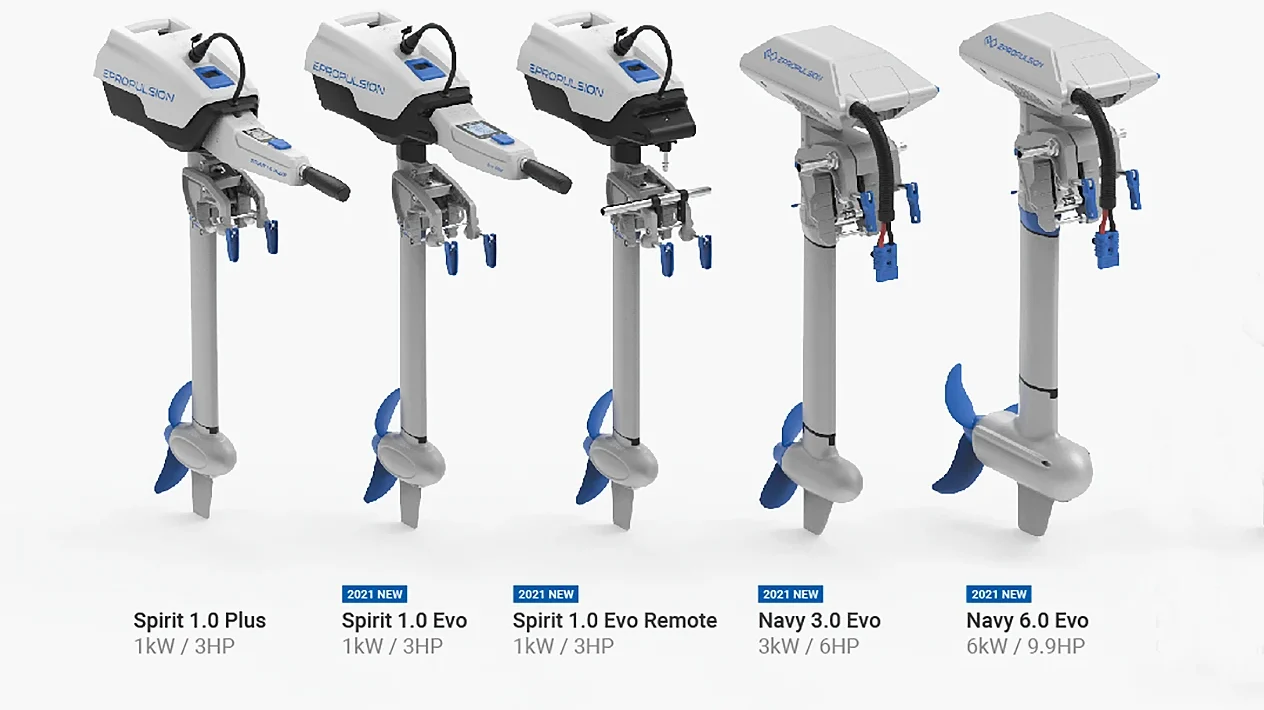 Note: All the listed options are freshwater and saltwater applicable with an advanced corrosion-resistant design. So there are no worries about using them in the sea or brackish waters.
Backed by 3 year extended warranty and a global dealer network, you will be covered if there is anything wrong with the recommended motors.
If you are looking for the best small outboard motor, be sure to check out Spirit 1.0 Plus, a 3 HP electric outboard motor designed for portability and easy maneuverability with less cost.
This outboard motor features a lightweight and highly efficient battery that's integrated into the outboard. It's easy to install, remove, and transport, making it the best option for small boats.
According to our test with a 12-foot aluminum boat, you can get 75 minutes of runtime at its top speed of 6.2 mph (10 kph) in full throttle. That gives you a total range of 7.8 miles (12.5 km). Or you can go fishing all day long at trolling speed.
| | | | |
| --- | --- | --- | --- |
| Power (W) | Speed (mph / kph) | Runtime (hh:mm) | Range (mile / km) |
| 35 | 2.2 / 3.5 | 36:25 | 80 / 129 |
| 65 | 2.7 / 4.3 | 19:35 | 53 / 85.3 |
| 125 | 3.5 / 5.6 | 10:00 | 35 / 56 |
| 250 | 4.4 / 7.1 | 5:00 | 22 / 35.5 |
| 500 | 5.3 / 8.5 | 2:30 | 13.3 / 21.3 |
| 750 | 5.7 / 9.2 | 1:40 | 9.5 / 15.3 |
| 1000 | 6.2 / 10 | 1:15 | 7.8 / 12.5 |
The data in this chart is just for reference and can vary in different boats, weather, load, etc. Check out more test reports of this Spirit 1.0 Plus on various boats and boating situations: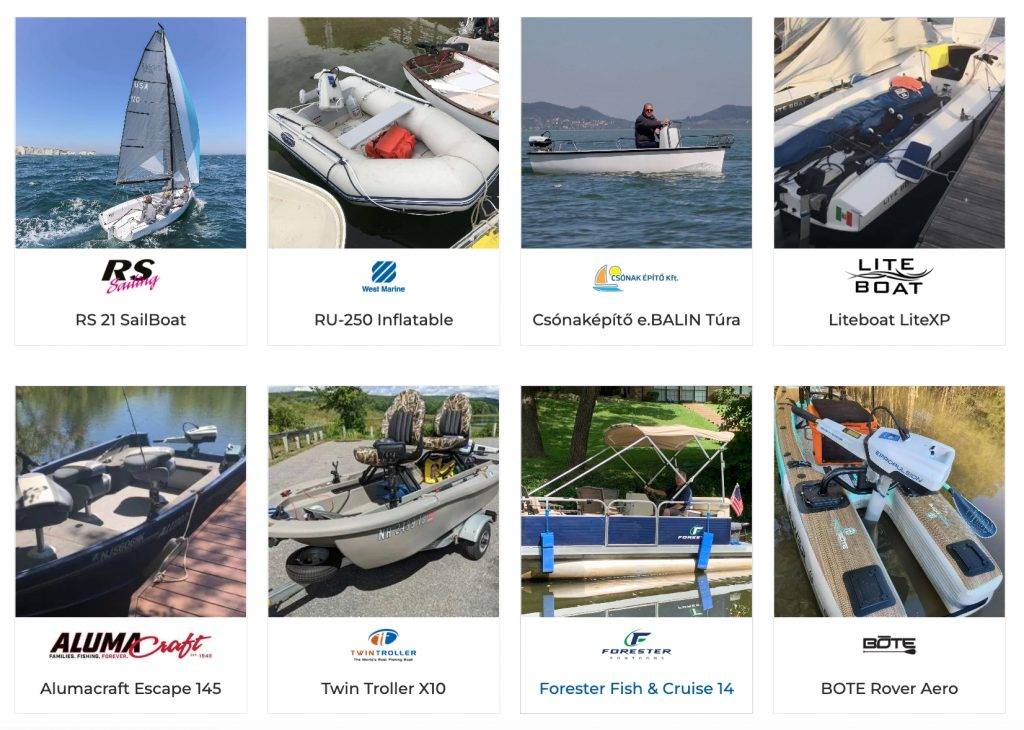 Customer Review:
"Not long before this, the ePropulsion did a great job pushing Catalina18 out of the marina with waves and a headwind, approx 15knots." (Marek Wakulczyk)
Also check out the full test and hands-on review from Sailing Fair Isle to learn more about this small outboard motor:
If you want more juice for your aluminum fishing boats, dinghies, daysailers or cruising sailboats, the 6 HP Navy 3.0 would be a better choice.
Thanks to its direct drive technology, this 6 HP outboard motor is super quiet, basically maintenance-free, and highly reliable, even with higher power output.
That's because direct drive means an amazingly simple and reliable structure with much fewer parts with no cylinder, no oil pump, and no carburetor, making it much less prone to mechanical issues and related maintenance.
Besides that, this 6 HP outboard motor gives impressive performance and range for your daily fishing or boating needs. For example, if you use this outboard motor on a 12-foot aluminum boat with one person onboard and one E80 battery, you will get 21.2 miles at a speed of 5.3 mph.
| | | | |
| --- | --- | --- | --- |
| Power (Watt) | Speed (mph / kph) | Running Time (hh:mm) | Range (mile / km) |
| 300 | 3.7 / 6 | 13:20 | 49.3 / 79.3 |
| 550 | 4.7 / 7.5 | 7:25 | 35 / 56.3 |
| 1000 | 5.3 / 8.6 | 4:00 | 21.2 / 34.1 |
| 1500 | 6 / 9.7 | 2:40 | 16 / 25.7 |
| 2000 | 6.3 / 10.2 | 2:00 | 12.6 / 20.4 |
| 2500 | 8 / 12.8 | 1:35 | 12.7 / 20.5 |
| 3000 | 10.2 / 16.4 | 1:20 | 13.6 / 21.9 |
For its performance on other popular types of boats, check out the respective test report:
Customer Review:
"ePropulsion has been a pleasure to deal with as I had many questions as I became familiar with the system. Nothing but good things to say about the design and performance of the Navy outboard and the positive experience I've had with ePropulsion as a company thus far." (Anthony Jones)
Here is also a test video from Anthony Jones to help you get a better understanding of this outboard motor:
9.9 HP is also a popular choice for boaters since it avoids boat registration which is required for outboard motors larger than 10 HP. Also, some inland water has motor restrictions "under 10HP" only.
The Navy 6.0 can be your best option for whatever reason you are going for the 9.9 HP outboard motor. This outboard engine inherits all the benefits of Navy 3.0 with a higher power to provide faster speed and longer range.
Check out the performance chart of this reliable 9.9 HP outboard motor (on the same 12-foot aluminum boat paired with a single E175 battery):
| | | | |
| --- | --- | --- | --- |
| Power (Watt) | Speed (mph / kph) | Running Time (hh:mm) | Range (mile / km) |
| 500 | 4 / 6.5 | 18:00 | 72 / 116 |
| 1000 | 5 / 8 | 9:00 | 45 / 72 |
| 2000 | 6.7 / 10.8 | 4:30 | 30.2 / 48.6 |
| 3000 | 8 / 13 | 3:00 | 24 / 39 |
| 4000 | 11.5 / 18.5 | 2:15 | 25.9 / 41.7 |
| 5000 | 13.5 / 21.8 | 1:50 | 24.7 / 39.8 |
| 6000 | 15 / 24.3 | 1:30 | 22.5 / 36.5 |
Are you an owner of a sailboat or other types of boat? No worries. We've prepared the test report on various boat models, trying to offer some close reference on the performance on your boat.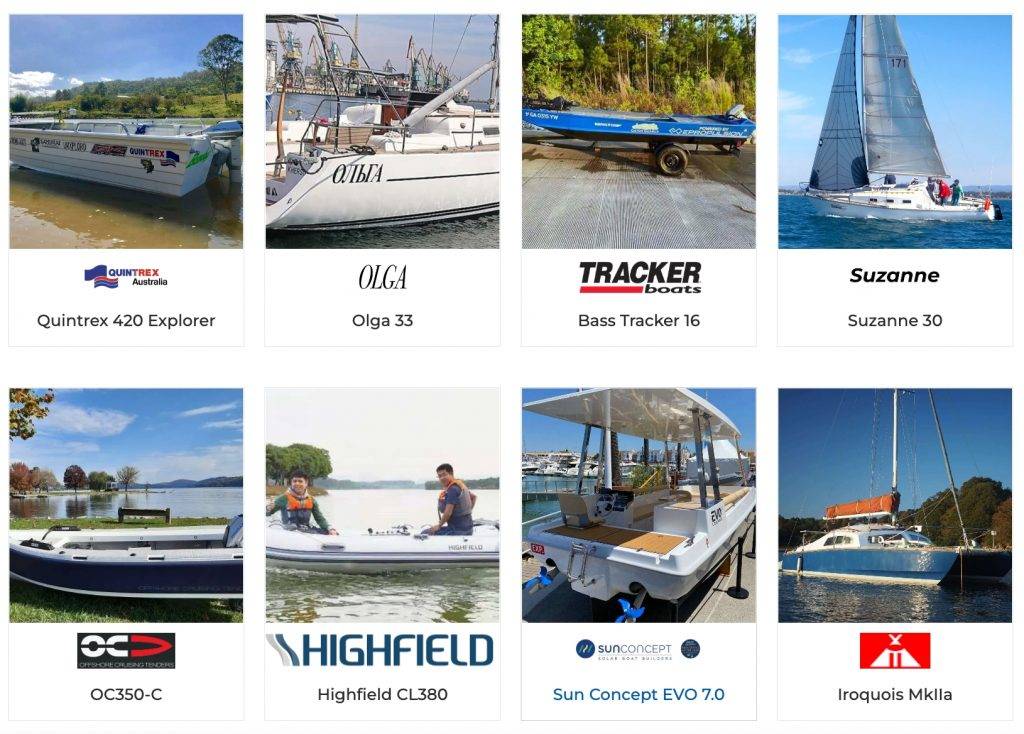 Customer Review:
"I converted my boat from a Suzuki 15hp outboard to an ePropulsion 6kW (9.9 hp) outboard with remote control. The difference in enjoyment of the boat is massive! It now doesn't shake anymore. It doesn't stink anymore. And it is SUPER quiet… I can actually talk to my passenger now and hear what she says to me." (Mathijs de Vries)
Also check out the test video from Bass Brothers Fishing DMV, which covers the unboxing, installation, and unbiased review of this best outboard motor:
As you may have noticed, electric outboard motors are more popular for small boats with today's technology. If you want an electric solution for your boat with a higher power, it's advised to contact a specialist first to get a customized solution. Or you can leave your comment below and I will get back to you as soon as possible.
More Useful Resources
Have you made a decision on the best outboard motor? That's the first step to your pleasant journey on the boat. Here are some more resources to help you maintain the outboard motor properly and get the most out of your outboard motor:
FAQs
1. Who makes the best outboard motor?
There are a lot of outboard manufacturers in the market. The best outboard motor manufacturer will provide fast customer service with a global responsive support team and tend to offer extended warranty to show the motor reliability.
2. What's the best place to buy an outboard motor?
You can easily find the best outboard motor from the dealer closest to you listed on the dealer map. Just input your address and the nearby dealers will appear automatically with all the information you need, including the address, phone number, website, etc.