Can you put a motor on a dinghy? Some might ask if new to the dinghy motor world.
The answer is a definite YES.
Some manufacturers even sell the dinghy and motor packages to save the trouble selecting the best match for dinghies.
But if you already own a dinghy boat and have no idea how to select the best dinghy motor, this post could serve as a perfect starting guide.
We will break this guide down into 3 parts to help you with picking the right dinghy motor:
Whether you are looking for a dinghy motor for a compact roll-up, a rubber inflatable boat, a RIB, or any type of sailing dinghies, you'll find some useful information here.
Dinghy Motor Size: How Much Horsepower Do You Really Need
It's a quite commonly asked question that how much horsepower is enough for a dinghy motor.
When choosing an outboard motor for dinghy, it's not always true that the more horsepower the better, as the motor weight and installation process also play a big role to your boating experience.
To make things easy for you, here are a few simple steps to help you determine the right dinghy motor size:
#1. Refer to the Dinghy's Power Limit
Generally, you will find a CE plate on the dinghy boat that indicates the maximum number of adult persons, the max gross load, and the max size of dinghy motor (in horsepower) that your boat can legally carry.
However, it's not wise to go for the maximum limit, considering the motor weight and cost.
In fact, we would advise to go for the smallest dinghy motor that suits your needs, this will make using your boat or dinghy a much nice experience.
#2. Consider the Dinghy's Weight Limit
Also remember checking the weight limit on the CE plate when selecting an outboard motor for dinghy.
It will tell you how much weight is permitted including personnel, outboard motor and luggage in total.
For example, if you see something like "650 LBS. PERSONS, MOTORS", then you can calculate the dinghy motor weight you should be looking for when abstracting the persons' weight and gear weight onboard.
Lighter is easier, safer, and more fun. It's always better to minimize the dinghy motor weight especially if you only use the dinghy weekly or monthly and need to remove and store the outboard.
Best Dinghy Motors in 2021 (with Video Review & Performance Table)
If you are in a hurry, here are top 3 recommendations that could best suit your needs for a lightweight, reliable, and affordable dinghy motor: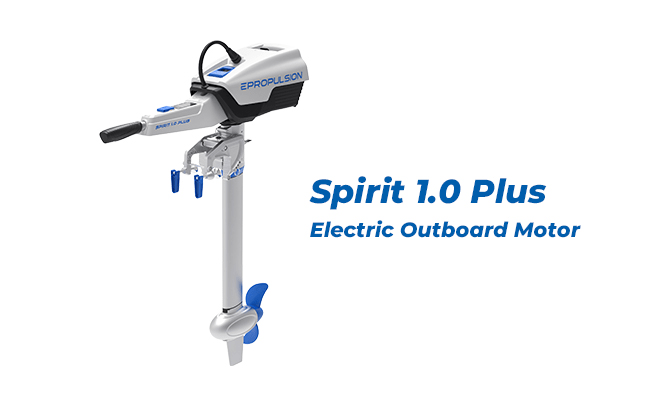 With 1 kw (3 hp) power, this motor is best for tenders, inflatable boats, and daysailers up to 1.5 tons. Here are some basic specs you may care about this portable dinghy motor:
| | |
| --- | --- |
| Motor weight | 23 – 24 lbs (depending on the shaft length) |
| Battery weight | 19.2 lbs |
| Battery capacity | 1276 Wh |
| Warranty | 2 years + 1 year warranty extension |
As for the performance of this dinghy motor, you may refer to its test ride tables to learn the estimated mileage, speed, and hours of battery in different types of boat and weather.
Here is the performance data when the Spirit 1.0 Plus is used on a small inflatable dinghy called a RU-250:
| | | | |
| --- | --- | --- | --- |
| Power (W) | Speed (mph/kph) | Runtime (hh:mm) | Range (mile/km) |
| 35 | 1.9/3.1 | 28:36 | 55.3/90.2 |
| 65 | 2/3.3 | 15:18 | 31.3/51.7 |
| 150 | 2.7/4.3 | 8:00 | 21.6/34.4 |
| 250 | 3.6/5.8 | 4:00 | 14.4/23.2 |
| 500 | 3.9/6.3 | 2:00 | 7.8/12.6 |
| 750 | 4.3/7 | 1:18 | 5.8/9.5 |
| 1000 | 4.5/7.3 | 1:00 | 4.5/7.3 |
According to the user's feedback, this 3 hp dinghy motor is also impressive in the following aspects that you will not want to miss out:
Removable & floating battery
Complete waterproof lithium battery system
Quick plug battery & charger
30% less than competitor's lithium battery cost
Remote control steering option
High torque dinghy motor
Direct-drive motor, zero maintenance for lifetime
If you are using it on a sailboat tender, check out the Spirit Evo with hydrogeneration capability. It allows the dinghy motor to charge itself while sailing or towing at speeds between 4 and 10 knots.
6 hp Powerful Dinghy Motor: Navy 3.0
This 6 hp dinghy motor is basically designed for small boats and sailboats up to 3 tons. With higher input power at 3 kw, it's a little heavier than the Spirit with larger battery capacity and powerful thrust.
| | |
| --- | --- |
| Motor weight | 47.8 – 49.6 lbs (shaft length differences) |
| Battery weight | 53 kg / 116.8 lbs (E80 battery) |
| Battery capacity | 4096 Wh |
| Warranty | 2 years |
You may also check out its comprehensive performances with the dinghy motor performance bulletin. Here is the data collected from a 14 ft boat for your reference:
| | | | |
| --- | --- | --- | --- |
| Power (W) | Speed (mph/kph) | Runtime (hh:mm) | Range (mile/km) |
| 35 | 2.8/4.5 | 30:00 | 84/135 |
| 65 | 4.3/6.9 | 6:00 | 25.7/41.4 |
| 150 | 5.3/8.5 | 3:00 | 15.8/25.5 |
| 250 | 5.8/9.3 | 2:00 | 11.6/18.6 |
| 500 | 6.2/10 | 1:30 | 9.3/15 |
| 750 | 6.9/11.1 | 1:12 | 8.3/13.3 |
| 1000 | 7.3/11.7 | 1:00 | 7.3/11.7 |
Besides from its outstanding performances in the water, this dinghy motor is also recommended for the following reasons:
The kill stop switch, IP67 ingress protection, and propeller collision emergency stop keep you safe on the water.
Low battery indicator and smart BMS system let you know the battery levels anytime.
Foldable tiller makes the dinghy motor convenient to use and carry around.
Compatible with 3rd party batteries.
Wireless and remote control option.
Suitable for freshwater and saltwater.
Comes with maximum output settings, children-friendly.
A simple electric dinghy motor review for Navy 3.0:
If you want even more juice for your dinghy boat, like having it to plane, check out our 10 hp dinghy motor Navy 6.0 which could drive the bass boats, RIBs and workboats up to 6 tons.
Top Things to Consider for Best Dinghy Outboards
To help you select the best dinghy outboard motors, let's quickly go through some vital information you need to know before making the final decision:
#1. Small & Portable
The dinghy motor weight matters a lot especially for small boats including the dinghies, canoe, kayak, inflatable boats, or RIBs.
The weight of a quality 3 hp dinghy outboard, taking ePropulsion Spirit Plus for example, is comparable to a trolling motor, with only 42.2 lb including the battery. So you don't need to purchase a separate battery from other manufacturer which adds up to the total weight and brings extra wiring trouble.
#2. Dinghy Motor's Performance
It is a common concern that the dinghy motor couldn't last long especially for the electric types. It is important to check out the top speed, runtime, and range of the dinghy electric motor to make sure it lives up to your expectations.
As the most popular model to be packed with dinghy boats, Spirit 1.0 Plus delivers impressive speed and runtime on small vessels:
| | | | |
| --- | --- | --- | --- |
| Performance | Speed (kmph/knot) | Range (km/nm) | Running Time (hh:mm) |
| Slow speed | 4.3/2.3 | 87.4/46.8 | 20:20 |
| Economical speed | 6.8/3.7 | 34/18.5 | 5:0 |
| Full speed | 9.4/5.1 | 11.8/ | 1:15 |
It means you can enjoy a round trip from the Statue of Liberty to New York Aquarium, with a single charge of the Spirit 1.0 Plus dinghy motor, continuously driving for 21 miles at economical speed.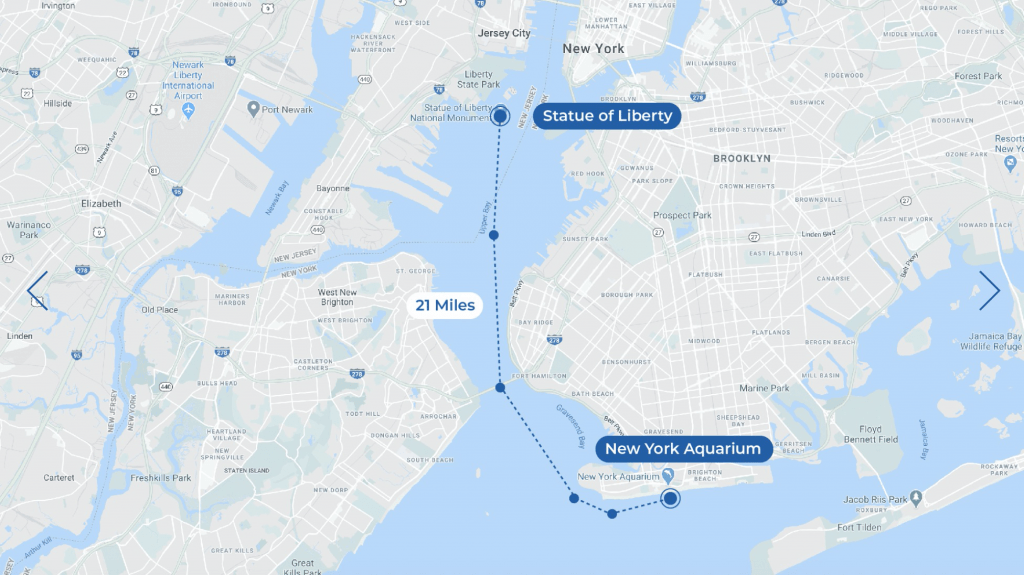 In fact, there are many factors that will affect the dinghy outboard's performance on water including the wind, the boat load. Some test ride data can help you to make a rough decision about the horsepower range you should be looking for.
You may also schedule a test ride with the local dealer so you can have a better understanding of how the electric dinghy motor could perform on your boat.
#3. Ergonomics & Tiller Style
It really comes down to the user experiences when deciding about the best dinghy outboards. Some user-friendly design can make a big difference in the real-world use:
Electric start: With electric dinghy motors, you can enjoy the comfort of electric start from 3 hp motor. It is easy to get going, just press the button and twist the throttle.
Digital display: The digital screen gives you access to the real-time speed, remaining runtime to the minute, and estimated miles left, so you can plan your trip accordingly.
Reverse gear: Reverse gear makes the boat much more maneuverable. Electric dinghy motors make reverse gear available for models under 5 hp.
Foldable tiller: The foldable tiller can save you a lot of trouble if you are going to remove the dinghy outboard when not in use.
Floating battery: The unsinkable battery is a useful add-on feature that makes it safe when it drops into the water.
Hydrogeneration: When your sailboat is towing the tender by wind, the dinghy outboard motor can collect the energy from the current, which can greatly extend the battery life of the dinghy motor.
#4. Dinghy Motor Price
If you have ever searched around, you might have noticed that there is a noticeable price gap between petrol and electric dinghy motors.
That's because there are many unbeatable advantages with a dinghy electric motor including the silent nature, clean transport, lightweight, digital display and more advance features. Anyone can immediately notice if they switch from gas outboards to electric ones.
It's reasonable that the prime experiences come at a cost.
Actually, you'll find the cost is well worth it and enjoy the benefit of less cost of ownership after several years of use.
See the cost for a 3 hp dinghy motor electric vs petrol in 500 service hours:
This calculation assumes you do the maintenance yourselves with only material cost. If you go to service center for maintenance, the price for gas dinghy motor will be even higher.
#5. Warranty & Dealer Backup
It is always important to purchase a dinghy outboard motor from a reliable manufacturer that understand the users' needs and is responsive to customers' requirements and issues.
Represented by dealers and distributors from over 50 countries worldwide, ePropulsion is delivering reliable products to customers with pro technical support and after sale services.
All ePropulsion outboards including the dinghy motors are guaranteed with 2 years warranty, so if there is anything, you are covered. What's more, you may register for an additional year warranty with eligible products including the best-selling 3hp Spirit 1.0 Plus.
#6. Quiet & Pleasant for Driving
One of the biggest advantages of electric dinghy motor is the quietness and pleasant for riding. With no internal combustion and minimum moving parts inside, no noise or smell will spoil your fun of any water activities.
It's worth mentioning that the FOC technology developed by ePropulsion further improves the smoothness of motor operation and reduces physical vibration, making the ePropulsion dinghy electric motors the quietest option in the industry.
Your Ideas About Dinghy Motors
Have any idea on the best dinghy motors for your boat? We can only offer some general rules in regarding to choosing the best dinghy motors, and which specific model to go will essentially decide on your preferences and your real-world applications.
If you are still confused or have more specific questions about the dinghy motors that are not covered in this post, feel free to leave us a comment and we will get back to you as soon as possible.
Lastly its always worth checking with your local dealer their experience with the local waters and electric propulsion for dinghy's will give you the best indication of the right motor for you.