Electric outboard motors have got a lot of attention these days: It is silent, clean, and maintenance-free with NO fuel or exhaust smells.
With the hype of high power electric outboard motors, it seems that the electric outboard motors now offer a viable alternative to combustion motors, making it a great option for many boats including kayaks, dinghies, canoe, inflatables, and sailboats.
But the electric outboard price might again put you in a dilemma.
Is the electric outboard motor worth the upfront investment? What's the range and runtime of electric outboards? What's the most powerful electric outboard motor available and affordable today?
In this post, we are going to walk through all information about the electric outboard motors for boats and help you select the best electric outboard that fits your needs.
Table of content:
Editor's Note: Electric outboard motors as well as other electric vehicles are measured by W (watts) instead of hp (horsepower). So if you are looking for a 3 HP electric outboard motor, it should be a 1000 W outboard that has an equivalent power of a 3 HP petrol motor.
In order to help you better understand the power range of electric outboard motors especially for those who are new to the electric motors, we will just use HP to describe the power of electric outboards in this post.
Electric Outboard Motors Are Not Trolling Motors
Before we get into depth, let's make it clear that here we are talking about electric outboard motors. Not trolling motors or electric start combustion outboards.
Unlike the trolling motors (measured in static thrust) that can only go at slow trolling speed, true electric outboard motors can provide much higher power: They are designed to be used as the primary power source.
Even small electric outboards, for example, the popular 3hp electric outboard motor, would be enough to power boats weighing up to 1.5 tons including dinghy boats, inflatables, and small sailboats, at a speed of 5 knots (conditions apply).
If you have no idea which one to choose between electric outboard motor and trolling motor (like the Minn Kota motors), check out our previous post for a detailed comparison.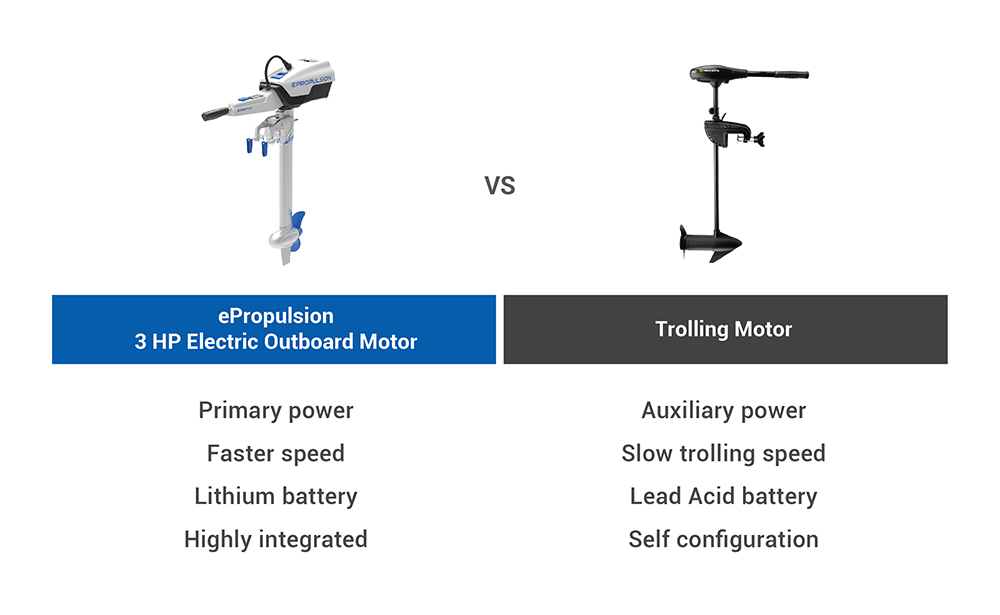 Electric Outboard Motor for Boat: What You Need to Know
The electric outboard motor is definitely appealing but the flooded information on the Internet could be overwhelming and get you lost especially if you are new to electric boating.
Here I have rounded up the top 5 frequently asked questions (with quick answers) so that you can easily decide whether to get an electric outboard motor for your boat.
Electric Outboard Motor Runtime & Range
Curious to know what sort of battery life and range the electric outboard motors get in a marine environment. "I don't want to run out of charge on the water."
This is the proverbial piece of string question.
The electric outboard motor runtime and range depend on how fast you run it, how heavy the boat is, how much tide is running in which direction, the battery charge state, the temperature… and more factors still.
Generally speaking, with the Spirit 1.0 Plus 3 hp electric outboard at half power you should get 13.3 miles or 21.3 km.
Most electric boat motors will allow you to adjust it to a slower speed for extra range and runtime. Plus you can always read the battery level/estimated range left on the screen, so you'll never get stuck.
Here is a table that shows the estimated range and runtime of the 9.9 hp electric outboard at different speed levels with a single charge of one battery.
Electric Outboard Motors Range, Runtime & Speed
| | | | |
| --- | --- | --- | --- |
| Power(W) | Speed(mph) | Runtime (hh:mm) | Range (mile) |
| 500 | 4 | 18:00 | 72 |
| 1000 | 5 | 9:00 | 45 |
| 2000 | 6.7 | 4:30 | 30.2 |
| 3000 | 8 | 3:00 | 24 |
| 4000 | 11.5 | 2:15 | 25.9 |
| 5000 | 13.5 | 1:50 | 24.7 |
| 6000 | 15 | 1:30 | 22.5 |
*Data collected from ePropulsion Navy 6.0 Evo electric outboard motor on a 12 ft aluminum boat (with exclusive ePropulsion E175 battery that's 8960 Wh) with one person on boat in calm lake water.
Check the full test report of the Navy 6.0 electric outboard motor.
Electric Outboard Motor Speed
So how fast are electric boat motors?
The max speed of electric outboard motors varies greatly between different boats and working environments. The higher power, the higher speed.
Below you will find a selection of real-world test reports using the ePropulsion Spirit 1.0 electric outboard motor in a selection of different styles of the boat.
| | | |
| --- | --- | --- |
| Boat Type | Max speed (mph) | Full Test Report |
| West Marine RU-250 Roll-Up Inflatable Boat | 4.5 | Report #1 |
| RS 21 Sailboat | 5.5 | Report #2 |
| Csónaképítő e.BALIN Túra | 6.2 | Report #3 |
| Liteboat LiteXP | 6.1 | Report #4 |
Want a higher power electric outboard to keep your boat at a higher speed?
It's still a great challenge for today's technology. Just as I mentioned above, the electric outboard motors need a large battery capacity to keep a high speed.
The amount of battery power needed to move a boat is like 10x more than a motor vehicle.
Let's say you can go at 5 knots with a 10 hp electric outboard motor. And if you want to speed up to 15 knots, you will probably need a 100 hp electric outboard, and that requires much more energy and battery than we can imagine and will cost a fortune.
That's why the electric outboard motors under 20hp (3hp/4hp/5hp/10hp motors) are still the mainstream in the consumer market.
Electric Outboard Motor Price
Electric outboards are interesting but I don't understand why they cost more than a petrol outboard.
Think about the challenges of battery size vs range in electric outboard motors:
The electric outboard boat motor needs a large battery capacity especially if you are planning for a long trip.
Given that the batteries have lower energy density compared to petrol and a boat is around 5 to 10 times less efficient in energy economy compared to a similar weight car, you'll need a lot of energy (i.e. batteries) stored on the electric outboard motor to push the boat along.
And the batteries are expensive.
Another reason is that the economies of scale have not kicked in yet within the industry although the electric outboard motors are getting more and more popular these days.
An exception:
Actually the 3 hp electric outboard motor outperforms the petrol outboard on price (and virtually any functionality you could care about for a boat outboard) if you take the maintenance fee ($180/year, if you dont service it you lose warranty) and fuel/electricity cost into account.
Take ePropulsion Spirit Plus, the 3 hp electric outboard motor with a built-in battery, for example:
That's to say, with electric outboard motor Spirit 1.0 Plus, it's only 3 years before the saving start. And as the service time increases, you could even save more.
So actually the electric outboard motors are a cost-effective option within a few years of use.
Notice: You might be in the market of the used electric outboard motor and looking for one during special sales or on the deals website. But it is not recommended to go this way as those electric outboard motors for sale might not guarantee your full warranty.
Electric Outboard Motor Battery Charging
The good news is that most electric outboard motors can be fully charged overnight. So it's convenient and won't impede your schedule.
Some reputable electric outboard motor manufacturers like ePropulsion also feature quick charging that can cut down the charging time in half.
Solar charging is also possible, you can discharge and charge the battery at the same time meaning you can extend the range of your boat on sunny days
Extra tip: If you are a sailing enthusiast, be sure to check out the electric outboard motors that come with hydrogeneration, like the ePropulsion Evo Series. It takes advantage of the wind energy to charge its batteries while sailing, so you can have extra power for an extended range of sailing or charging other facilities on board.
Check out how the hydrogeneration works on sailing with Captain Rick Moore (starting from 7:48).
Electric Outboard Motor Weight
The electric outboard motor and battery weight could be a concern, especially for the elderly. Boating is enjoyable, but lugging the heavy batteries over boggy ground to get to a boat in remote areas is definitely not tempting.
If you are looking for a portable electric outboard motor, consider the one with a built-in battery. The electric outboard motor with battery is easy to transport and could save you a lot of trouble.
Some electric outboard motor batteries can even float in the water so there is no need to worry about dropping it while installing the outboard.
Looking for a higher power electric outboard motor?
It will need standalone batteries to power the electric outboard. If you are going this way, we'd recommend looking at the E-Series LiFePO4 battery range.
The E-series electric outboard motor batteries offer a modular system from 2048 Wh to 8960 Wh. They are very affordable marine-grade batteries with a long lifespan.
Reasons to Go for Electric Outboard Motors
Are electric outboard motors any good?
The benefit of electric outboard motors is obvious to anglers and almost overwhelming to those who are looking for a premium boating experience.
Check out the top 4 reasons why hundreds of thousands of people go for electric outboards.
Silent. You will hear virtually nothing on board. There will be no disturbing noise to spook the fish. It's only you and nature.
Clean. There will be no greasy dirt to stain your hands, clothes, deck, and trunk during use and transportation if you get an electric outboard motor for the boat.
Less Maintenance. Thanks to direct-drive technology, the electric outboard motor has less moving parts, reducing the time and cost of regular maintenance.
Exhaust-free. There are no fuel or exhaust smells, so it protects the health of you and the families.
With more regions and lakes banning the use of combustion motors, electric outboard motors have become the only option for some anglers and boating enthusiasts. It is a new trend and could be the future of boating.
Electric outboard motors could also work as a secondary engine (kicker, auxiliary engine). A lot of users also find it helpful in emergencies if the main motor breaks.
Best Electric Outboard Motors in 2022
Having been toying with buying an electric outboard motor for a while but had no idea which outboard motor is the most reliable? What's the best electric outboard motor?
Here are top 2 recommendations trusted by dozens of thousands of users worldwide.
If you are looking for a reliable, affordable, and portable electric outboard motor for the dinghy, inflatable and fishing boats, sailboats, and tenders, the Spirit 1.0 Plus is your best choice.
This electric outboard motor with a built-in battery provides 3 hp equivalent horsepower and can go up to 22 miles at 4.5 mph, or keep running all day long at trolling speed.
Highlights:
Direct-drive motor, maintenance-free
1276Wh capacity for 4-hour economical speed runtime
Floating battery, you'll never lose it if it drops into the water
180W solar charging for extra charging
Lightweight (42lbs including the battery)
Folding tiller, easy to pack and carry the motor
Digital display, you'll always know the battery level, remaining runtime, etc
3 hours full recharge with quick charger
Designed for freshwater and saltwater
As an electric outboard motor for saltwater and freshwater, the Spirit is durable and efficient to be used in the lake, marine, and simply any kind of environment.
Check out how the Spirit performs in the water on this genuine electric outboard motor review:
For advanced hydrogeneration capacity, check out the Spirit 1.0 Evo. You will love it on sailing.
If you want a higher power electric outboard motor for dinghies, aluminum fishing boats, daysailers, and cruising sailboats, be sure to check out the ePropulsion Navy 6.0 outboard.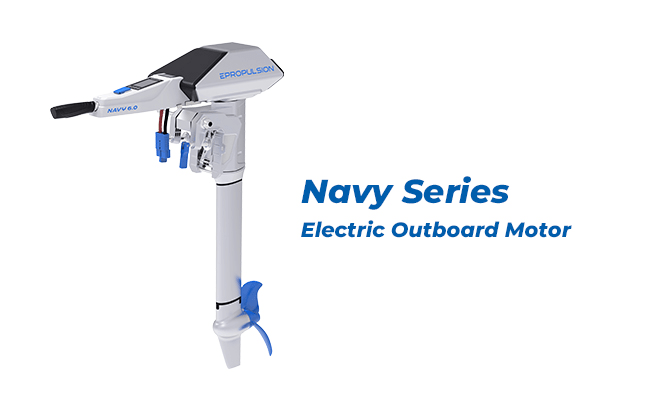 With this 6kw 9.9 (10) HP electric outboard motor, you can easily go 40 miles within one charge, or go fishing all day at trolling speed.
Highlights:
Customized E-Series electric outboard motor batteries
Compatible with 3rd party battery
Wireless control
The digital display informs you of the real-time operation status
Kill stop switch to keep you safe on board
Propeller collision emergency stop
Designed for freshwater and saltwater
Check out what users have to say about the Navy 6.0 electric outboard motor:
Want to learn more about the product and get advice on purchase? Fill in this quick form within 3 minutes, and we will get in touch shortly.
Hottest FAQs About Electric Outboard Motors
A single post could not answer all questions about the electric outboards. We've picked out the most frequently asked ones below with short answers.
If you have any further confusion about the electric outboard motors, leave them in the comment and we'll get back to you asap and add yours to the list.
#1. How rock proof are electric outboards?
The electric outboard motor blade is usually made of solid materials and ePropulsion motors feature propeller collision emergency stop
However, the rock or oyster bed could still possibly cause damage to the motor. If you are worried, you can always protect the outboard with some propeller guard.
#2. What is the most powerful electric outboard motor?
The most powerful electric outboard motor by far is 80 hp rated, and it is mostly for commercial use due to the high initial cost.
#3. What size electric outboard do I need?
To get the right size electric outboard motor, you need to consider the boat size (weight/length), boatload, your desired speed, and the boating environment, etc.
Generally speaking, a 1kw3hp electric outboard motor is enough to provide a satisfying speed and range for tenders, dinghies, and daysailers up to 1.5 tons, and 6kw10 hp electric outboard motor is for RIBs, fishing boats, and cruising sailboats up to 6 tons.
Electric Outboard Motor for Boat: Final Thoughts
With the unbeatable advantages like quietness, clean, exhaust-free, and the lower overall cost with a few years of use, electric outboard motors are gaining more popularity over time.
You will see more and more electric outboard motors for sailboats, kayak, canoe, and dinghy boats on sale and in use for the upcoming years, especially with the push of the government.
If you're interested but not sure what type and size of electric outboard motor suits you best, leave us a message on the comments and we'll try our best to help you find the best pick.
If you are looking for an electric outboard motor in the UK, US, NZ, Canada, Australia, or any other regions worldwide, and want a quick delivery, you may check out the local dealers and order directly from them with solid support if there is an issue coming up.