A revolutionary range, featuring an innovative, user-friendly design.
ePropulsion, a global leader and market challenger in marine electric propulsion systems and services, is thrilled to announce the latest expansion to its product portfolio with the launch of the brand-new X Series at METSTRADE 2023. The X Series comprises three innovative electric outboard motors, the X12, X20 and X40, offering remarkable electric propulsion systems with ingenious features.
Danny Tao, Co-founder and CEO of ePropulsion, said: "The inclusion of the X Series into our ever-expanding electric propulsion portfolio marks a significant step forward in electric propulsion systems. The X Series is the result of extensive R&D, we are always looking to go above and beyond the industry standards.
With the advanced X Series, we deliver more than electric propulsion, it's an intelligent and integrated platform accessible for consumers and OEM clients, ensuring a quieter, cleaner boating experience."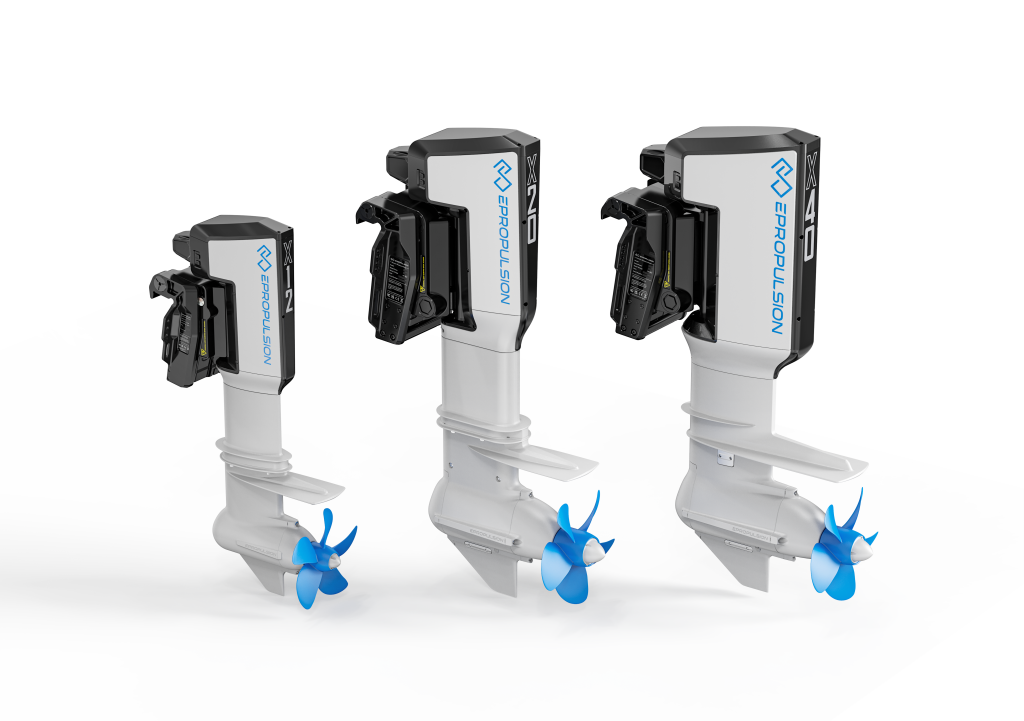 New Standards for Performance and Efficiency
Setting a new benchmark for energy-efficient marine propulsion, all motors in the series offer an impressive total powertrain efficiency of 88.2% and are named after the impressive power. The X12 features 12kW power, the X20 generates 20kW of power and the X40, which made its debut at the Fort Lauderdale Boat Show last month, boasts a massive 40kW of power.
ePropulsion's dedicated R&D unit formulated a unique algorithm for the X Series' propellers, refining over 20 key metrics to ensure optimal hydrodynamic performance.
Lightweight, Integrated Design
Weighing up to 36% less than traditional motors, the ingenious X Series features a compact, fully integrated design. All motors within this series unify electric steering, power trim/tilt, the electric control unit (ECU) and the controller within a single assembly, simplifying installation and optimizing onboard space.
The X Series is innovative and user-friendly, featuring the ePropulsion Smart System Architecture (eSSA), facilitating a seamless, worry-free experience for boaters. The modular architecture of eSSA not only assures simple system configuration but also supports the integration of renewable energy systems for an enhanced sustainable on the water experience.
Intuitive and Intelligent Control
Engineered for intuitive and effortless operation, the X Series offers a user-friendly experience even for those new to boating. The digital helm and smart throttles provide instantaneous feedback, while the electric steering eliminates the need for cumbersome hydraulic components. This refined steering mechanism is more than a simplification—it opens the door to Advanced Driving Assistance Systems that enhance safety and redefine aquatic navigation. Cutting-edge driving assistance features like 'Position Hold' and 'Heading Hold' and '360 Motions' offer additional safety.
Stay Connected
With a technologically advanced design, the X Series offers boaters a comfortable, responsive experience with its connectivity functions. The ePropulsion Connectivity Service is available for users of all motors within the X Series, so they can stay connected with their boat remotely, accessing real-time boat and system status with advanced monitoring, reporting and tracking.
Full Compliance & Compatibility
Fully compliant with the latest IEC standards, the X40 is IP67 waterproof and built to yield a minimum service life of 5,000 hours. The motor is fully compatible with existing ePropulsion accessories including the Smart Throttle, Digital Helm, Smart Display, Propellers, G102-100 Battery, Battery Charger, Solar Charger Controller, MPPT and DC-DC.
Continuing its dedication to zero-emission boating, ePropulsion will also be sponsoring the Sustainability Project of the Year category at the 2023 Boat Builder Awards on Thursday 16th November at METSTRADE 2023.
Join us at METSTRADE to experience the future of marine propulsion at Stand 301, Hall 6.