Far East Boats, one of the biggest sailboat builders in China, and ePropulsion, a global leader and market challenger in marine electric propulsion systems and services, announced today the launch of a brand-new electric catamaran, the 42 feet FAREAST 42C. The boat was unveiled at this year's China (Shanghai) International Boat Show.
The first all-electric catamaran developed by Far East Boats and the first mass-produced catamaran powered by ePropulsion's integrated propulsion system solution, the FAREAST 42C combines speed with comfort to provide an excellent sailing capability. The catamaran was designed by Simonis Voogd Design, an internationally renowned boat design firm, and features a spacious living area. It adopts a streamlined design and uses extra-long built-in plexiglass portholes to allow passengers to enjoy a 360° unobstructed view in the "living room" and greater natural light in the cabin. The deck layout can be selected from a sports version or a charter version.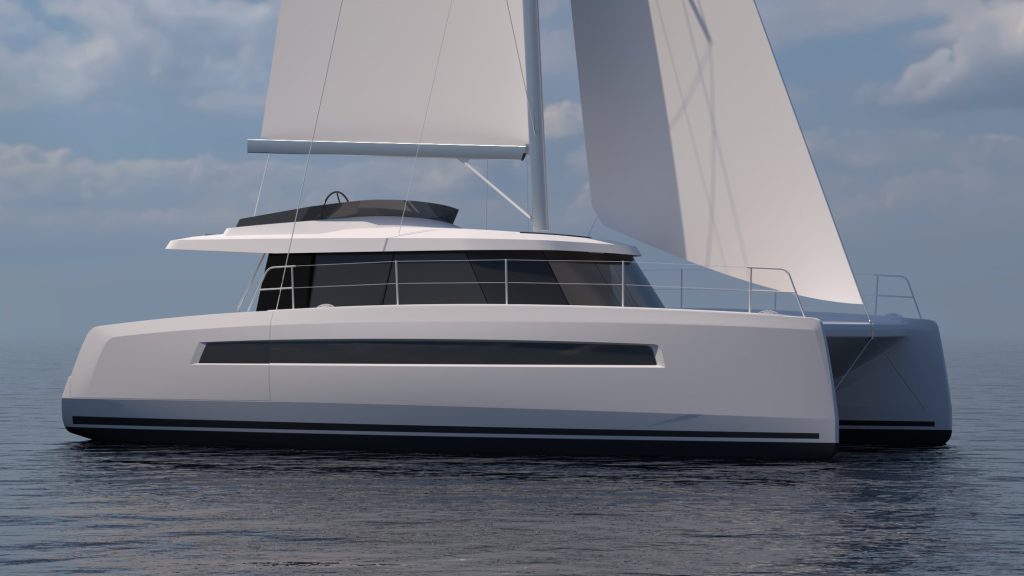 Equipped with ePropulsion's battery, electric propulsion, control and management systems solution, the catamaran boasts the advantages of all electric motors – quiet performance, zero-emissions, and efficient propulsion. The catamaran measures 42-feet, powered by a pair of ePropulsion 20 kW electric motors. The battery system uses lithium iron phosphate batteries, and up to four batteries can be connected, with a total capacity of 188.41 kWh. The maximum battery life can reach 20 hours, with a range of up to 100 nautical miles in pure electric propulsion mode. All batteries are equipped with an ePropulsion Battery Management System that can monitor the voltage and temperatures of individual batteries in real-time, as well as provide an automatic equalization function.
Integrating wind, solar and battery energy, the catamaran functions entirely on green and zero-emission propulsion. In hydrogeneration mode, the vessel's range can be greatly extended with power from motor regeneration fed back into batteries while sailing. While pure electric propulsion mode is activated, the speed can achieve 8 knots and can be adjustable according to different battery levels. At certain wind conditions, electric propulsion works with sail propulsion to achieve a maximum speed of more than 10 knots. The FAREAST 42C comes equipped with a 20kW onboard battery charger and a portable 3kW battery charger to recharge the batteries. And its solar system provides complementary power to replenish the catamaran's batteries.
The FAREAST 42C features an excellent human-machine interaction system (HMI) with a Smart Throttle and a Smart Display 5" that provide timely and precise control and information display. In addition, it enables boat owners and fleet managers to communicate with the system reliably and securely through ePropulsion's cloud-based connectivity services. Boat owners can check everything from the location of the boat to battery level, speed and charging status, automatically generate sailing logs, and authorise guests to power on for easy boat sharing and remote monitoring.
"All-electric propulsion is the way of the future," said Demolar Du, CEO of Far East Boats. "ePropulsion has long been the leader in reliable and efficient electric solutions, so when the time came to put this product together, they were the obvious choice as a partner. We believe sailors and eco-conscious boaters will get the absolute most out of our new catamaran."
"This catamaran serves not only as a wonderful vessel for sailing enthusiasts, but also as a significant milestone of our integrated system solution," said Danny Tao, Co-founder and CEO of ePropulsion. "We have always prided ourselves on providing cutting-edge quiet, clean, environmentally conscious propulsion, and this project furthers all of these goals. We look forward to collaborating on more projects like this in the immediate future."
For more information on Far East Boats or ePropulsion, please visit www.fareastboats.com/home or www.ePropulsion.com.