Inflatable boats are an easy start for anyone who wants to have some fun on the water.
With inflatable boat motors, you can enjoy more on boating than paddling!
For the best boating experiences, the motors for inflatable boats should be easy to maneuver and install, with light weight, decent speed and lifespan.
But many of you might be clueless on inflatable boat motors and no idea where to start.
This post will serve as a simple guide to help you select the best outboard motor for inflatable boat.
This guide is suitable for those who are new to inflatable boat motors and want to have a complete understanding, and those who looking for reliable motors for inflatables.
Content:
3 Types of Inflatable Boat Motors
How to Choose Motors for Inflatable Boats
Best Motors for Inflatable Boats (Reviews Inside)
How to Install Motor for Inflatable Raft
Other Burning Questions on Inflatable Boat Motors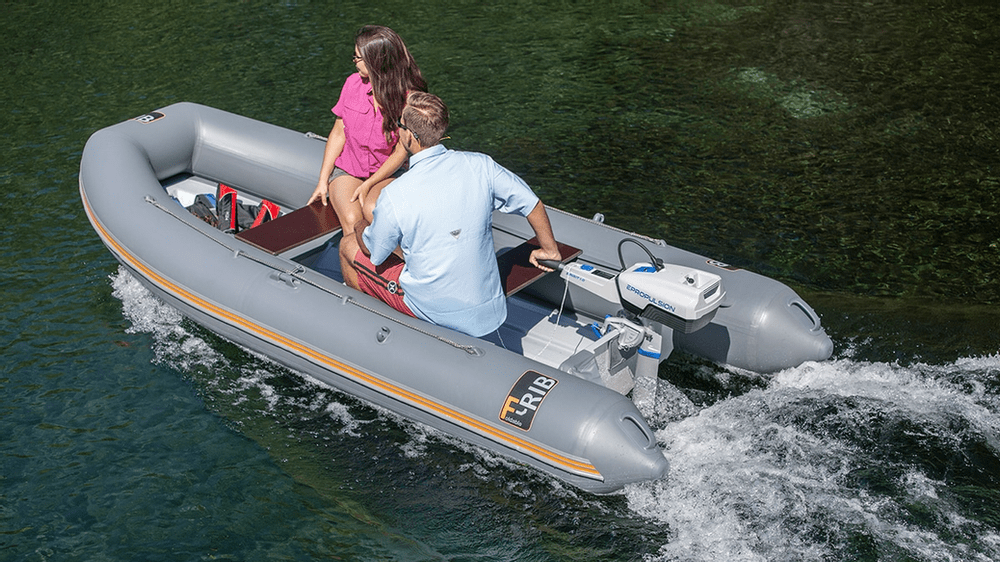 3 Types of Inflatable Boat Motors
When it comes to motors for inflatable boats, you can go either electric or petrol.
And the electric motors for inflatable boats further involve 2 different types, including electric outboards and trolling motors.
And in this post, we mainly discuss the electric outboards for inflatable boats. It's important to learn the differences before you get one.
#1. Electric Outboards for Inflatable Boats
This type of electric motors for inflatable boats are quite popular in the RIB, tender, and fishing boats community, due to its higher power range and extended runtime.
Basically you get an electric outboard and trolling motor in one with this. Let's say the 3 hp ePropulsion Spirit could last 28 hours at 3.5 km/h trolling speed on a typical 4m aluminum-alloy fishing boat, perfect for lure fishing.
And a bonus point for the small electric outboards is that they are highly integrated so no need to purchase battery or motor mount kit for inflatable boat separately.
#2. Electric Trolling Motors for Inflatable Boats
Trolling motors for inflatable boat, by contrast, provide much smaller power range with 112 lbs at max, making it a preferred choice for slow trolling only (although the transom mount types look very similar to the electric outboards).
This type of electric inflatable boat motors is usually seen on the rubber boats and fishing boats that has minimum requirement for speed and prefer the bonus fishing advantages (such as the GPS trolling system).
Another thing you need to notice with this motor for inflatable boat is that you need to purchase batteries separately from other manufacturers. And the recommended AGM batteries are rather heavy compared to the lithium types (usually seen on electric outboards) with a shorter lifespan.
And you will never know the remaining battery life (running time) of your inflatable boat motor without the built-in BMS system and digital display.
#3. Gas Motors for Inflatable Boats
Gas motors for inflatable boats have long been a choice for the inflatable owners but are facing growing pressure nowadays due to the gas restriction especially on smaller lakes.
So having gas motors for inflatable boats could possibly mean travel long distances to find the combustion engine allowed lakes.
If you are searching gas motors for inflatable boats, also be prepared for the noise level, the smell, the possible oil leakage during usage, and the regular maintenance every year.
Best Motor for Inflatable Boat
Still have no idea which to choose for your inflatable boat? Here are the top 3 recommendations with great prizes from inflatable owners worldwide.
#1. Spirit 1.0 Plus: Best Small Motor for Inflatable Boat
The 3 hp electric motor for inflatable boat is the most popular outboard model among inflatable boating communities as it is powerful and portable with a lightweight integrated battery (so you don't need to spend on extra).
Besides that, this inflatable boat motor has really good and reliable performances on the water especially for slow speed trolling which is perfect for fishing activities.
Check out how the 3 hp motor performs on the 8 feet West Marine inflatable boat (with one person on board) in cloudy weather conditions:
Performance Data
| | | | |
| --- | --- | --- | --- |
| Power (W) | Speed (mph/kph) | Runtime (hh:mm) | Range (mile/km) |
| 35 | 1.9/3.1 | 28:36 | 55.3/90.2 |
| 65 | 2/3.3 | 15:18 | 31.3/51.7 |
| 150 | 2.7/4.3 | 8:00 | 21.6/34.4 |
| 250 | 3.6/5.8 | 4:00 | 14.4/23.2 |
| 500 | 3.9/6.3 | 2:00 | 7.8/12.6 |
| 750 | 4.3/7 | 1:18 | 5.8/9.5 |
| 1000 | 4.5/7.3 | 1:00 | 4.5/7.3 |
Other great features you'll love for this inflatable boat motor:
Floating battery so you'll never lose it during installation
Direct-drive motor requires zero maintenance during lifetime
Lightweight with impressive 3 horsepower
Wireless remote control & steering helm compatibility
#2. Navy 6.0: 9.9 hp Motor for Inflatable Raft
If you are looking for a bit more juice from the inflatable boat motor, like having the boat to plan or tow a skier, you might take a look at the Navy 6.0 model.
With 9.9 equivalent horsepower, it can drive a drive a 12 ft aluminum boat 27 km/h at max speed (with 150 kg load) and remain at the top speed for hours.
Here is the performance data we collect from the 14 feet aluminum boat (with one person on board):
Performance Data
| | | | |
| --- | --- | --- | --- |
| Power (W) | Speed (mph/kph) | Runtime (hh:mm) | Range (mile/km) |
| 210 | 2.8/4.5 | 28:36 | 80/128.75 |
| 390 | 3.6/5.8 | 15:18 | 54.8/88.2 |
| 750 | 4.5/7.2 | 8:00 | 35.8/57.6 |
| 1500 | 5.4/8.7 | 4:00 | 21.6/34.8 |
| 3000 | 6.6/10.6 | 2:00 | 12.5/20.1 |
| 4500 | 7/11.3 | 1:18 | 9.1/14.7 |
| 6000 | 7.5/12.1 | 1:00 | 6.9/11.1 |
You might also schedule a test ride to check out these inflatable outboard motors in person by filling up this simple form, if you are still not sure how fast it can move your boat. You will be in contact very shortly.
Or you may contact a nearby dealer directly and let them know your requirements (speed, boat loadings, boat type, etc.), they will surely give you the best suggestions.
How to Choose Motors for Inflatable Boats
"I'm also pretty clueless on outboards. The inflatable boat motor prices seem to be all over the place. Is there anything specific I should be looking for?"
It's not easy to find an inflatable boat motor that can perfectly fit your every need. Checking out the following top 3 things could help make the best purchase.
1. Inflatable Boat Motor Size
The first thing to decide is that what size trolling motor is suitable for inflatable boat.
The horsepower rate of the inflatable boat determines your boating experience, especially if you want to try water skiing to have some weekend fun.
Whether you can reach that planning speed with inflatable boat motors really comes down to your specific situations including the boat type/weight and load, the weather conditions, so many factors. (Talk to our professionals for expert advice according to your needs.)
It's advised to follow the capacity plate that states a maximum horsepower rating for the vessel and get the inflatable boat motor with closest hp within limit, if speed is your priority.
However if you are only looking for trolling speed motor and use it for some leisure activity like fishing, the 3 hp electric outboard motor would be enough for inflatable boats.
#2. Inflatable Boat Motor Weight
Nobody wants a heavy motor for their highly portable boats. The motor weight could be another critical concern for inflatable boats in particular.
If the motor weight comes as a priority, it's better to choose the small inflatable boat motor that come with an integrated battery. It saves you a lot of trouble in purchase and use.
| | | | | |
| --- | --- | --- | --- | --- |
| Comparison | Spirit 1.0 plus outboard | Navy 3.0 outboard | Navy 6.0 outboard | Newport trolling motor |
| Horsepower | 3 hp | 6 hp | 9.9 hp | 86 lb (approx. 1.5 hp) |
| Motor Weight | 23 lb | 47.8 lb | 61.3 lb | 25 lb |
| Battery Weight | 19.2 lb | 68.3 lb | 68.3 lb x 2 | 30 lb* |
| Total Weight | 42.2 lb | 116.1 lb | 197.9 lb | 55 lb |
| Note | Integrated battery | Navy battery | 2 Navy batteries required | Batteries from other manufacturers |
* 100 Ah lithium battery; If you use AGM batteries, the battery weight will double to 60 lb.
And a gas motor for inflatable boat, taking Mercury 3.5 hp outboard as an example, weighs 38 lb and you have to add 6 lb for each gallon of fuel (gasoline) onboard.
#3. Speed & Runtime
Another big concern you might have for inflatable boat motors is the speed and runtime.
Generally speaking, the most popular 3 hp electric motor for inflatable boat can go as fast as 4.5 mph at full throttle for one hour. If you troll at half speed, it can last over 10 hours.
You might check out these test ride reports to get a rough idea about the speed, range and runtime you can expect with different power range of electric outboards in the water.
Checking out some YouTube videos is also helpful. Here is one with F-RIB 360 using ePropulsion electric inflatable boat motor:
How to Install Motors for Inflatable Boats
It's rather straightforward to install and use the outboard motor for inflatable boats, especially if you get the integrated battery models which save you tons of trouble running long cables.
Take ePropulsion 3 hp electric motor for inflatable boats (with integrated battery) as an example, there are 5 easy steps to get started:
Step 1. Attach the motor to the stern of the inflatable boat with the clamp, no tools required.
Step 2. Install the battery by simply placing it on the top of the motor until it clicks into slot and connect the power cable.
Step 3. Place the kill switch magnet on the tiller handle.
Step 4. Power on the inflatable boat motor by pressing the power button for 2 seconds.
Step 5. Turn on the motor with the throttle.
The video below shows the whole process of installing and using the inflatable boat motor:
Burning FAQs About Inflatable Boat Motors
Here we also list some frequently asked questions in case you share the same worries.
Feel free to leave yours in the comment if you have other confusions concerning inflatable boat motors, we will get back to you as soon as possible.
#1. Can I put a motor on an inflatable boat?
Of course, as long as the horsepower is within the limit of the capacity plate (or you will lose warranty) and the local lake regulations.
And make sure you are not boating on the electric only reservoir if you are using a gas motor for inflatable boat.
#2. Does the inflatable boat (with motor) need any registration or license?
The laws differ from state to state. Generally speaking, the inflatable boats need to be registered but there are several common exceptions including:
If you are using electric outboards or trolling motors
If you the boat is below a certain length (8 feet for California)
If you are boating on private lakes
For more information about the regulations and registration process of each state, please visit the DMV official website.