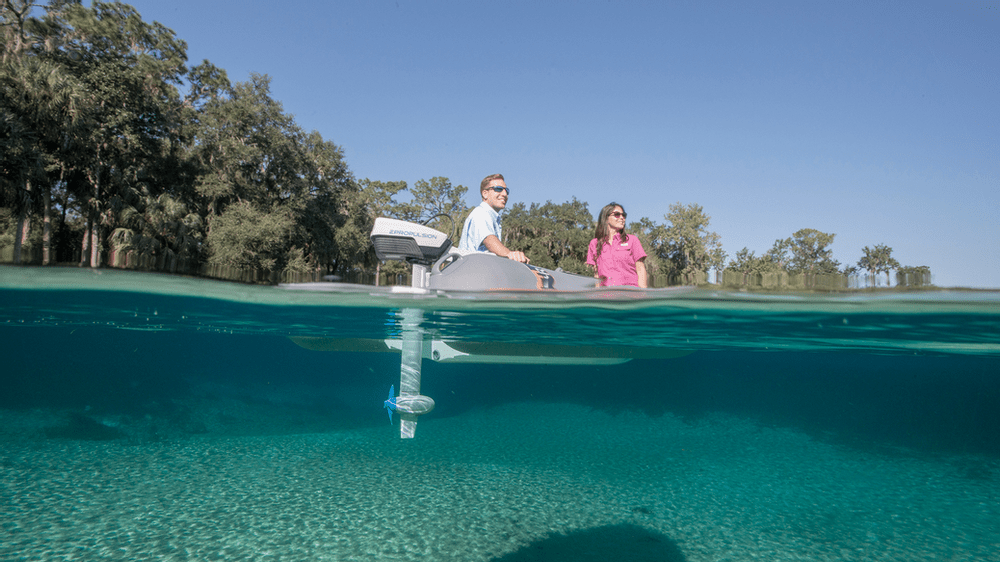 In recent years, the electric outboard motor has seized a considerable part of what was once the portable petrol engine market. This is due to a number of factors; including the development of the lithium battery industry, better user experience and continuous technical development, as well as a growing environmental consumer conscience. In terms of power, the 3hp system is the best-selling option for electric outboard motors.
If you're looking for this level of power for your boat or board, do you choose an electric outboard motor or a traditional petrol engine?
12 Advantages of Electric Outboard
Noiseless
The first thing you'll notice about electric outboard is the surprisingly quiet nature. They naturally have low noise and low vibration due to the lack of internal combustion. ePropulsion is the first company that has introduced direct drive technology and FOC (Field-oriented Control) into the electric outboard motor, having preceded competitors for five years. This works well because the direct drive structure further reduces the number of internal moving parts and eliminates the gearbox, resulting in less mechanical friction. In addition, FOC improves smoothness of motor operation and reduces physical vibration. Both combined make the Spirit 1.0 the quietest motor in the industry.
Exhaust-free
The 3hp electric outboard motors are often used for family leisure trips. When you take your family out on the water, the electric outboard will not emit any exhaust. This means your family on the boat will not inhale any pollutants, effectively protecting their health, as well as the health of the environment and marine life.
Clean
The 3 HP outboards are often transported by car. With petrol motors, users often complain that their hands, clothes and the car trunk are stained by the oil and the fuel of the outboard, and it is often a big pain to clean afterward. In contrast, the electric outboard motors do not have any petrol and engine oil. This means that on every trip, the Spirit 1.0 is always clean, and it will never stain your hands, clothes, or car.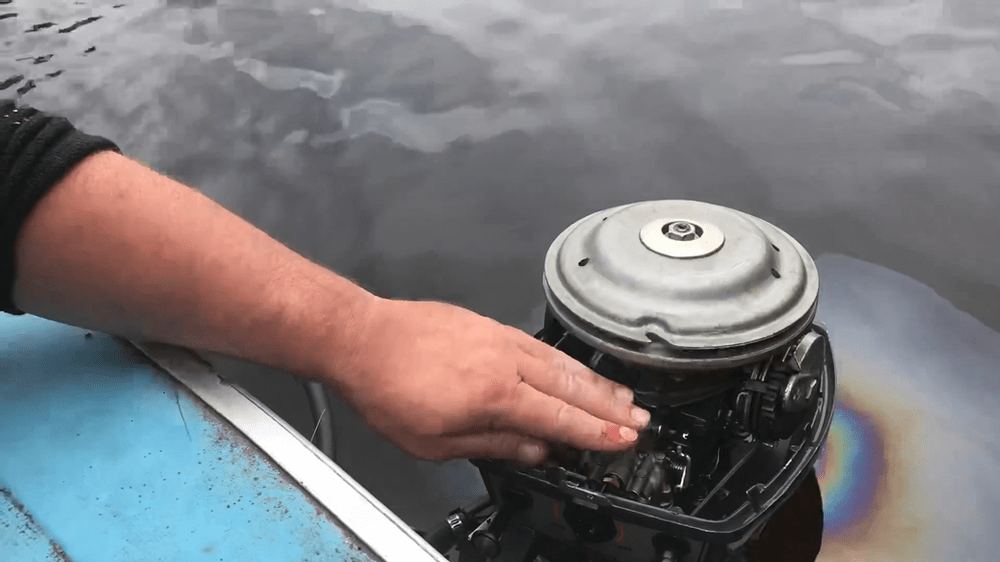 Maintenance-free
A 3HP petrol outboard requires maintenance about every 100 hours or 1 year. You can do a service yourself. It's not expensive, but there has always got to be an awareness of the maintenance required, and many people have no idea of the hours left for the next maintenance. Spirit 1.0 is maintenance-free because it features a brushless direct-drive motor. It hasn't got a gearbox, and due to ePropulsion's 7 years of R&D and after-sales experience, we have refined the product in terms of motor structure, sealing, corrosion resistance and more. We can confidently say Spirit 1.0 is truly maintenance-free.
Simple to Start
Usually, a 3hp petrol outboard ignites by using a pull cord. It can be tricky to use the ignition every time, and you need to do a basic inspection to ensure the gear is in the neutral position before starting. For cold starting, you also need to open the valve and screw tight the fuel tank cap. The electric starting system is generally only available for petrol outboards above 20hp. However, the electric outboard motor is simple to get started – all you do is turn the electric throttle.
Lure Fishing
The 3HP outboards are widely used for recreational fishing. They usually drive a 3 to 5 meters RIB or aluminum-alloy fishing. The quiet nature of our electric Spirit 1.0 means it won't disturb the fish. Spirit 1.0 is efficient and maneuverable at low speeds, so customers do not need to purchase an additional trolling motor. When our Spirit 1.0 delivers 35W output power, a 4m aluminum-alloy fishing boat usually can reach 3.5 km/h, which is great for lure fishing and exhausting the fish. At this speed, a Spirit battery can last a huge 28 hours! You can keep the trolling speed for a long time and don't need to worry about your power running out.
Helm Steering Compatibility
Spirit 1.0R is the only outboard below 5HP that supports the steering wheel. For other 3HP outboards, the user has to use a tiller to steer, which is far less user-friendly and comfortable than a steering wheel. When you use our Spirit 1.0R, it feels as easy as driving a car.
Legal & Compliance
Out of environmental considerations, Europe and the United States have imposed bans on combustion engines in many water areas, and only electric outboard powered or manpower-propelled boats can enter. You can refer to the regulations of the Pennsylvania State Government's PA Fish & Boat Commission: https://pfbc.pa.gov/spbtregsx.htm. Our Spirit 1.0 therefore can legally enter all of these waters.
Solar Charging
Spirit 1.0 solar charger supports up to 180 W of solar charging. At 250W output, Spirit 1.0 can drive a 4-meter boat at a speed of 6 km/h, with a runtime of 4 hours, about an afternoon's drive. If there is 100W of solar power supplement, Spirit 1.0 electric motor can run during the entire daytime, without the need to stop for a charge or battery swap, making it ideal for small cruise boats and swan boats.
Neutral & Reverse Gear
3HP petrol outboards generally do not have a reverse gear, including the leading petrol engine brand Mercury's four-stroke 3.5 HP. For a 3HP two-stroke outboard, most of the available products on the market don't even have a neutral gear. Spirit 1.0 features both neutral and reverse with its electric throttle.
Robust Design
A 3HP petrol outboard engine is less robust and less reliable.
Two-stroke engines require mixing oil into the fuel at a predetermined ratio in order to ensure the engine receives adequate lubrication during operation, otherwise, the engine may blow.
Two-stroke engines running at full power for more than 30 minutes may cause an explosion.
In poor-quality water, the cooling system may get blocked, causing a cooling failure.
During the run-in period, it is not suitable to operate at full power for over 5 minutes; During the first 20 hours, it is not suitable to operate at over 80% power, or the service life will get cut, like from 8 years to 6 years.
In a colder environment, users must replace the antifreeze lubricants and antifreeze gear oil before the first use, otherwise it will not start or cause engine damage.
Shallow water running may lead to the pump impeller lacking water and burning out.
Spirit 1.0 outperforms the petrol outboard in terms of ease of use and reliability. All the below operations are easy for the Spirit 1.0 and do not affect its service life:
Run 1 hour at full power for the first time use
Spirit 1.0 can run for 2,000 hours at full power without a break, as long as there's an uninterrupted power supply.
When driving forward at full power, it can switch to full-power reverse gear in a second. Such operation can be repeated continuously for 1000 times.
Be in good condition after running on dry land for 3 hours, let alone running in shallow water.
At 3HP, Spirit 1.0 brings revolutionary user-friendliness and reliability. In a nutshell, Spirit 1.0 is durable, long lasting and hard-wearing, which is ideal for business purposes because Spirit 1.0 has more operational hours per year, which means more revenue and less idle equipment.
2 Concerns of Electric Outboard
Running Time
The full-power running time of a 3HP electric outboard and a petrol outboard is generally the same. For example, the Mercury 3.5HP four stroke petrol outboard has an integrated fuel tank of 0.3 gallons. With its full-power fuel consumption being 0.37 gallon, its full-power running time is approximately 1 hour, which is nearly the same as the Spirit 1.0. In most cases, the users will not always keep driving at full speed. If not at full power, say at 250W, a 3.3-meter boat can run at a comfortable speed of 6.5 km/h. At this power and speed, the power is reduced by 75% but the running time increases by 3 times while the speed only reduces by around 28%. So in terms of non-full power running, the electric outboard wins.
The table below shows how long the electric motor can run for:
* The above data was recorded by an actual test run of Spirit 1.0 propelling a 3.3-meter Maweric 330D inflatable boat, with one person on board.
A major issue lies in the running time of a single battery. The petrol outboard engine can significantly extend the running time of a boat trip at a lower cost by adding a fuel tank. However, for electric outboards, there are some disadvantages to extend its running time during the trip. For example, the cost of purchasing a spare battery is higher – the retail price of a Spirit battery is US$899. Also the use of solar charging is subject to weather, and there needs to be room for solar panels. Moreover, the maximum power of solar charging is not high enough, so it is impossible to support long time running at full power.
It is important to point out that the 3HP petrol outboard is not so easy to achieve a long running time, because it generally does not have an external oil hose, so it is more troublesome to refuel the engine hanging on the boat transom. This means that when you need to go boating for a long time, you'll have 3 ways to solve the problem:
Manual DIY modification: this requires strong hands-on ability to modify the port of the fuel tank integrated on the top of the outboard engine, to make it compatible with the external fuel tank. Technically, it is necessary to ensure that the air pressure both inside and outside the fuel tank always has a balance.
Use the petrol tank to refuel: Imagine that you are standing on a shaking boat, holding the tank to refuel the port that is only a few centimeters wide. This behavior is prone to leak petrol on the engine and the deck. It is a good idea to bring a refueling funnel, but you have to wipe the funnel clean with a towel after you finish refueling, or the oil on the funnel could stain your boat. You also have to think about where to store the remaining petrol after you return to land.
You could raise your budget and purchase a petrol outboard of 5HP or higher compatible with an external fuel tank. Generally, the petrol outboard over 5HP is equipped with an external fuel pipe, but it costs at least extra US$600.
A 3HP outboard is most often used for short boating trips, usually within 10 km, so the limited running time of a 3HP electric outboard motor is only a problem for a very small portion of users.
One-time Investment
The 3HP electric outboard and petrol outboard are equivalent in overall cost, but the initial one-time investment of the electric outboard is much higher than the petrol outboard. The retail price of the Spirit 1.0 is US$1,999, while under brands Mercury, Yamaha, Tohatsu the 3.5 HP four stroke generally sells around US$1100, about half the price of Spirit 1.0, and the price of a large number of second-tier brands engines can be as low as US$800.
The electric outboard is essentially an high-end environmentally-friendly product based on a large number of good user experience features, mainly targeting at the potential users who can afford the price. The one-time high investment could be problem for price-sensitive users.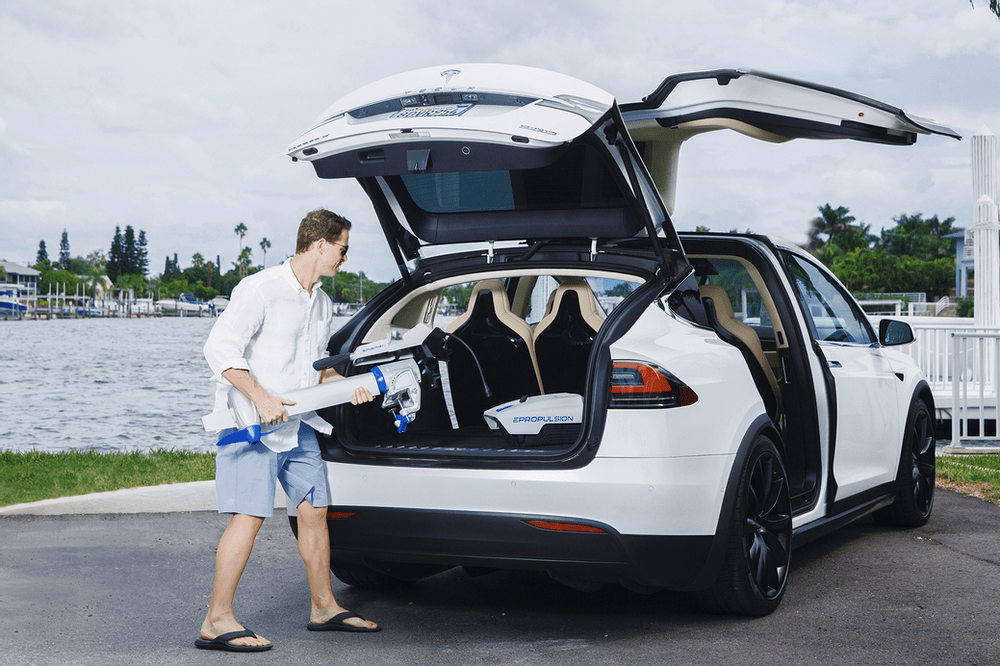 Cost Comparison
What about costs overall? Due to global differences in electricity prices and petrol prices, and brands pricing differences, we choose a 3.5HP petrol outboard for comparison and we select Florida in the US market.
Purchase Cost
The Spirit 1.0 is US$949 more expensive than the Mercury 3.5 HP four stroke.
Energy Cost
Take the current Florida household electricity tariff and the regular petrol price US$2.6 / gal as reference. Supposing the petrol price will not fluctuate and calculating based on 1,200 hours (about 8 years) full-power operation time, the energy cost comparison of the electric outboard and petrol outboard is as follows:
Spirit 1.0 saves US$1010 total energy cost than Mercury 3.5 hp four stroke.
Maintenance
Spirit 1.0 adopts a maintenance-free design and requires no maintenance, while the 3.5 hp petrol outboard needs maintenance on average every 100 hours or 1 year. We assume all small petrol outboard owners do the engine maintenance by themselves. The engine oil and gearbox oil add up to around US$20. Let's say you serviced your motor over eight years. The Spirit 1.0 saves US$160. What matters is not how much money you spend on the gas outboard maintenance, but the time and effort involved.
Summary
In the eight-year service period, the Spirit 1.0 electric outboard motor saves about US$200 cost compared to the petrol outboard. This gap does not constitute an essential difference. It can be interpreted as the two motors are equal in the total cost, and the only difference is that the electric outboard requires more one-time investment, while the petrol outboard requires more subsequent energy cost.
Some buyers think buying a 3HP electric outboard motor can save money as electricity is cheap. Also some other buyers think buying an electric outboard costs more due to its high one-time investment. In fact, neither of the two opinions are accurate. You'll find that over a period of eight years, the costs are roughly the same for both motors. Of course, this is dependent on petrol prices, which often fluctuate.
Service Life
The average service life of the Mercury 3.5 HP 4 stroke gas outboard is about 8 years, on the condition that it is well maintained and correctly used. The maintenance-free Spirit 1.0 has a theoretical service life of an incredible 20,000 hours, which means even if the motor was used for 500 hours at high intensity and full power, it still can last 40 years. Thanks to our 7-year technology accumulation with sealing, anti-corrosion and etc, theoretically, the life of mechanical parts of Spirit 1.0 can exceed 20 years, far surpassing the actual needs. After 20 years use, the Spirit 1.0 may look obsolete from its appearance and the plastic parts may age, but the user experience will remain the same as when first purchased.
However, a lithium battery capacity generally degrades with time, which you may already know by using a mobile phone. The design standard for the 1018Wh lithium-ion battery of the Spirit 1.0 is that the battery is capable of 800 cycles of 80% DOD. After 8 years, the petrol outboard fails and you need to purchase a new engine, but Spirit 1.0 users can just purchase a new battery. With the development of battery technology, we can believe the battery cost will be greatly reduced then, while the old battery still has over 70% capacity, which could be used as a backup battery.
We believe that our users stop using Spirit 1.0 not because the motor service life comes to an end, but due to various unexpected accidents in the daily use, such as hitting the hard rock on the riverbed, dropping or theft, or even to upgrade to a better model. It just takes so long to reach the physical life of Spirit 1.0.
As to the service life, it's clear to see that the 3HP electric outboard has absolute advantage over the petrol outboard, but this advantage makes no practical sense, because the old design will surely lag behind in 8 years. The new design will have more features, especially the smart features. All these features will bring an unparalleled user experience. This will mean many will upgrade to a better electric outboard at that time. Just think about the difference between the latest iPhone and the iPhone a couple of years ago. The difference in technology over eight years will have developed tremendously.
Conclusion
Even though we're a leading brand in the electric outboard motors industry, we do not encourage users to blindly choose electric outboard motors.
Instead, we hope users could understand the different features of electric and petrol outboards, and make their choice based on actual needs and their individual values.
Electric outboards are suitable if you:
Want to pursue an excellent user experience: no noise, no oil stain and no exhaust to protect family health, easy to start and with reverse propulsion.
Want to save both time and energy. The maintenance-free design and high reliability of Spirit 1.0 can save maintenance hours and cost, especially suitable for commercial customers.
Live near a water area where combustion engines are prohibited.
Petrol outboards are suitable if you:
Are conscious of price, and don't want the pressure of a larger one-time purchasing cost.
Have a high requirement for running hours of a single trip, like running at full power for several hours a day, or for several consecutive days.
Don't just take our word for it – Have a Dealer Contact Me, and try out the electric motor outboard for yourself!