What's the biggest outboard motor?
If you search online, it's highly possible that you will land on some outdated information.
In this post, we will go through the hottest FAQs about the biggest outboard motors with quick (and the most updated) answers to keep you informed of the latest technology out there.
Looking for the biggest outboard motor to put on your boat?
We all know that overpowering a boat with a larger outboard is dangerous.
No worries. You will get comprehensive information here to help you find the highest horsepower outboard motor (and the most reliable outboard motor brand) for your boat.
Content:
Note: Click on the links and jump to the piece of information you care about.
What's the biggest outboard motor?
A lot of brands are reported to manufacture the biggest outboard engine with the highest horsepower.
Here we are talking about the biggest outboard motor available that you can buy now.
So far, the world's most powerful outboard motor is the 600 hp V12 Verado from Mercury Marine, which is expected to sell at around $115,000 per unit.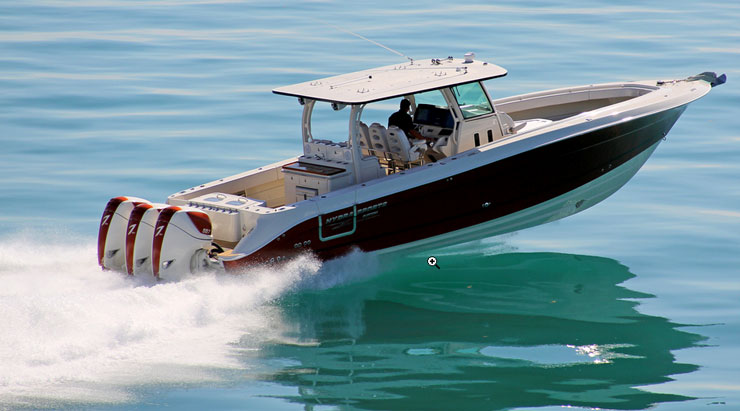 This model was launched in February 2021 and has been the world's biggest outboard engine ever since.
The whopping 600 hp outboard is definitely a game changer in the boating industry with a lot of unique features:
It produces greater fuel efficiency since fewer outboards are required
Impressive torque to get heavy boats up and accelerate to top speed quickly
Two-speed automatic transmission makes an imperceptible gear switch
Automatic trim & display on the controller
Here is a chart that summarizes some facts about this highest horsepower outboard motor that you may care about:
| | |
| --- | --- |
| Model name | V-12 Verado |
| Manufacturer | Mercury Marine |
| Dry Weight | 1260lbs / 572kg |
| Full Throttle RPM | 5600-6400 |
| Displacement | 7.6L |
Editor's Note: The information is updated in April 2023.
In fact, Seven Marine released its 627SV outboard with a higher 627 horsepower in 2020, which is the most powerful outboard ever made in history. However, its production ceased in early 2021 since the company decided to switch to developing newer fossil-free, renewable, electric and hybrid technologies.
What are some of the largest outboard motor manufacturers?
These days, more and more ever-larger center console boats and cruisers are built.
And many manufacturers have released large outboards to satisfy the needs for high power, from the range of about 250 horses to the world's largest 600 HP.
Have a specific brand in mind and wonder what's the biggest outboard motor available now?
Check this table out to find out the biggest outboards from Honda, Yamaha, Evinrude, Mercury, Suzuki, etc.
| | | |
| --- | --- | --- |
| Brand | Largest Marine Engine Model | Rated Horsepower |
| Honda | BF250 | 250 HP |
| Yamaha | V8 | 425 HP |
| Evinrude | E-TEC G2 | 300 HP |
| Mercury | V12 Verado | 600 HP |
| Suzuki | DF350A | 350 HP |
From this chart, it's clear that Mercury makes the biggest outboard motor. If you want to know more information about other brands, feel free to let me know in the comment area and I will update this table.
What's the biggest electric outboard motor?
Electric outboard motors are nothing new but high horsepower is still a big challenge in the electric world.
However, some manufacturers have already taken big steps to develop high horsepower outboard motors.
So what's the most powerful electric outboard motor now?
Currently, the largest electric outboard motor available is STORM from Evoy, providing over 300 HP continuous power.
This largest electric outboard motor itself costs 74,900 € (approx. $82,213). If you add on its companion 126 KW battery, the price will add up to 154,700€ (approx. $169,804).
In terms of performance, this large marine engine can give you an estimated range of 37 nm (68 km) at 25 knots.
Here is also a simple chart that summarizes the core information you might want to know about the largest electric outboard motor:
| | |
| --- | --- |
| Model Name | Storm Series |
| Manufacturer | Evoy |
| Rated Power | 225+ kW (300+ hp equivalent) |
| Weight* | 340 kg |
| Price | 74,900 € (approx. $82,213) |
*The weight includes the motor, cables, accessories and cooling liquid (without batteries and propeller).
Another good news is that an even higher horsepower outboard motor Hurricane (300kw / 400hp) is now under development, and it is announced to be available soon in 2024.
A Viable Alternative to Big Outboard Motors:
If you are looking for the largest marine engine for your boat, the inboard can be a better solution.
If you search around, you will find a lot more big electric inboard options with a wider power range.
That's because the inboards can better deal with the large size engine, extra weight, and batteries.
And it can be easily customized to fit your needs. Talk to our specialist to design your own marine engine that fits your boating situation.
What is the highest thrust electric outboard motor?
Different from the outboards, trolling motors are measured by pounds of thrust. The highest thrust electric outboard motors are Minn Kota Ultrex and Minn Kota Terrova, delivering 112 pounds of thrust.
Further Reading: Electric Outboards vs. Trolling Motor

What is the biggest outboard I can put on my boat?
What is the biggest size engine I can put on my small boat and still be safe?
What would be the best size for your boat?
While the biggest outboard motor is available at a whopping 600 HP, you need to know the largest horsepower your boat can safely handle.
Overpowering your boat is dangerous and can be illegal in some states.
An easy way to check the biggest outboard for your boat is to refer to the capacity plate that shows max weight, persons, and largest outboard HP suggested by the boat builder.
Here is also a chart that compares the boat length and motor size, so you can roughly know the right size outboard motor for your boat.
| | |
| --- | --- |
| Outboard Motor HP | Boat Size (Length) |
| 2hp – 10hp | 8′ – 12′ (up to 3.5 m) |
| 5hp – 15hp | 8′ – 14′ (up to 4.2 m) |
| 9hp – 20hp | 11′ – 16′ (up to 4.5 m) |
| 20hp – 40hp | 13′ – 18′ (up to 5.0 m) |
| 40hp – 75hp | 14′ – 20′ (up to 5.5 m) |
| 90hp – 140hp | 16′ – 25′ (up to 6.0 m and above) |
Some reliable outboard brands, including ePropulsion, will provide their outboard test report in some typical real-world applications so you can easily know whether the outboard works on your boat.

If you are still not very confident about what's the best or largest outboard motor size for your boat, you can leave us a comment below and I will get back to you with quick answers, as soon as possible.
What's the most reliable outboard motor ever made?
Looking for an outboard motor and wondering what's the most reliable outboard motor brand?
Here are some tips for you to help you get the best purchase:
You will never get wrong with a reputable brand such as Yamaha, Mercury, and Honda (for combustion outboards), as well as ePropulsion (for electric outboards). All these brands make reliable outboard motors.
Be careful if you are looking to buy a used outboard motor since that will void the warranty.
And always read real customer reviews before making your final decision. You can search for the "model name" plus "reviews" on YouTube to easily find related videos for reference.
There can be different answers in terms of the most reliable outboard motors ever made, and it all depends on your requirements and personal preference.
For example, one might choose the biggest outboard motor that's possible on his boat to pursue a top boating speed (like the Mercury V12 Verado ), while others may prefer a portable outboard motor that provides just satisfying speed with less weight (like the ePropulsion Spirit Series).