6 HP outboards are one of the most popular models for small boats, including tenders, dinghies, Jon boats, inflatable boats, and larger sailboats, due to their high weight and performance ratio.
Torturing between the simplicity of 2 strokes motors and the efficiency of 4 strokes? Here is a better solution that combines the best of both worlds, plus the additional bonus you will never want to miss.
Check out the electric 6 HP outboard motors.
They are quiet, clean, powerful, and easy to use with long range and enough power to get some smaller boats on the plane (check the test report).
With the electric 6 HP outboards, you can forget about the struggling to start, the gas refilling, the noise, the carburetor issues, the maintenance (imagine the trouble and lifetime cost), and the engine vibration – just to name but a few.
Worried about the batteries and price? In fact, this issue has already been well handled by the evolving technology. Read on to learn more about the new technologies and the premium experiences you can enjoy with the simple switch to electric.
Still considering the best 6 HP outboard solutions for your needs? I got your back. Here we provide a comprehensive buying guide to help you select an ideal 6HP outboard motor (including the best 6 HP outboard recommendations).
Continue reading for more expert tips. Whether you are experienced boaters or new to boating, you will learn all you need to know about the 6 HP outboards by the end of your reading.
Table of content: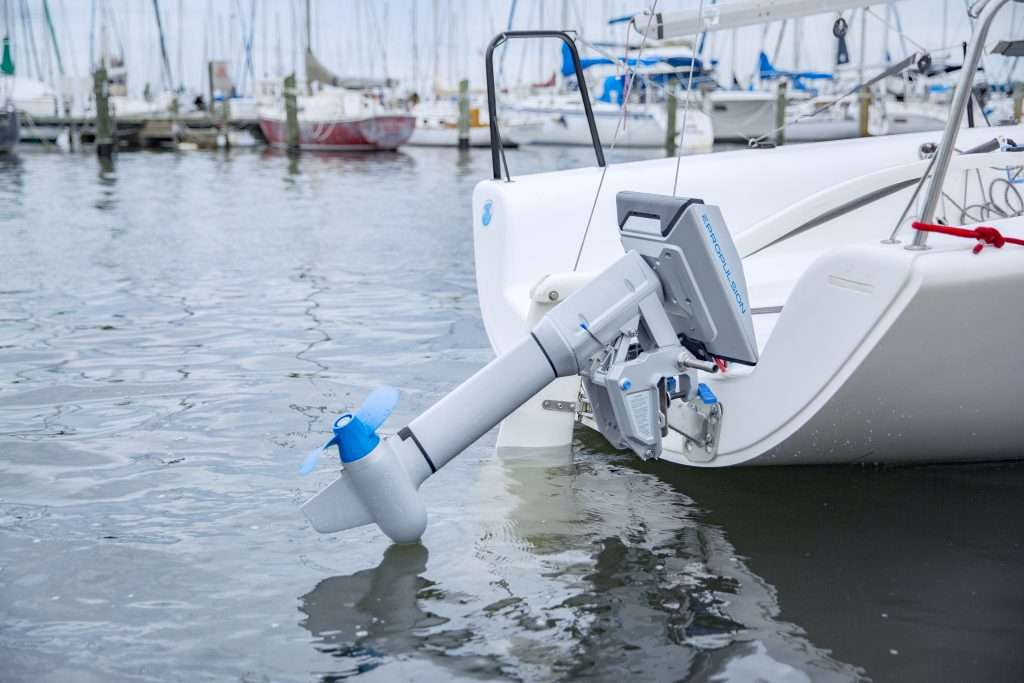 6 HP Outboard: 3 Major Types
If you are considering buying a 6 HP outboard motor for your boat, you will have two options basically: Combustion outboard motors (including 2 stroke outboards and 4 strokes) and 6 HP electric outboard motors.
#1. Combustion 6HP Outboard Engines
A simple Google search on '6 HP outboard' will probably land you on the combustion outboard motor listings, including the 2 stork and 4 stroke types. Some reputable brands in manufacturing 6 HP petrol outboards include Yamaha, Suzuki, Mercury, Honda, Johnson, Tohatsu, and Evinrude.
This traditional type of 6 HP outboard has been popular since the outboard motors were born. As the name implies, they rely on petrol to work so you will hear the noise of the combustion while driving. You will need to pull the rope to start every time and do maintenance work regularly.
While the 6hp outboard 2 stroke is smaller, lighter, and simpler in design, the 4 stroke outboard motors are far more fuel efficient, gaining the 4 stroke motors a dominant position in the 6 HP outboard market.
#2. 6 HP Electric Outboards
A more trendy option today is 6 HP electric outboard. Compared with its gas counterpart, the electric outboard motor is cleaner, quieter, and easier to use, with much less maintenance required. In fact, the maintenance work is so easy and light (compared with the gas outboards) that many manufacturers market the electric outboards (especially those with direct drive motors) as "no maintenance" outboards.
That's why more and more boaters are following the trend and upgrading to the 6 HP electric outboard.
Further Reading: If you are still hesitant about which option to go for your 6 HP outboard solution, continue reading our previous post to learn more differences between petrol and electric outboards.
Factors to Consider for the Best 6 HP Outboards
Looking to get a 6 HP outboard and don't know where to start? Not sure whether the 6 HP is suitable for your boating situation? The seemly endless choices and information overload on the Internet can be overwhelming.
Here we've summed up the top seven considerations before purchase to help you make an easier and informed decision. Don't forget to check all the seven aspects to ensure the best pick for your application.
#1. Power & Range
Is 6 HP powerful enough?
First, you will need to make sure the 6 HP outboard performance can satisfy your boating needs, whether it's to get your boat on plane or trolling for an extended range of time.
In terms of performance, the electric outboards and combustion types (with the integrated tanks on the gas engines) are neck and neck. Taking ePropulsion Navy 3.0 Evo, an electric 6 HP outboard as an example, it can go 13.6 miles (21.9 km) at 10.2 mph (16.4 kph) for 1:20 hours if pulling a 12-foot aluminum boat with one person onboard with a single 4096 Wh E80 battery.
The result might differ if you add gear and other passengers to your boat.
However, mind that the electric 6 HP outboard motors can have a big advantage on trolling. More specifically, with the same Navy 3.0 model and same setup as mentioned above, you can get 13:20 hours and 49.3 miles (79.3 km) at 3.7 mph trolling speed. That's a tremendous increase you can never imagine with gas engines.
#2. Weight
The weight can be a deciding factor for small outboards, especially if you don't have a trailer and need to carry around a lot.
The weight of a decent 6 HP outboard usually comes at about 24.3 kg (for ePropulsion Navy 3.0 model) and can slightly differ between various manufacturers.
If the weight is important for you, It's suggested to go to the official website and compare the specs of each 6 HP outboard motor. Besides the 6 HP outboard itself, don't forget to calculate the weight of the addon battery and petrol to make an informed decision.
#3. Quiet
Ideally, I would like the 6 HP outboard to be quite quiet and economical.
No one will want to hear the noise while they are supposed to enjoy nature or fishing silently. The 4-stroke motors are quieter compared with the 2 strokes. However, if you want to get rid of the noise, electric 6 HP outboard motors would be your only choice.
#4. Ease of Use
An easy-to-use 6 HP outboard motor can save you a lot of trouble, giving you more time on boating instead of operating the outboard and fixing the issues all the time.
The simplicity can also be an important factor for your family boating journey. One bonus of the electric 6 HP outboard is that it allows all family members to enjoy the fun. With a simple twist on the tiller, the 6 HP outboard is on the way. No pull start or carburetor issues.
Besides that, you can have the convenience of checking the real-time operation status on the digital screen integrated into the tiller, so you will always be informed of the current boating speed, remaining battery, and runtime.
#5. Functions
Not all 6 HP outboard motors are made the same. Some quality models are more user-friendly with more advanced features and design advantages.
For example, the ergonomic tiller design of ePropulsion outboards allows you to turn the throttle easily from the left or right side, making it easy to use for a left-handed person. It's removeable with a backlight digital display. Besides that, it comes with reverse gear, so you can control the direction of your boat freely.
A big bonus point for sailing lovers is that some 6 HP outboards, including Navy 3.0 Evo, support hydrogeneration function, allowing the motor to get charged from wind and water while sailing. That means you will have extended time and range out of the 6HP outboard motor.
#6. Maintenance
Outboard maintenance is always a headache, especially if you are new to the outboard motors. You can send it to your nearest dealer to have your new 6 HP outboard maintained regularly, but it comes at a cost and inconvenience.
An alternative option is to go electric. Unlike the combustion outboards, the electric 6 HP outboards keep the maintenance work to minimal.
Generally speaking, the major tasks you need to do is check (and replace if necessary) the anode, propellor, connectors, and cables and charge the motors during the long term of no use. Check the complete maintenance procedure in our previous sharing.
#7. Warranty
Always remember to check the proximity of your nearest dealer since the dealer backup matters a lot if anything happens to your motor.
The warranty can also be a factor to consider if there is no clear winner on the other mentioned aspects between different models. The 6 HP outboards with 3 years extended warranty are surely more reliable than those with only a one- or two-year warranty.
#8. Cost
The price is always an important consideration for any investment. The cost of 6 HP outboard motors varies greatly among the three different types introduced above, ranging roughly from $1500 to $3000 for high-end models.
If you are concerned about the initial investment, the combustion type 6 HP outboard can be a winner in this round. However, if you care about the price-performance ratio, the 6 HP electric outboard is a better choice that provides you with an unmatched premium boating experience.
Also, don't forget the lifetime savings on the 6 HP outboard maintenance cost.
In addition, as the technology evolves (becoming more attainable and, therefore, more affordable), you can now find some affordable yet reliable brands to save your cost without compromising the boating experience.
It's calculated that the 6 HP electric outboard motor Navy 3.0 will gradually become more "affordable" after three years of use compared with the 6 HP gas engine (based on normal use).
Best 6HP Outboard Motor
If you are in a hurry and want a quick recommendation on the best 6 HP outboard, check out the ePropulsion Navy 3.0 Evo before making the final decision.
As a 6 HP electric outboard motor, Navy 3.0 Evo is clean and quiet with no gas, no pull start, and no carburetor issues. You are free from the maintenance headache and the accumulating cost.
The performance of this 6 HP outboard is impressive with the ePropulsion 4096 Wh E80 battery (requires separate purchase). It can support a round trip from the Status of Liberty to the New York Aquarium. For the detailed performance test results, check the following table:
| | | | |
| --- | --- | --- | --- |
| Power (Watt) | Speed (mph / kph) | Running Time (hh:mm) | Range (mile / km) |
| 300 | 3.7 / 6 | 13:20 | 49.3 / 79.3 |
| 550 | 4.7 / 7.5 | 7:25 | 35 / 56.3 |
| 1000 | 5.3 / 8.6 | 4:00 | 21.2 / 34.1 |
| 1500 | 6 / 9.7 | 2:40 | 16 / 25.7 |
| 2000 | 6.3 / 10.2 | 2:00 | 12.6 / 20.4 |
| 2500 | 8 / 12.8 | 1:35 | 12.7 / 20.5 |
| 3000 | 10.2 / 16.4 | 1:20 | 13.6 / 21.9 |
* The performance data is based on a 12-foot aluminum boat with one person, powered by one Navy 3.0 Evo with one E80 battery.
Thanks to its hydrogeneration function, it can go even further on a sailing boat.
Backed with 3 years extended warranty (upon registration) and a worldwide dealer network, you will be covered if there is any issue with your new ePropulsion 6 HP outboard motor.
More Features You Will Love:
Direct drive technology makes it even quieter
Digital display keeps you informed of battery status
Less maintenance means less cost & trouble
Easy to use with electric start and intuitive control
Remote control available (top mount & side mount)
Adjustable full throttle power makes it kids-friendly & suitable for rental boats
Magnetic kill switch keeps you safe on boat
Customer Reviews:
'The Navy 3.0 has been a huge competitive advantage for my partner and I as we have fished tournaments. It gives us the capability to run faster than a large majority of the competition. Most run 4-5mph at best, we are running 7. This enables us to beat others to spots at start of competition and catch fish before others show up.'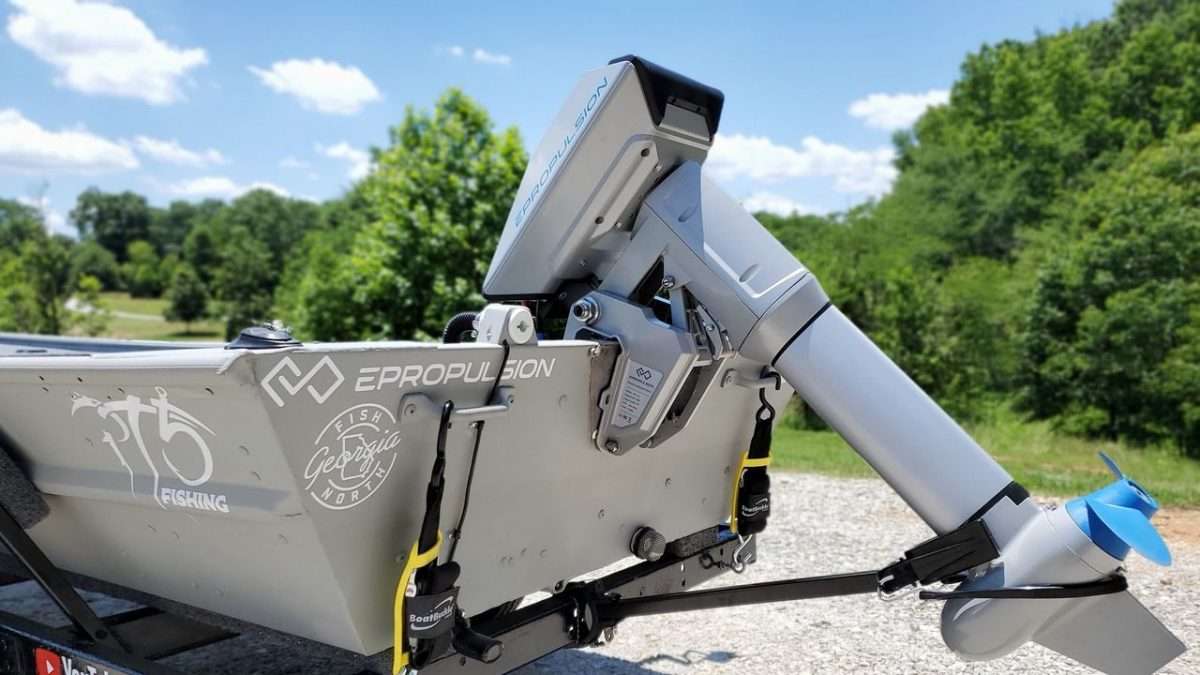 Also, check out the review videos of this 6 HP outboard from Anthony Jones, the avid fishing lover and professional boat and outboard reviewer:
FAQs About 6HP Outboard Motors
Here you can learn some quick facts about the 6 HP outboard motors by checking out the questions from the existing users.
#1. How fast will a 6HP outboard motor go?
The speed of a 6hp outboard motor depends on your boat, gears, and people onboard and can vary among manufacturers. The ePropulsion 6HP outboard Navy 3.0 can pull a 12-foot aluminum boat at 10.2 mph (16.4 kph) with one person on the boat.
#2. How heavy is a 6HP outboard?
The weight of a 6HP outboard is about 24.3 kg (statistics from Navy 3.0 model), and the data varies among different brands.
#3. How to make a 6HP outboard go faster?
You can get the premium speed of your 6HP outboard motor by adjusting the trim angle. Check out this post for further information.
#4. What size boat is suitable for 6HP outboards?
The 6HP outboards are better suited for smaller boats, including aluminum fishing boats, dinghies, daysailers, and cruising sailboats.
Final Thoughts
The best 6 HP outboard motors (whichever type and brand) essentially come down to your boating needs. The most prominent considerations are performance, reliability, dealership proximity, price, features, and specs (weight matters).
The boating situations and requirements for the ideal 6 HP outboard can vary from person to person. If you encounter any problems during your research or selection of the best 6 HP outboards, feel free to leave a comment below, and I will try to reply asap.