Have no engine or shore power for your boat and look into various options for recharging? Or looking for an alternative power source to keep your boat batteries charged?
Solar-powered boat motors could be a solution!
The solar powered boat has indeed drawn a lot of attention these days not only because it saves the water environment from pollution but also reduces the cost of operation.
However, is it feasible to use a solar powered boat motor as the main power source?
Continue reading if you are interested in building a boat with solar powered motor. Find pro tips and tricks, shortcut to get it running successfully, and recommendations for the best solar system equipment out there.
Table of content:
How Feasible Is a Solar Powered Boat
Can boats be powered by solar panels?
The first thing popping up into your head might whether boats can be solar powered.
The short answer is YES, but solar powered systems are only feasible for smaller boats like inflatable tender boats and are not preferred for the big long-distance tankers, if you're talking about providing complementary or primary motive power via solar.
Another feasible application is using photovoltaic solar panels only as a backup to replace or augment other power sources on the cruising and racing sailboats.
The reason lies in the energy-, weight- and cost-efficiency of the solar power.
After all solar panel efficiency is generally only around 15%-20%, mostly depending on the weather conditions.
And think about the massive amount of battery power needed to move a boat, which is like 5x to 10x more than a motor vehicle.
And if you want to harvest that massive amount of power from the sun, you will need an extensive number of solar panels, given that solar panels usually don't get full sun load.
For example, according to the Robb Report, it requires 1,200-square-feet of solar panels for the Serenity 74 yacht to cruises at 9 to 11 mph infinitely.
And it is only achievable through a specially designed electrical system that is built to support solar power exclusively at its greatest advantage from the start of the boat design.
So if you want a solar powered motor to work on a big scale like building a 200 HP electric outboard motor with solar panels, that would be a daunting task even for the pro.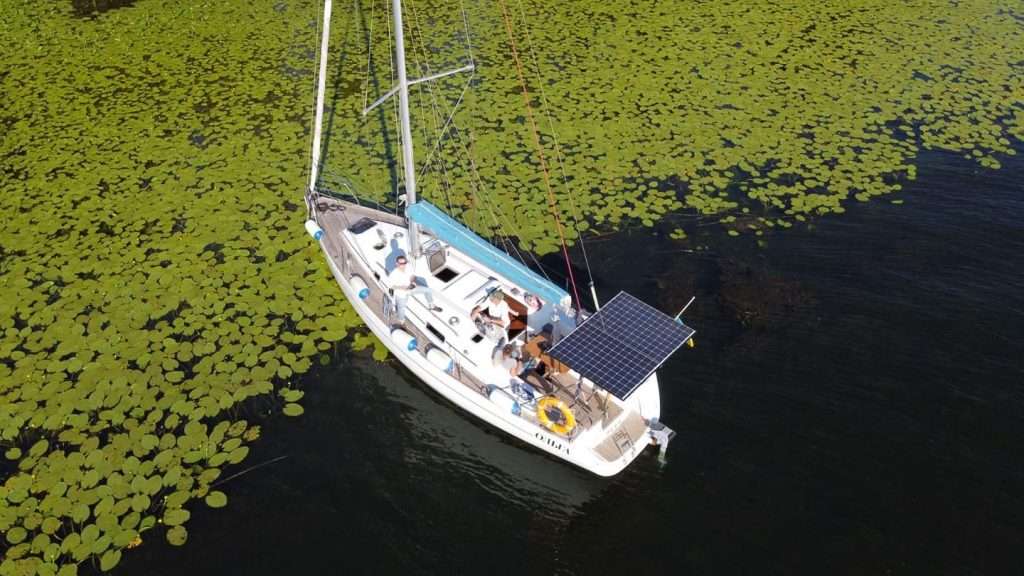 Easiest Way to Set up Your Solar Boat
It could be a huge undertaking to build an electric and solar powered boat (motor) by yourself, especially if you are not electrically inclined.
You need to be skillful and follow strict technical regulation documents, like doing the math to size the panel for your battery, purchasing the compatible type of solar panels and charger, and setting up solar panels with wiring tools and an electrical monitor.
We can see that many people attempted to set up their own solar powered boat motor and after a few trips to the store for the equipment, it finally didn't work.
If you want to save your time and trouble, here is a shortcut for you:
Just using a solar powered outboard motor and have it installed on the back.
And usually, you can buy all the necessary accessories to successfully get a solar powered boat from the same brand, including the batteries, solar panels, charger, and wires.
The solar powered boat motor system may require a larger initial investment, but it's the entire package and it works and will probably cost you less in the long run.
Solar Powered Boat Motor Charging Time
As we have mentioned above, the solar charging efficiency could be disappointing, although some quality solar panels can reach a higher power conversion rate at about 20%.
Always remember to calculate the charging time before getting a solar powered boat motor especially if it's intended to be the main power source to ensure it can meet your needs:
Generally speaking, you will need approximately 9 hours of continuous charging for a full recharge with a 1276Wh marine battery and 180W solar charger when the weather is good.
* This calculation is based on 3A charging current which will decrease on cloudy days and may vary among different chargers. That's to say, the solar powered boat motor can take over 20 hours to get fully charged in adverse weather conditions.
If that's something that you are looking for, continue reading for the best solar powered boat motor setup.
Editor's Note: Larger solar panels can support longer hours of charging with more energy inside but will not make the charging any faster.
Best Solar Powered Boat Motor Systems
So if you don't want to take any risk of failure, the best solution is to get a whole solar powered boat motor system that includes the motor, battery, solar panel, and solar charger.
The ePropulsion 3HP Spirit 1.0 Plus solar powered boat motor is an easy start for most of you who want to go electric and get battery topped off with solar power backup.
With 180W solar charging capability, the Spirit 1.0 Plus battery features dual power which allows solar charging while still using it, extending the runtime and range of your journey.
To save your trouble, you can purchase the foldable solar panel and solar controller together from ePropulsion directly. It helps the solar powered boat motor to make the best use of the solar energy with an easy plug-and-play installation:
Taking advantage of the Fast Maximum Power Point Tracking (MPPT) technology, ePropulsion solar controller can draw more photovoltaic energy from the solar panel with efficiency greater than 90% by precisely positioning the maximum power point of PV cells.
The Spirit 1.0 Plus solar powered boat motor is also flexible in use which is designed to be compatible with 3rd party solar panels, so you are free to use your own at your convenience.
ePropulsion solar panels have been put to the test, and received very positive feedback, through its partnership with SailGP:
The electric sailing league, that champions a world powered by nature, has been using ePropulsion's solar products to power the electric outboard motors used on eleven supporting boats at its Grand Prix events.
Tips: If you are a sailboat owner and want a minimum impact on the environment, check out the Spirit 1.0 Evo. Besides solar charging, this model also comes with hydrogeneration function which allows batteries to get charged while sailing.
Note: Higher powered electric outboards like 9.9 HP ePropulsion Navy 6.0 is also available for solar charging (needs to be used with 3rd party solar panels).
How to Install Solar Panels to Charge Motors
It's super easy to set up the solar powered motor systems, like plug and play.
Take the above-mentioned Spirit 1.0 Plus as an example, here are 2 simple steps to have the Spirit battery charged via solar energy:
Step 1: Connect the solar charger controller to the Spirit battery plus
Step 2: Connect solar charger controller to the solar panel
Attention: For third party solar panels, make sure the maximum operating current 10A and the operating voltage is between 12V ~ 35V.
If you are using the ePropulsion E-Series Battery (only compatible with 3rd party solar panels), you need to set the solar charger float voltage to 57.6V. Meanwhile, the solar charger maximum discharge current needs to be less than 20A/40A/75A for E40/E80/E175 battery collectively.