Tiller outboard motors are the best solution for back-of-the-boat steering if you want more precious spaces on the boat and better control.
Looking for a reliable tiller outboard motor? You are in the right place. This post will introduce some of the most popular tiller outboard motors with built-in handles for the best simplicity.
New to the tiller handle outboard motors or still indecisive between tiller and wheel steering? No worries, here you will learn everything you need to know about tiller outboards, including its definition, how it works, operating tips, and benefits.
Table of content:
What Is a Tiller Outboard Motor
As the name implies, a tiller outboard motor is an outboard motor that adopts a tiller instead of wheel steering. Speed control is often integrated into the tiller handle by twisting the throttle.
This type of steering method is usually available for smaller outboards (usually under 100 HP) and it is especially popular for smaller boats including fishing boats and sailboats due to their unique and unbeatable benefits.
With a tiller outboard motor, you can easily control the vessels by directly pulling or pushing it. However, the tiller outboards work in a way against your intuition. Remember to check the tips to use tiller motors properly and effectively.
A bonus for some select tiller boat motors, including ePropulsion Evo series outboards, is that they also support wheel steering and remote control so you can have much better flexibility in the boat's steering solutions.
How Does Tiller Work
The motor tiller is essentially a lever that utilizes the torque leverage coming from the attached rudder post to change the direction of the motor and, eventually, the direction of your boat.
Remember the bow of your boat is always going the opposite way as you pull or push the tiller. That's to say, the bow will go right when the tiller is moved to the left, and vice versa. Getting used to the tiller outboard motors can take some time, especially if you are switching from the wheel system.
Here is an image that shows you how the tiller outboard motor works in changing directions in comparison with wheel steering: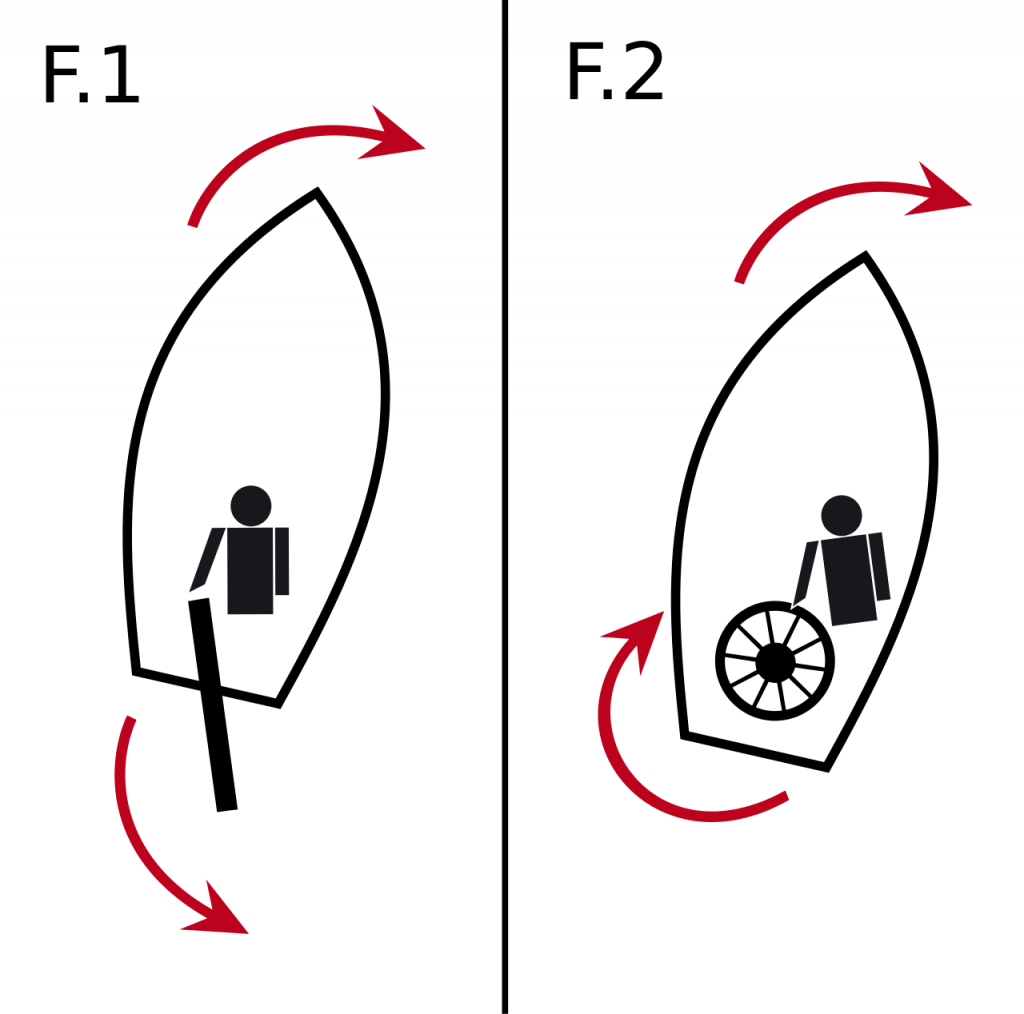 How to Operate a Tiller Handle Outboard Motor
It's pretty easy to operate tiller outboard motors. There are basically four simple steps to start your journey with a tiller outboard, taking ePropulsion Spirit 1.0 Evo as an example.
Put the kill switch in the proper position of the tiller.
Press and hold (≥ 2 secs) the "POWER" button to power on the system.
Turn the throttle to start the outboard motor.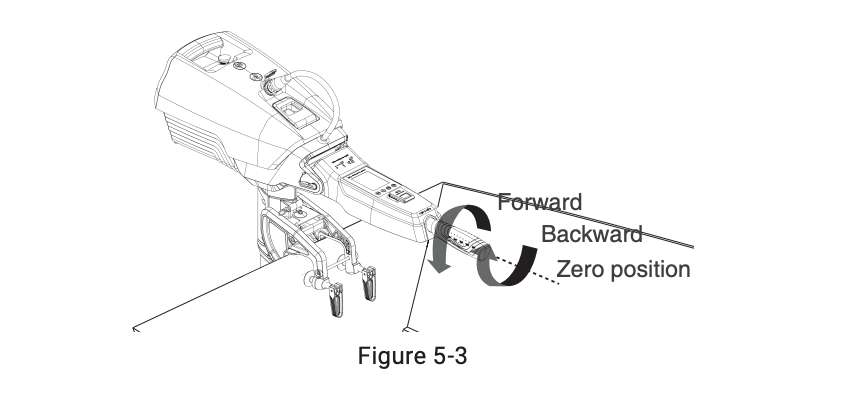 Change the heading direction of the boat by pulling or pushing the tiller.
As mentioned previously, you can turn this tiller outboard motor to accommodate wheel steering or remote control if you wish, and the tiller is convenient to fold or remove.
Benefits & Drawbacks
It can be a hard question in terms of which to go between tiller or wheel steering. To make the decision easy for you, we list the most prominent benefits of tiller outboard motors and some potential drawbacks for your consideration.
Space Saving
For small boats, tiller outboard motors are definitely the way to go since it saves your precious space on the boat. The tiller is usually attached to the outboard itself and doesn't require a dedicated operation "office" at the front or middle of your boat.
If you are going to use the boat for fishing mainly, you will find it convenient to sit beside the tiller to control the boat as well as fishing and the benefit of having more place to accommodate your fishing gears and other people onboard.
Better Boat Control
Compared with counsel steering, tiller outboard motors provide better boat control. It makes you feel more connected to the boat with better feedback to understand what the motor is doing underwater.
You will have quicker movements to keep you in the desired direction even in high winds. With the tiller outboard, moving from the full port to full starboard equals to moving your arm across the boat in half a second. However, you might need to turn the wheel several times in a console boat.
You will also find it useful in river fishing when there is a lot of current that needs you to move a short distance. With tiller outboard, you don't have to move from seat to wheel and back.
Easy to Operate
As mentioned previously, the tiller outboards are easy to use, even with one hand. The simplicity and ergonomic of the design are among the most important reasons that make the tiller steering system popular.
Except for changing the direction, adjusting the speed is also made easy with tiller outboards by simply twisting the tiller handle. What's more the tiller motors are comfortable to use when sitting right of the center line steering, throttling, and shifting with left hand, making it left-handed friendly.
Drawbacks
Some might complain that you are not facing forward (you are facing either left or right) while using the tiller outboard motor, which compromises your visibility, but most users don't see much of an issue controlling the boat this way and reported that they can easily get used to it.
You may also need to be aware that less horsepower rating is available with tiller outboards and the passengers might get wet while driving if you plan on tubing or skiing with the family.
Best Tiller Outboard Options
Have decided to go with tiller outboard motors and looking for a reliable option?
Check out ePropulsion electric outboard motors ranging from 3 HP to 9.9 HP.
All ePropulsion tiller outboards feature a foldable tiller for easy transportation and installation. Their Evo Series products are also compatible with wheel steering and remote control, making them suitable for various applications.
Here are the top two selling tiller outboard models from ePropulsion that are equipped with a ton of features you will love:
The Spirit tiller outboard motor is one of the most portable, quiet, and clean tiller outboard motors you can find on the market.
This 3 HP electric tiller outboard motor is made for dinghies, fishing boats, and sailboats, featuring a 1276Wh large integrated lithium battery for long range. Here is the performance report of this outboard motor on a 12-foot aluminum boat with one person and one battery in calm lake water:
| | | | |
| --- | --- | --- | --- |
| Power (W) | Speed (mph / kph) | Runtime (hh:mm) | Range (mile / km) |
| 35 | 2.2 / 3.5 | 36:25 | 80 / 129 |
| 65 | 2.7 / 4.3 | 19:35 | 53 / 85.3 |
| 125 | 3.5 / 5.6 | 10:00 | 35 / 56 |
| 250 | 4.4 / 7.1 | 5:00 | 22 / 35.5 |
| 500 | 5.3 / 8.5 | 2:30 | 13.3 / 21.3 |
| 750 | 5.7 / 9.2 | 1:40 | 9.5 / 15.3 |
| 1000 | 6.2 / 10 | 1:15 | 7.8 / 12.5 |
What makes it even more appealing is the industry-first hydrogeneration function. It means the tiller outboard will charge itself while sailing so you will have extended running time and range.
Want a more powerful tiller outboard? The 9.9 HP Navy 6.0 Evo will be a better suit for you.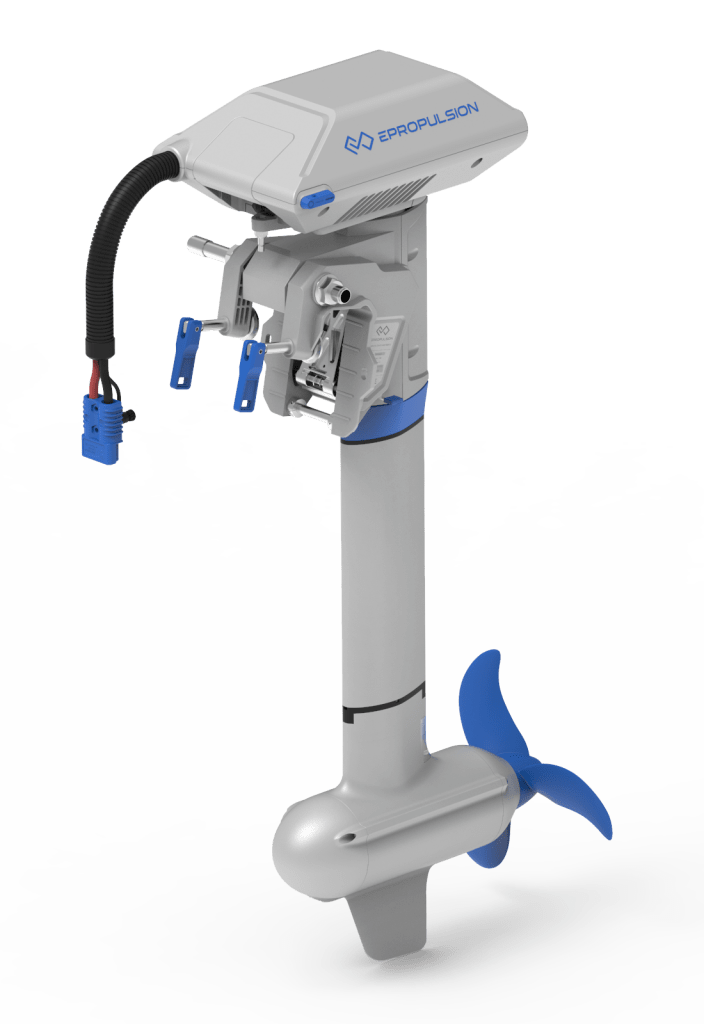 Featuring the industry leading direct drive technology, the Navy 6.0 Evo is quiet, free of maintenance, and reliable for use in both saltwater and freshwater.
This tiller outboard motor is not only easy to use but also impressively efficient to go further and faster, providing efficient and clean power for aluminum fishing boats, dinghies, daysailers and cruising sailboats.
According to our test, you can go 40 miles with Navy 6.0 Evo, or go fishing all day long at trolling speed with a single charge. Here is the test report based on a 12-foot aluminum boat with one person and one E175 battery in calm lake water:
| | | | |
| --- | --- | --- | --- |
| Power (Watt) | Speed (mph / kph) | Running Time (hh:mm) | Range (mile / km) |
| 500 | 4 / 6.5 | 18:00 | 72 / 116 |
| 1000 | 5 / 8 | 9:00 | 45 / 72 |
| 2000 | 6.7 / 10.8 | 4:30 | 30.2 / 48.6 |
| 3000 | 8 / 13 | 3:00 | 24 / 39 |
| 4000 | 11.5 / 18.5 | 2:15 | 25.9 / 41.7 |
| 5000 | 13.5 / 21.8 | 1:50 | 24.7 / 39.8 |
| 6000 | 15 / 24.3 | 1:30 | 22.5 / 36.5 |
You can learn more about the tiller outboard motor here and get more test information on other boats in the performance bulletin section.
Tips for the Best Use
Also check out the following tips and tricks to have a safe, fun, and efficient ride with the tiller outboard:
Remember to attach the lanyard to your wrist or life vest for safety reasons.
If the tiller length isn't long enough for your application, you may use a tiller handle extension.
Remember that the bow of your boat will go in the opposite direction as you push the tiller.
It's useful to practice operating the tiller on both sides as sometimes you might find the other side having more space or better visibility.
Try not to rapidly or excessively move the tiller as it will result in an increase in drag and finally brake or slow the boat.
Conclusion
Whether to go with a tiller outboard motor or a wheel console is mostly a matter of preference. You will become an expert on both given enough time and practice.
That being said, the ease of use, space saving nature, and a ton of other benefits make the tiller outboard motors popular not only for beginners but also for experienced boaters alike.
If you have any questions regarding the tiller outboard motors, feel free to leave a comment below and we will get back to you as soon as possible.