Planning on purchasing a boat? You will need to answer one question before getting on board: What type of boat engine do you want, inboard or outboard?
However, it can be hard to choose between inboard vs outboard as the choice can greatly affect your boating applications, user experience, and cost.
So inboard vs outboard, which motor is right for you?
In this post, you will learn everything you need to know about inboard vs outboard motors, from the basics to the pro tips to help you make a wise decision.
Table of content:
Inboard vs Outboard Motors: Basics You Need to Know
First things first, let's make the definitions clear about the inboard and outboard motors to make sure we are on the same page.
What's an Inboard Motor
As the name implies, the inboard motor is a propulsion system mounted inside the hull of the craft, usually connected to a driveshaft. A large box is required in the middle of the boat to hold the engine. With an inboard motor, you cannot operate on it directly and a separate rudder is used to steer the boat.
The inboard motors are more commonly seen on larger vessels (such as yachts), where the large motors cannot be placed on the rear of the hull.
What's an Outboard Motor
Compared with the inboard motor, the outboard motor is mounted outside the hull of the boat, usually on the stern. The outboard provides propulsion to the boat, and you can control the direction of its thrust by using a tiller. So, the outboard motor itself acts as a rudder (although some advanced models allow you to connect it to a separate rudder to steer the boat).
Outboard motors are more commonly seen on fishing, recreational, and light commercial inshore boats due to their simplicity and ease of use.
Note: You may also hear a lot of people talking about inboard/outboard motor (I/O engine) and this is actually a hybrid between the two. The engine is housed inboard and the drive system is mostly outside exiting the back bottom of the hull.
Here is a diagram that illustrates the different layouts between the inboard vs outboard.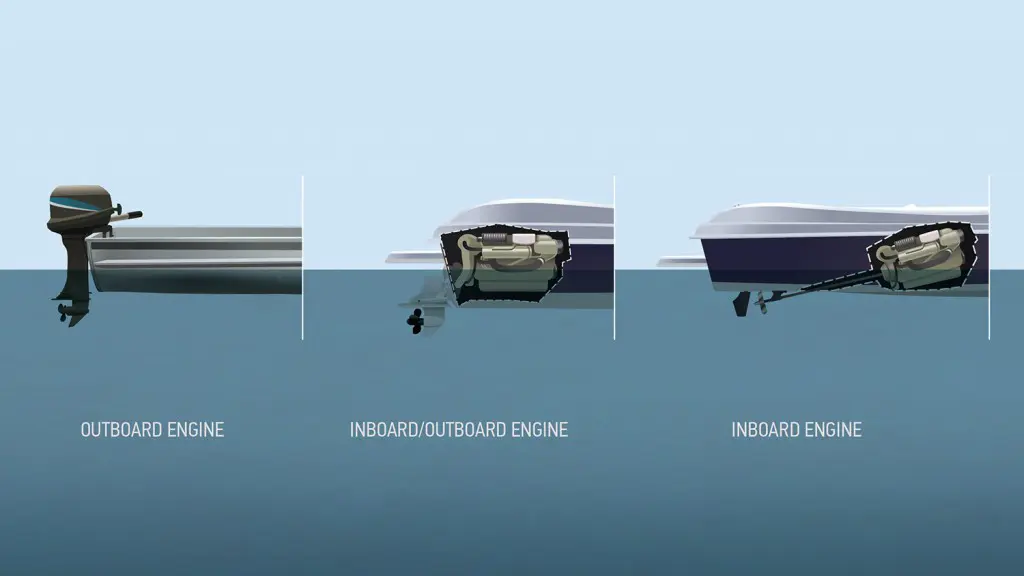 Some of you may think that inboard motors are quieter than outboards. In fact, this is not true today with the development of electric outboard motors. They are virtually silent during operation, producing zero noise and pollution to the environment.
Inboard vs Outboard: What's the Difference
Having some knowledge of the inboard vs outboard, you might wonder which option is better for your boat. Learning the differences associated with outboard and inboard layouts will make your decision much easier.
Here we will break the comparison down into the following aspects:
#1. Appearance
As you can see in the picture, the inboard is hidden while the outboard motor is 100% visible. This is a huge plus for the inboard motor. If you prefer sleeker aesthetics, inboard motors would be a better option. That's why inboards are more popular in the bow riders because they do kind of look better which is opinionated.
Also, if you go with an inboard motor, you will get much more space at the rear without the outboard taking away your swim platform space and cutting into the rear sun pad. This is an important factor if you are planning on some water activities.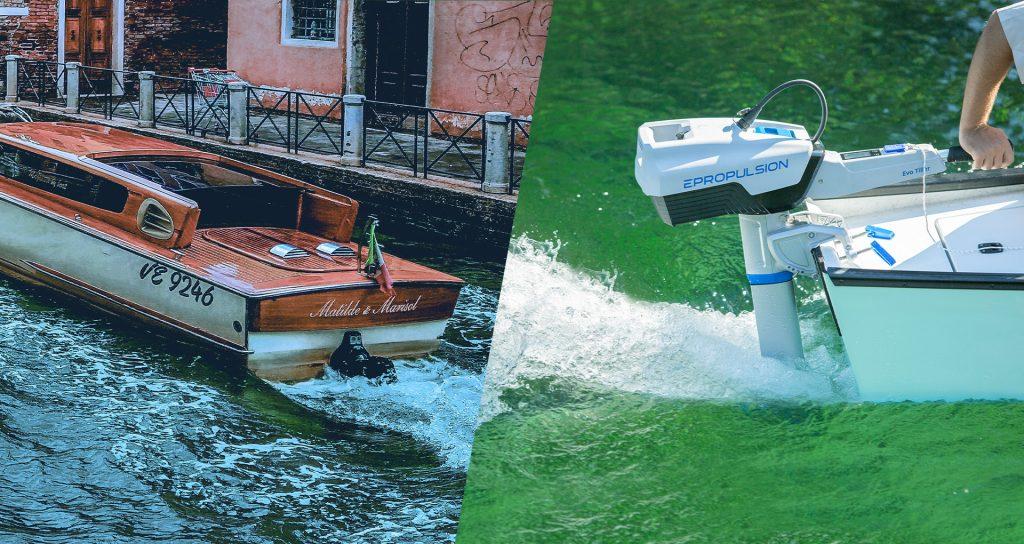 That being said, the outboard positioning also makes it easier to swap out the motor. So if you plan to upgrade to a new or more powerful motor any time soon, an outboard motor can be a more hassle-free solution.
#2. Ease of use
Compared with inboard motors, the outboard motors are easier to operate and navigate. They are easier to maneuver for docking with a mild learning curve. This is a huge plus for beginners if you have no prior experience in boating.
This benefit is especially true for electric outboard motors.
The tiller offers the most intuitive and easy control of your boat with quick response. Just press the button on the tiller and you are ready to go. Twist the throttle clockwise or anti-clockwise to move forward or backward. You can also connect your outboard motor to a remote and steering wheel to operate it.
A minor plus of outboard vs inboard you might experience in use is that the outboard craft can weigh less altogether making it easier to tow on the trailer.
#3. Maintenance
Maintenance is important when something goes wrong with your outboard or inboard motor. The outboard motors are easier to service and maintain since they are outside of the boat.
The electric outboard motor can make it even easier with a maintenance-free direct-drive motor design. The ease of maintenance can save you a lot of money in the long run, making the outboard motor a less expensive option for you to enjoy the fun on the water.
#4. Winterization
No one wants to see your engine rusty and frozen for the next summer you start it up and spend a few thousand to fix it. The outboard can be tilted or lifted entirely out of the water, making it easy to store the motor in winter times. In this case, the outboards can save you some trouble compared with the inboards.
#5. Power range
The inboard motor tends to provide broader power ranges, and the outboards are more popular among smaller boats although some big outboards are also available these days.
Larger boats are better with inboard motors, and you cannot just rely on a single outboard motor to provide enough power for large vessels, especially for long-range.
#6. Price
One rule of thumb when considering inboard vs outboard is that you need to get what fits your budget. The outboard layouts are less expensive in comparison to their inboard counterparts, but inboards can be more energy efficient since they are modeled after car engines and can be customized to your boat's specific design.
Also, don't forget the cost associated with the maintenance which can make a huge difference in long-term use.
The comparison between inboard vs outboard above doesn't necessarily mean one is better than the other. Continue reading for more useful tips about the selection of an inboard vs outboard motor.
How to Choose Between Inboards vs Outboards
Both inboards and outboards have their pros and cons as discussed above. Whether an inboard or outboard motor is better suited for you is essentially a personal decision. Here we provide some aspects for you to make an easier decision.
#1. Body of water
The decision of inboard vs outboard can largely depend on your primary use for the boat. For example, if you spend most of your time in shallow water fishing, the outboard motor would be a better option since it can run smoothly in shallow water. Besides that, you can tilt the motor to minimize the draft.
However, the prop, shaft, and rudder are fixed for the inboard motor, and they are near the deepest part of the hull, making it less convenient to do shallow water fishing.
#2. Applications
If you are planning for some water sports, the inboard motor would be a better option. In fact, inboards are still more popular in the ski and wakeboard boating segment.
That's because you can get much more room on the back of your boat with an inboard motor. Think about the clean transom and big swim platform. Besides that, it's safer in design since the person in the water would not be as close to the propeller or sharp edge on an outboard.
If you prefer an outboard motor for water sports, be sure to get one with advanced safety features, such as the safety wristband which will shut down the motor immediately if people overboard.
#3. Functionality
If you are looking for simplicity, the outboard motors can be a more straightforward solution for you.
If you are looking for portability or considering using a trailer to tow your boat, the outboard craft can weigh less, making it easier to transport. You may also find some portable outboards on the market that can be easily removed from your boat and packed into your SUV or trunk.
Besides that, the outboards can be completely tilted out of the water. If your boat mostly in saltwater, this functionality can prevent marine growth and corrosion on your motor.
Best Inboards and Outboards
Have a general idea about the pros and cons of outboard vs inboard? Here we provide you with options for both inboard and outboard solutions, so you can compare products and explore their differences and find your best fit.
The Spirit model is a portable 3 HP outboard motor made for dingies, fishing boats, sailboats, and tenders. It features a 1276Wh large integrated lithium battery for long range. It's nimble, quiet, lightweight, and clean power.
The safety wristband available on the Spirit Evo model keeps you safe in case of MOB and the digital display keeps you informed of the battery status all the time including the power, remaining runtime, battery level, etc.
If you are looking for larger outboard solutions, you can check out ePropulsion Navy Series.
The I-Series include three models (10 kW, 20 kW, 40 kW). They are highly efficient, clean, quiet, and compact. It's an environmental-friendly electric inboard motor series packed with innovative technology, smart features, and human operation design.
Underpinned by the highly integrated and modular ePropulsion Smart System Architecture (eSSA) and the IoT connectivity service, it provides users with an easy-to-use, intelligent, safe, and reliable experience unlike any other.
Want higher-powered electric inboard options? Check out the ePropulsion 100 kW H-100 model or talk to our experts and customize your own inboard solutions.
If you have other specific requirements, considerations, or concerns about the inboard vs outboard motor, leave us a message in the comment section below, and I will get back to you asap.