Learning the outboard motor weight is essential whether you are considering repowering your boat or carrying the outboard around without a trailer.
You will want the outboard motor weight to be within the safety level of the boat's capacity plate as well as provide enough power to allow you to explore further.
Here I've listed the outboard motor weight from the most popular brands for your reference, so you will know the proper power range you should be looking at.
Looking for a portable motor with the lightest outboard motor weight possible?
No worries. We've also selected some lightweight outboard motors that allow you to comfortably carry any distance regularly. Be sure to check it out if you favor something light for your boat.
Table of content:
Editor's Note: This post will update regularly, trying to provide you with the most updated figures. You can bookmark this page for future reference.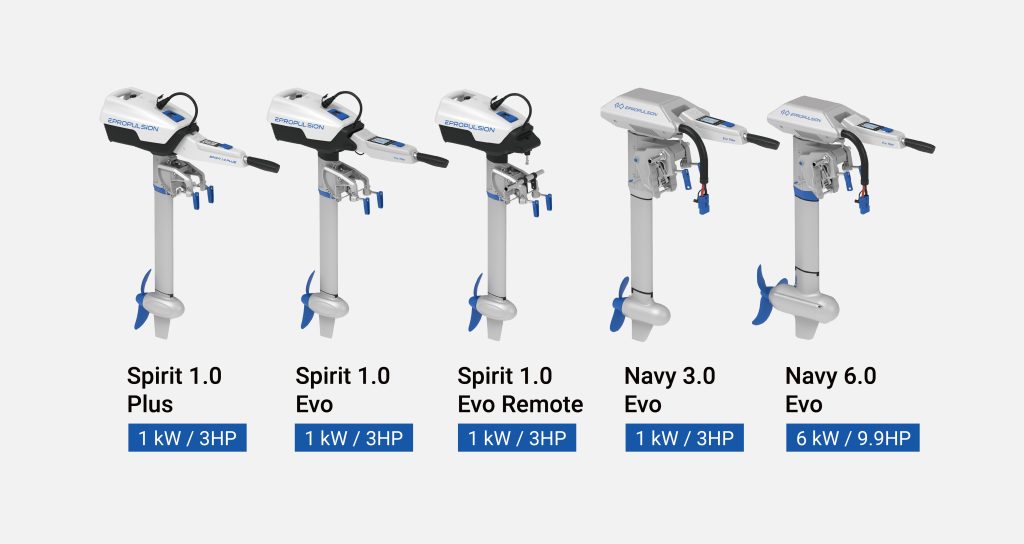 Outboard Motor Weight by HP
How much does a 9.9/10/25/50/115 hp outboard motor weigh? How heavy is a 20/50 HP outboard?
Currently, the outboard motor weight can go from somewhere between 13 kg/29.5 lbs (the lightest) to 572kg/1260 lbs (the heaviest), depending on the power range you are looking for.
Here is an outboard motor weight chart that compares the weight among portable, mid-size, and high-power outboards.
We include the electric outboard motor weight in a separate chart for your reference as electric outboards have become a more and more popular and viable solution these days, providing sufficient power and range, especially for smaller boats.
Electric Outboard Motor Weight
Category
HP
Dry Weight
Portable
3 HP
Around 42 lbs / 19 kg (with integrated battery)
6 HP
Around 53 lbs / 24 kg (without battery)
9.9 HP
Around 79 lbs / 36 kg (without battery)
Mid Size
15 HP
Around 99 lbs / 45 kg (without battery)
30 HP
Around 161 lbs / 73 kg (without battery)
60 HP
Around 218 lbs / 99 kg (without battery)
Combustion Outboard Motor Weight
Category
HP
Dry Weight
Portable
3.5 HP
40 – 45 lbs (18 – 20 kg)
6 HP
50 – 60 lbs (23 – 27 kg)
10 HP
80 – 130 lbs (36 – 59 kg)
Mid-Size
15 HP
95 – 140 lbs (43 – 64 kg)
20 HP
95 – 150 lbs (43 – 68 kg)
25 HP
130 – 170 lbs (59 – 77 kg)
30 HP
145 – 220 lbs (66 – 100 kg)
40 HP
205 – 260 lbs (93 – 118 kg)
50 HP
210 – 270 lbs (95 – 122 kg)
60 HP
240 – 285 lbs (109 – 84 kg)
70 HP
255 – 355 lbs (116 – 161 kg)
80 HP
350 – 400 lbs (159 – 181 kg)
90 HP
350 – 400 lbs (159 – 181 kg)
100 HP
350 – 400 lbs (159 – 181 kg)
High Power
115 HP
370 – 500 lbs (168 – 227 kg)
150 HP
450 – 530 lbs (204 – 240 kg)
175 HP
475 – 600 lbs (215 – 272 kg)
200 HP
475 – 625 lbs (215 – 283 kg)
300 HP
500 – 800 lbs (227 – 363 kg)
400 HP
690 – 700 lbs (313 – 318 kg)
500 HP
800 – 1095 lbs (363 – 497 kg)
627 HP
1260 lbs (572 kg)
Data Source: ePropulsion, Yamaha, Mercury, Thohatsu, Honda, Suzuki official websites.
Note: The outboard motor weight can be affected by a lot of factors, resulting in some weight differences for outboards with the same HP rating. This is indicated by the "weight range" in the figure.
Typical elements that factor into the outboard motor weight include the motor types (two-stroke or four-stroke), shaft lengths, brand, and age:
Two-stroke outboards are lighter than four-strokes due to their simple design.
Shorter shaft lengths contribute to a lighter outboard motor weight.
Newer outboards tend to be lighter due to the development of technology.
Outboard Motor Weight by Brand
The outboard motor weight can be different across brands as they might use different materials and technology.
Comparing weight by brand can help you save time finding the lightest weight outboard motor at a certain power range.
Here we compare the outboard motor weight of three different power sizes (25/90/200 HP, representing small/mid/large size outboards) from six popular brands:
Power Range
Brand List from the lightest to heaviest
25 HP (Small Size)
1. Mariner
2. Mercury
3. Yamaha
4. Suzuki
5. Evinrude
6. Honda
90 HP (Mid Size)
1. Mercury
2. Suzuki
3. Honda
4. Yamaha
5. Mariner
6. Evinrude
200 HP (High Power)
1. Mariner
2. Mercury
3. Yamaha
4. Evinrude
5. Suzuki
6. Honda
Data Source: gomidwestfishing.com
Note: You may find the outboard motor weight calculation has changed over the years, even with similar product models within the same brand.
That's possibly due to technological advancement. For example, the modern 4 strokes outboards are heavier than their previous 2-stroke version. Also, there can be a difference in materials and measurement (dry weight vs weight with fluids and prop).
Therefore, we've averaged the outboard motor weight of old and new models for each power range to provide a more accurate comparison between different brands.
Top 3 Light Weight Outboard Motors
Looking for the lightest weight outboard motor to reduce your hassles in use, packing, transportation, and storage?
Be sure to check out our top 3 portable outboard motor recommendations that are easy to operate and manage with sufficient power for long range.
Note: Here, by lightweight and portable, I mean a maximum outboard motor weight of 85 pounds (38.5 kg), which is the heaviest model for a young man to comfortably carry around. Anything heavier than that, I'd suggest a trolley if moving it more than a few meters on a regular basis.
Spirit 1.0 Evo is one of the best selling portable electric outboard motors providing 3 HP equivalent power.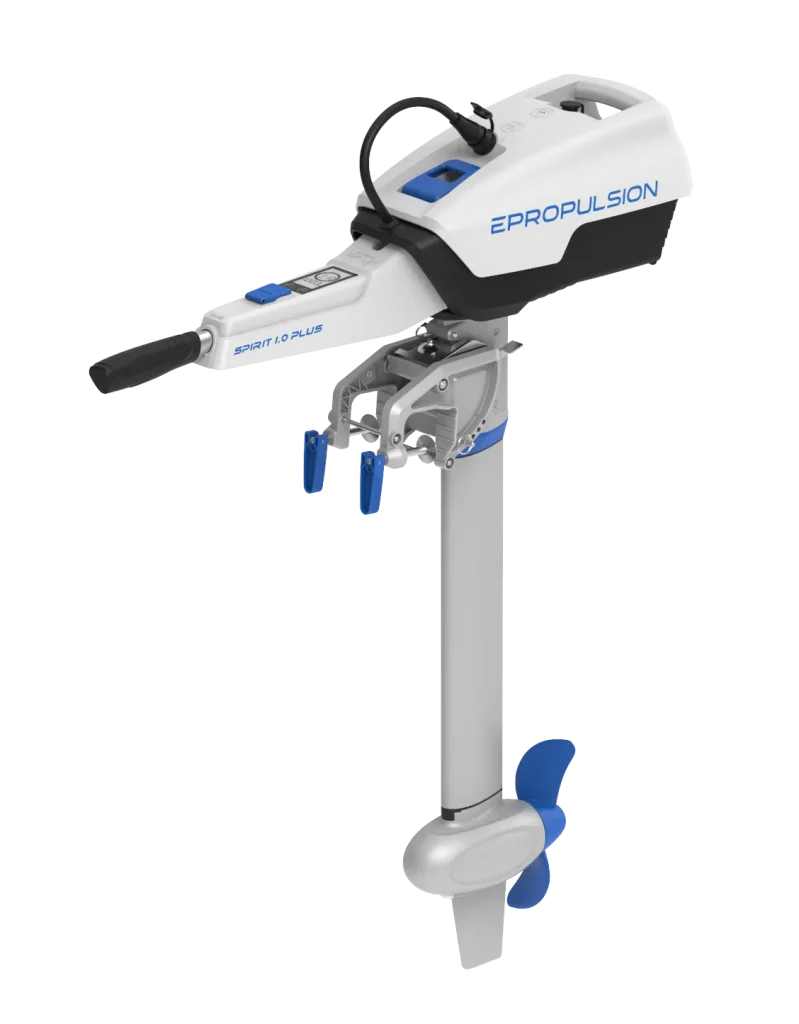 It's designed for portability and easy transportation. It weighs only 44.1 lbs (20 kg) with an integrated battery and tiller. It's lightweight, so you can easily lift up and out of your car, and onto and off of a transom without a trailer or a sack truck.
There is an option of a bag set, making it even easier to pack up and carry it in and out of your car or truck frequently. The folding tiller allows you to quickly pack and deploy the outboard motor.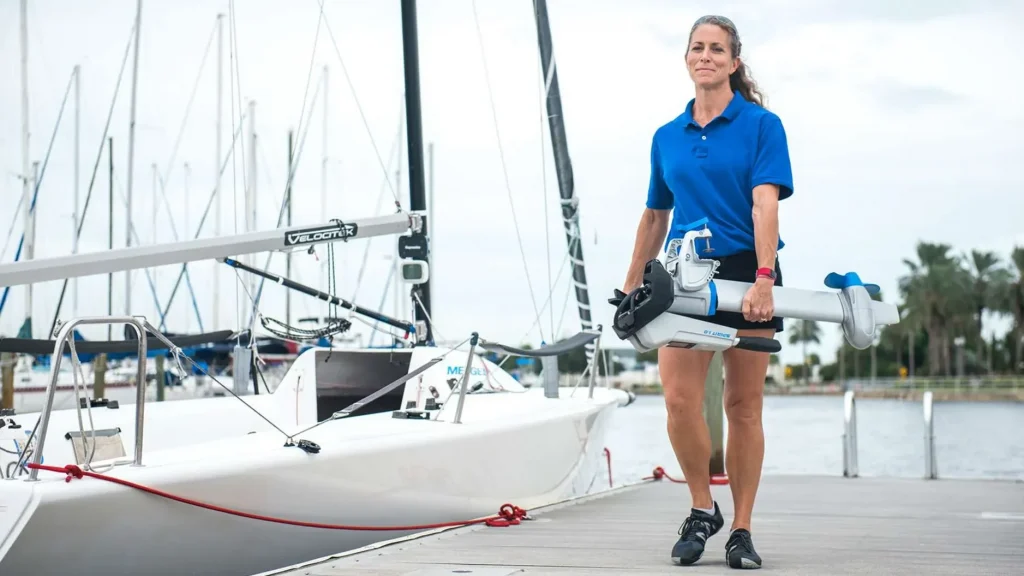 Coming with a light outboard motor weight, this portable outboard motor is also very functional with tons of advanced features:
It's quiet and clean with low maintenance required, thanks to its nature of being electric-powered.
Featuring a 1276 Wh large integrated lithium battery, you can go 22 miles at 4.5 mph, or go fishing all day long at trolling speed (tested on a 12-foot aluminum boat).
Besides that, it has a digital display to keep you informed on the battery status and a safety wristband that offers extra layers of safety. Hydrogeneration allows you to collect energy from natural resources to explore further.
All in all, Spirit 1.0 Plus is the solution to go if you need something portable to move you around easily (without the need of traveling long distances at top speeds).
If you want a lightweight and powerful outboard motor, check out the Navy 3.0 Evo.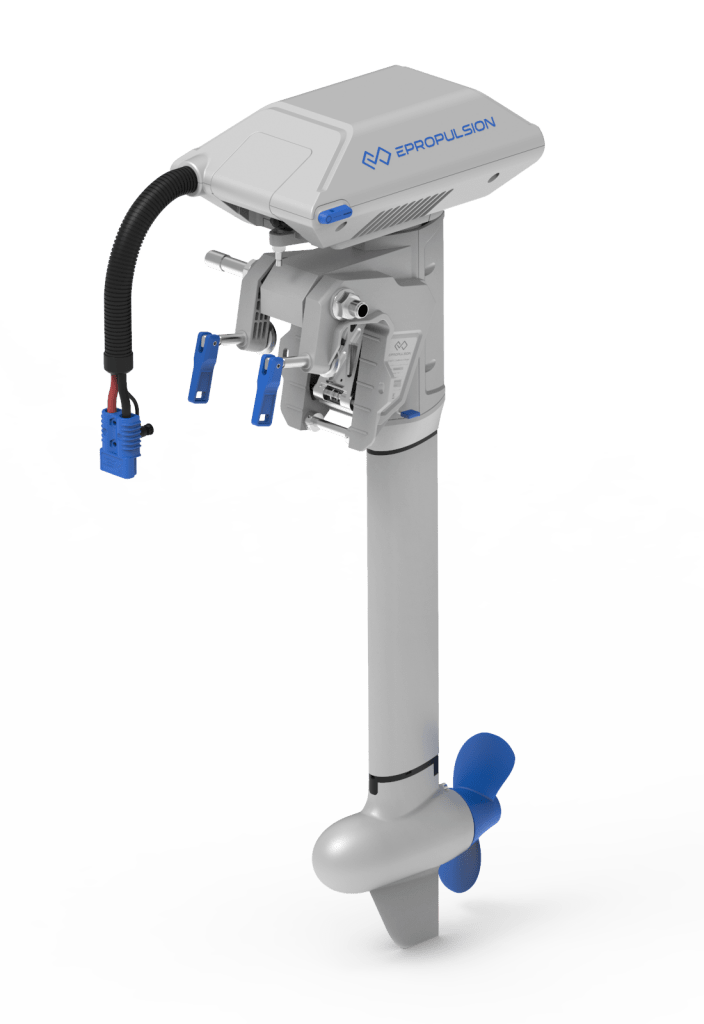 It provides 6 HP equivalent power and weighs 53.6 lbs (24.3 kg) without battery and control. Using the bag pack (needs separate purchase), a young and fit adult can easily handle it even for long-distance travels.
The accompanying ePropulsion E-Series LiFePO4 battery promises high performance at a relatively lightweight and competitive price (as low as $0.5 per watt-hour).
It allows you to go 35 miles (56.3 km) at the speed of 4.7 mph (7.5 kph) or trolling all day long (tested on a 12-foot aluminum boat with one E80 battery).
You can control this lightweight outboard motor with either a remote (top mount, side mount, or dual remote controller) or a tiller, which allows for more flexibility in your control and operation.
The Navy 3.0 Evo is a good addition to your boat if you want to spend a few hours on the weekend and packs up easily into your apartment.
Further Reading: Click to learn more about the benefits of LiFePO4 batteries.
Still want more power and extended range? Check out the 9.9 HP Navy 6.0 Evo. It provides efficient and clean power for aluminum fishing boats, dinghies, daysailers and cruising sailboats.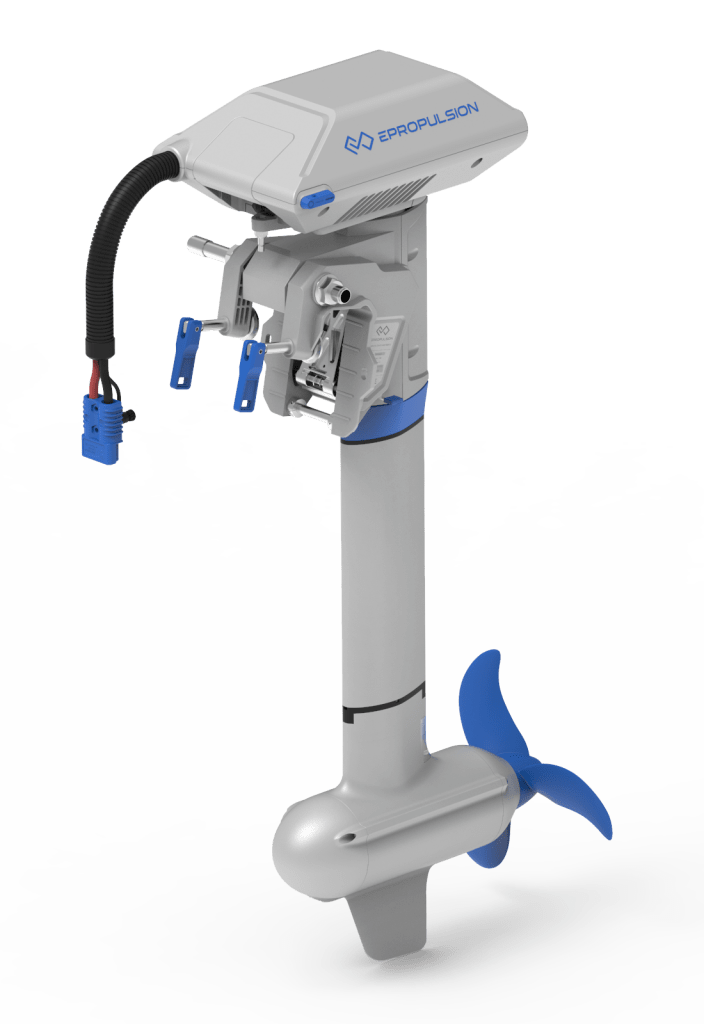 It weighs 36 kg (79.4 lbs) and can be handled without a trailer. It's nearly the highest outboard motor weight if you want to comfortably carry the motor any distance regularly.
In terms of performance, the outboard motor can reach a top speed of 15 mph (24.3 kph) on a 12-foot aluminum boat. At the speed of 5 mph (8 kph), it can go 45 miles (72 km) with one charge (using the ePropulsion E175 battery). That's pretty impressive. It's about 3 trips from the New York Aquarium to the Statue of Liberty.
The Navy 6.0 Evo is a great choice if you want to have more fun on the water instead of an outboard motor that's too heavy to manage for each outing.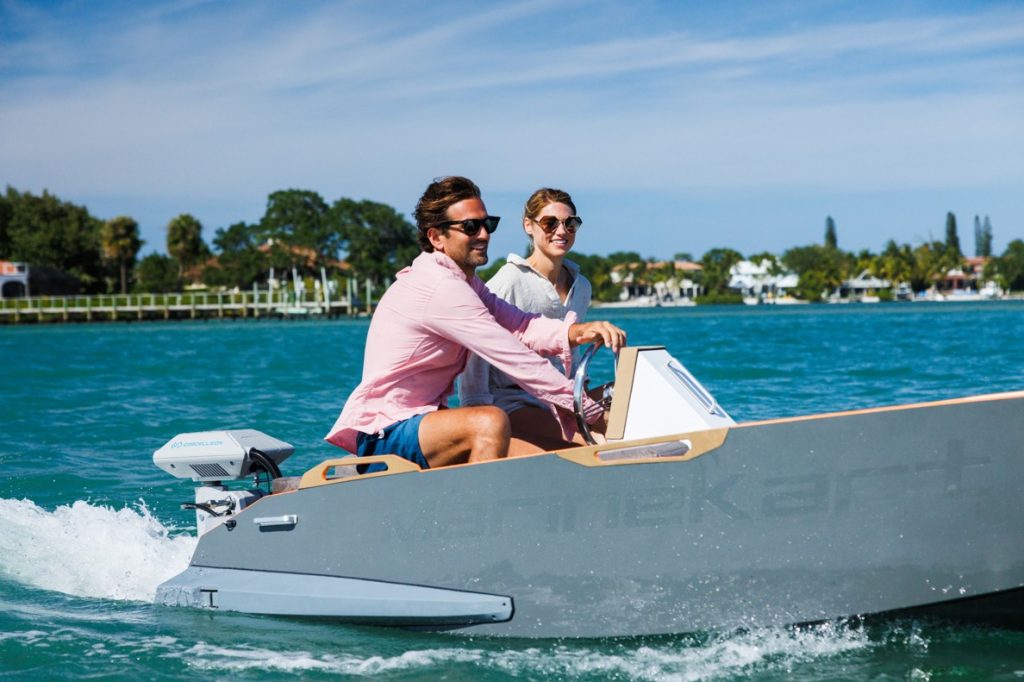 FAQs About Outboard Motor Weight
For your quick reference, here we list some frequently asked questions with quick answers. If you have other confusion regarding the outboard motor weight, feel free to let me know in the comment and I will get back to you asap.
#1. What's the best power-to-weight ratio?
Generally speaking, it's suggested to have between 40 and 25 pounds of weight for each horsepower.
#2. How much does a 25 HP outboard motor weigh?
Typically, a 25 HP outboard weighs between 130 lbs and 170 lbs (59 kg – 77 kg).
#3. How much does a 10HP / 9.9 HP outboard motor weigh?
A 10 HP / 9.9 HP can weigh between 80 lbs to 130 lbs (36 kg – 59 kg)
#4. How heavy is a 20 HP outboard motor?
The weight of a typical 20 HP outboard is somewhere between 95 lbs and 150 lbs (43 kg – 68 kg).
#5. How much does a 50 HP outboard motor weigh?
A 50 HP outboard usually weighs in a range from 210 lbs to 270 lbs (95 kg – 122 kg).
#6. How much does a 115 HP outboard motor weigh?
You may expect a 115 HP outboard to weigh somewhere between 370 lbs and 500 lbs (168 kg – 227 kg).
#7. How much does a 90 HP outboard motor weigh?
Generally, a 90 HP outboard motor can weigh from 350 lbs (159 kg) the lightest to 400 lbs (181 kg) the heaviest.