Choosing the right outboard steering system is important as it can greatly enhance boat control, reduce operator fatigue, and improve safety.
However, what type of outboard steering is best for your boat?
It generally depends on the size of your boat and the type (and size) of your motor.
In this post, I will introduce the major types of outboard steering systems with handy tips and instructions to finish your outboard steering setup if you are looking for an upgrade.
After reading this post, you should be able to decide on an ideal solution for your outboard steering and get useful insights regarding the outboard steering system installation and maintenance.
So let's just dive in.
Table of content:
Editor's Note: This post only provides general knowledge and information regarding outboard steering. It's always suggested to visit a dealer first and speak to an experienced technician for professional advice.
Three Types of Outboard Steering
These days, there are a ton of different steering options for you to choose from, and currently, the most common outboard steering types include tiller, mechanical (or cable), and hydraulic steering.
Understanding different types of outboard steering will help you make an informed decision on the best steering system for your own boat.
#1. Tiller Steering
Using a tiller arm is the easiest way to steer your boat. Tiller outboard steering is inexpensive and most popular among small boats and outboards within the power range of 20 HP.
That's because the high torque of the propeller on the handle from large outboards makes it hard to keep steering in a straight line. Steering a 25 HP tiller outboard is tiring enough even for a strong and patient guy.
Usually, the tiller is built into the outboard motor itself which provides instant and accurate response to your operation. Whereas, some sailboat users might use a link arm to extend the tiller and operation range.
With tiller steering, you can easily control the throttle (with a press on the start button), change the direction (with a pull or push), and adjust the speed (with a twist) using the telescoping handle.
Further Reading: What Is Tiller Outboard Motor & How Does It Work?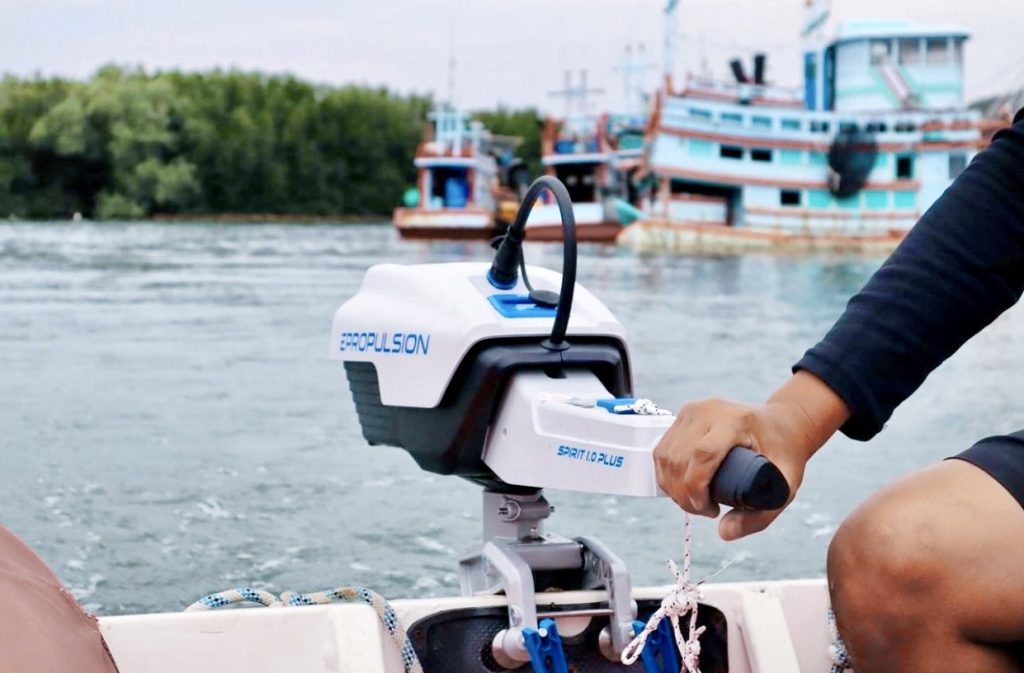 #2. Mechanical Steering
If you prefer to use a wheel for outboard steering, you will be very likely to get (or should strongly consider) a mechanical or cable steering outboard, especially if you are talking about a smaller outboard within 150 HP.
Mechanical outboard steering is essentially a push-pull cable system where a cable runs from the steering wheel and helm to the outboard motor. That's to say, you will need a helm, steering cable, and connection kit to set up the mechanical outboard steering system.
As a traditional manual (or non-power) way of outboard steering, mechanical steering is suitable for smaller boats with a length of up to 10 meters, including fishing boats, pontoons, aluminum boats, and runabouts.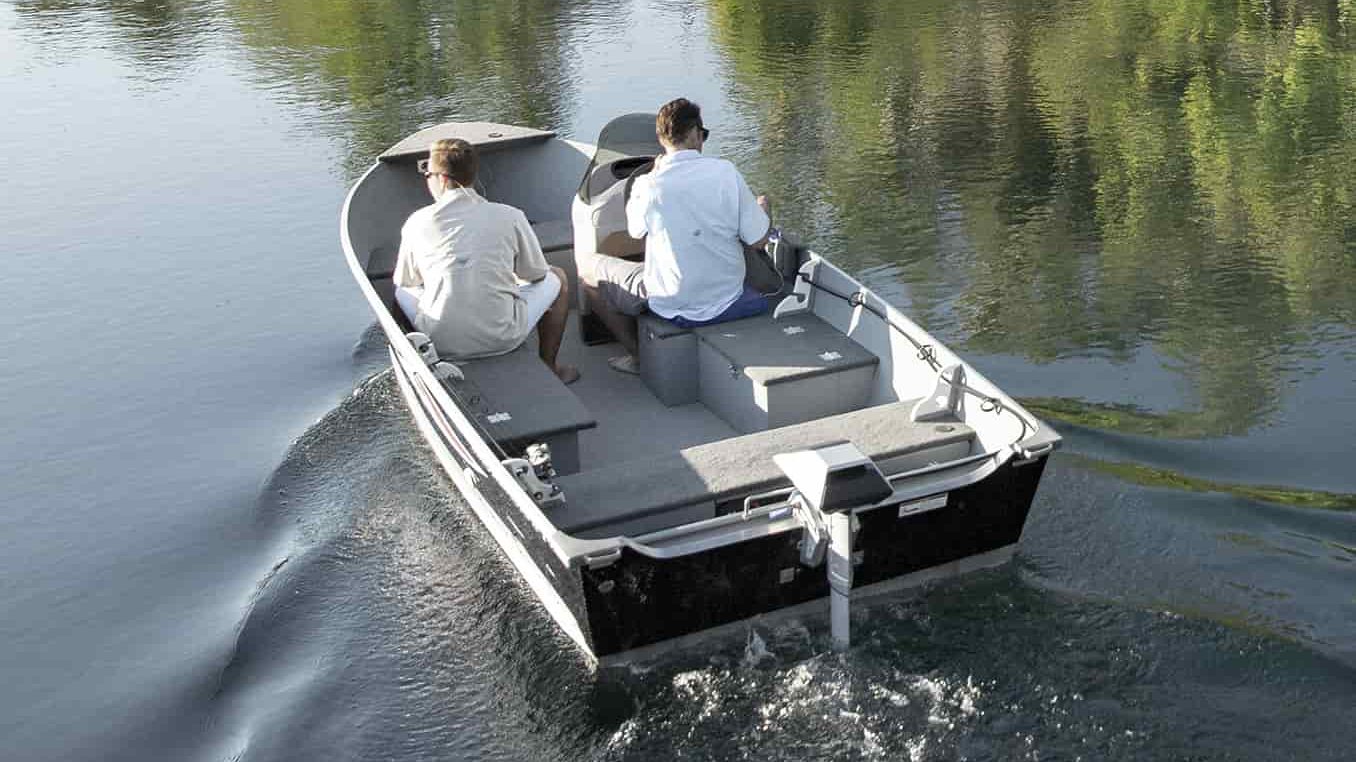 #3. Hydraulic Steering
Hydraulic steering is a more advanced and expensive outboard steering option, which is popular among larger boats and high horsepower outboard motors above 150 HP.
Compared with mechanical steering, the hydraulic outboard steering system is favored by boat owners for its smooth control and super easy turning on large outboards and high-powered vessels with high torque engines.
As the name implies, a hydraulic steering system uses hydraulic pressure to turn the boat's steering wheel.
To be more specific, a hydraulic pump which is connected to a steering wheel draws fluid from a reservoir and then sends it to a hydraulic cylinder that connects to the outboard motor, applying hydraulic pressure to move the engine to port or starboard.
As the most common type of power steering system on boats, hydraulic outboard steering allows you to effortlessly steer and turn the boat even in heavy loads, making it ideal for large boats and commercial vessels.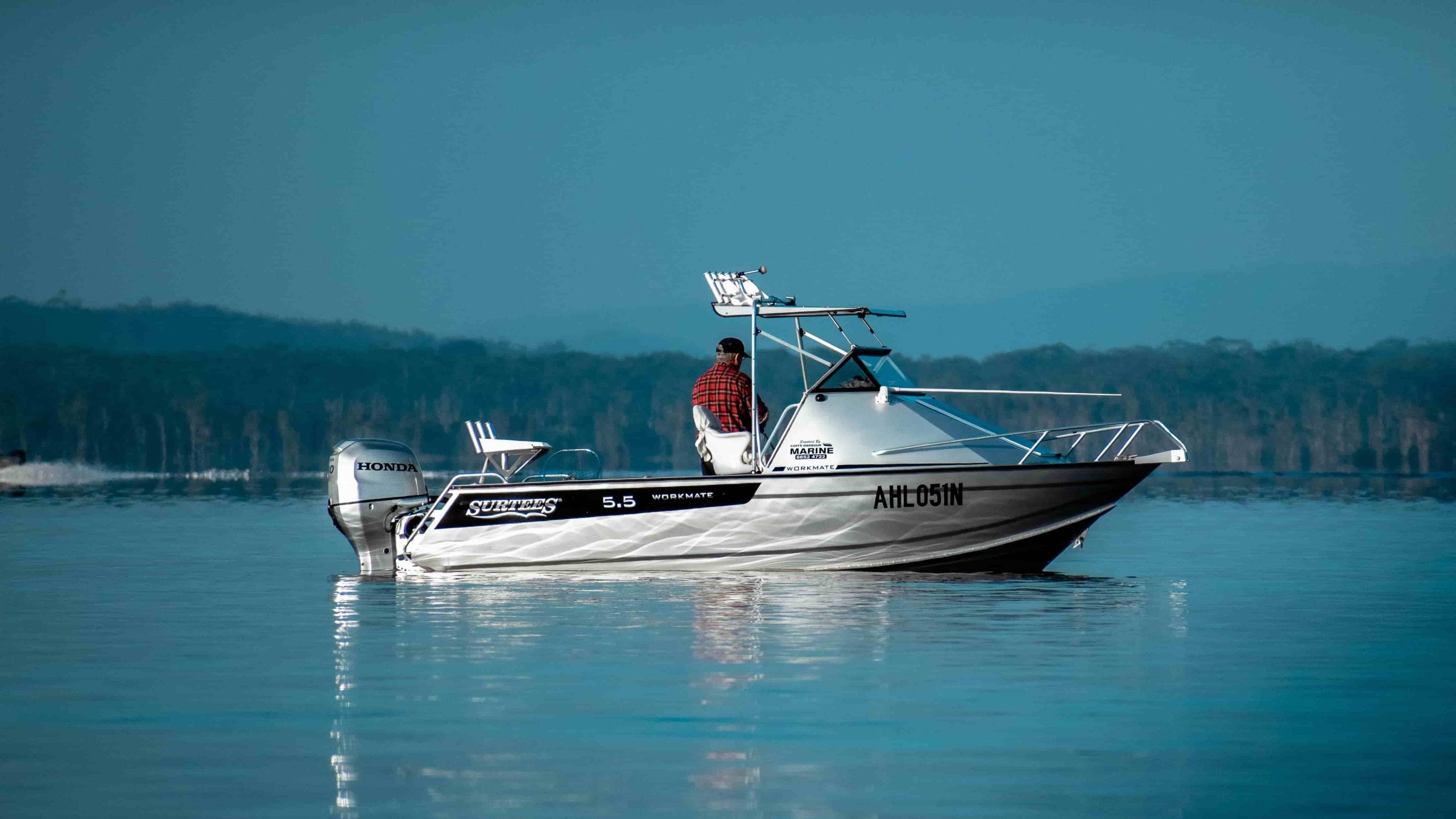 Outboard Steering Comparison
Having learned the basic knowledge about outboard steering, it's important to understand their differences so you can easily compare and find the best fit.
Here I've compiled all the essential information in a table for your quick reference.
| | | | |
| --- | --- | --- | --- |
| | Tiller Steering | Mechanical Steering | Hydraulic Steering |
| Recommended Size | Outboards within 20 HP | Boats less than 10 meters within 150 HP | Boats larger than 10 meters over 150 HP & high-speed boats |
| Cost | Low | Medium | High |
| Installation | Super Easy | Easy | More Complicated |
| Maintenance | Low | More Maintenance (such as cable maintenance) | Less Maintenance (such as period bleeding) |
| What's Good | Easy to installEasy maneuverabilityShallow learning curveMore space savingInexpensive | Less physical demandingRelatively easy to installReliableBetter line of sight with wheel steeringLess expensive | Effortless power steeringCan deal with high torqueMore corrosion resistant with fewer metal partsWheel steering benefitsLess maintenance |
| What's Bad | Only viable for small outboards | Torque feedback | Expensive |
Note: The boat size for the respective outboard steering system is recommended to provide a satisfying user experience at a reasonable cost – No one wants an outboard steering system that's hard to control and manage.
In fact, small outboards (even the 3 HP Spirit 1.0 Evo) are also compatible with the higher-end steering systems for better control if you are dead set on hydraulic and budget is not an issue for you.
For example, ePropulsion outboard motors can be easily upgraded to mechanical or hydraulic steering although packed with a tiller handle in default. That being said, hydraulic steering is usually available for larger boats (above 10 meters). It's better to talk with your boat manufacturer about your plan to see if it's feasible.
If you have any confusion about the information or are still indecisive about which outboard steering system to go with, feel free to leave us a comment below. I will try to reply as soon as possible.
Outboard Steering System Upgrade
More and more users are considering upgrading their outboard steering systems to enable remote control with a steering wheel.
If you are one of those looking for an upgrade, no worries. Here I will provide all the necessary information for you to make the change.
Upgrade from Tiller to Mechanical Outboard Steering
Compared with a tiller arm, mechanical outboard steering allows you to use a steering wheel and control the outboard remotely on the front with less physical force.
So how would I go about installing remote steering?
Basically, you will need a helm, a throttle, and cables which can add up to around $800. You can purchase an outboard steering kit to simplify the converting process.
Some outboard brands also make things easy for you with necessary remote steering accessories.
For example, the ePropulsion Navy outboard motor provides remote control (top/side/dual remote) kit option for your throttle, and the cable required is easily available from its authorized dealers worldwide. Just make sure you get the cable length right.
All you need to do is to prepare a wheel and helm assembly and connect all the components together properly.
Here is a step-by-step instruction that guides you through the whole process:
Step 1: Mount the remote control and connect it with the outboard using the provided communication cable.
Step 2: Install the remote control kit to the outboard following the video tutorial.
Step 3: Install (or replace) the steering wheel and all the hardware below it.
Step 4: Connect the wheel (and halm steering system) with the link arm on the outboard using cables.
A bonus point to the ePropulsion outboard steering remote is its solar powering capability for extended battery life.
A Kind Reminder: Before getting started, make sure your outboard (esp if electric) is compatible with steering control. Currently, ePropulsion Spirit Evo is the smallest outboard that compatible with wheel steering.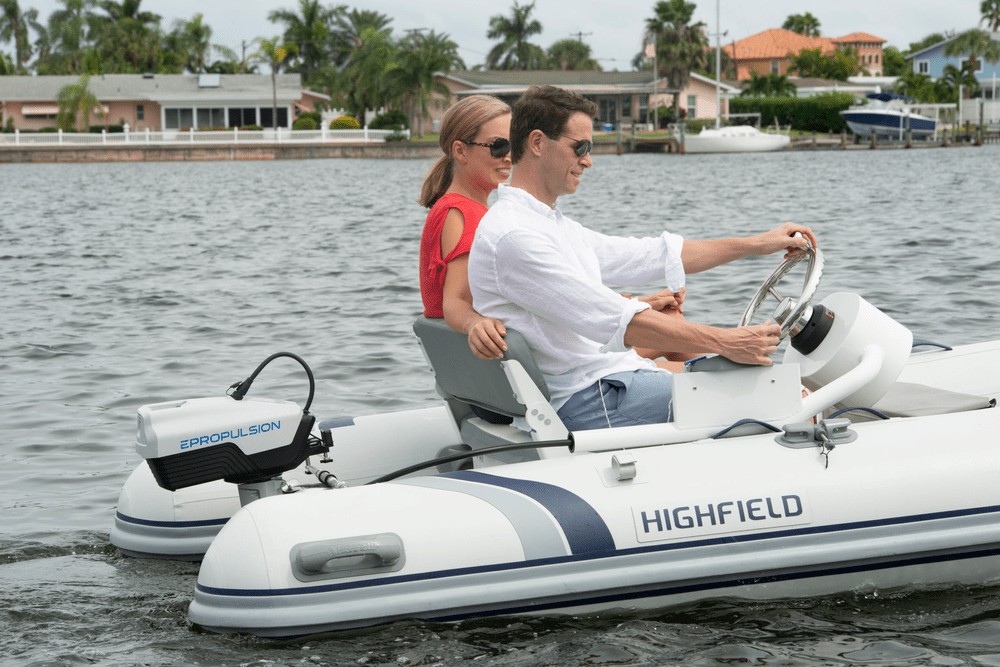 Upgrade from Mechanical to Hydraulic Steering
These days, many outboard owners are interested in upgrading their mechanical steering system to the more modern hydraulic types.
The good news is that it can be done by yourself with a handy outboard steering kit available online, if you are technically inclined. Just follow the manufacturer's instructions in your kit carefully, it should be good to go.
However, if you are not experienced in this kind of work, you'd better check with a local dealer first and ask for professional help from an experienced technician.
Here is a general step-by-step instructions to guide you through the overall process:
Step 1: Remove the old steering
Step 2: Attach the steering ram
Step 3: Insert the steering bar
Step 4: Pull the steering hose
Step 5: Attach the steering hose
Step 6: Attach fittings to the helm
Step 7: Insert new helm
Step 8: Attach the hose to the helm
Step 9: Add hydraulic fluid
Click here to check out the outboard steering upgrade video tutorial for detailed steps.