Buying outboard motors is not an easy task since there seem to be endless choices on the market with possibly split reviews.
Torn on which outboard to buy?
Here I've summarized the top things you need to consider before buying an outboard motor to help you make the decision easier.
Besides that, you will get extra pro tips to select the best outboard that fits your needs and learn some top recommendations if you want to save time doing research online.
Interested in buying a used outboard motor?
Don't be cheated by the cheap price and be mindful of the potential learning curve to get used to it and the maintenance cost which will build up over the years.
Whatever outboard motors you want to buy, spending a few minutes grasping some tips here can help you make a wise decision.
Table of content:
Buying an Outboard Motor: Top 5 Considerations
Buying an outboard motor is a tradeoff. It's hard to find an outboard that meets all your requirements for brand reputation, functionality, as well as budget.
Here we've listed the most important things you need to consider to get a satisfying purchase based on our experience handling customer's inquiries over the years.
1. Dealer Support
Local support is an important factor that is often overlooked when buying an outboard motor.
However appealing the brand might be to you, if you can not get support or service within 400 miles of you, it would not be the best choice.
Purchasing from an outboard manufacturer with handy support would make things much easier if you have something specific that needs troubleshooting.
Take ePropulsion as an example. With a dealer network worldwide and an active online user group, you can always find support when needed and get help online from the service team and previous customers.
Check reviews in your local service centers to find the outboard motor brand with the best service and support in your area.
2. Features
The functionality that's important to you totally depends on your applications.
For example, if you are mostly looking to use the outboard motor for fishing and rides around the lake, there will be fewer requirements for corrosion proof features. However, if the motor is intended for saltwater use, make sure that the outboard is protected with anti-corrosion coating such as the dual anodized and powder coating used by the ePropulsion outboards.
Another important thing to consider before buying the outboard motor is the safety features. If you are worried about the man going overboard, which can be especially dangerous if the motor keeps running all the time, get the outboard motor with safety wristband.
Other nice-to-have features include solar charging, hydrogeneration, remote control, and portablitiy, all of which are availble on Spirit series outboards. You may select and rank the importance according to your personal applications.
If you are looking for some special features or specific use cases, leave us a comment and I will try to help find the best solution for you.
3. User Experience
Boating is all about the experience and a good outboard motor should be there to help you get a superior experience on the water.
If you want a quiet and clean ride, it's recommended to buy an electric outboard motor. You will be amazed by the quietness once you start the motor, especially if you just made the switch from the combustion outboards. There are no more gas or diesel stains on your clothes and no more gas smells to harm your health.
Buying an electric outboard motor brings tons of benefits, including the digital display, significantly less maintenance, ease of use, and the capability for remote steering (with selected outboards such as ePropulsion Spirit, and Navy).
Further Reading: Electric Outboard Motors: All You Need to Know
4. Reliability
Reliability always comes first when it comes to such a huge investment as buying an outboard motor.
So how to choose a reliable outboard motor among the endless options available online?
The rule of thumb is to learn from experienced users and buy from recommendations. You will be a lot safer with a reputable brand. Always read (the latest) reviews from both industry experts as well as previous customers before making the final decision.
An easy way to get honest comments from real users is to search for "product plus reviews" (for example, Outboard Motor Review) through Google or YouTube. It will land you on the most related and popular videos and posts.
Another tip to get exactly what you're looking for is to check outboard motor performance data on field tests in real-life applications. It will provide much more practical information for your reference, including the boat type, weather, persons on the boat, and water conditions.

5. Value
The final decision always comes down to price. You will not want to break the bank on the propulsion system such as an outboard motor. However, the price doesn't tell everything. We are not looking for cheap outboards but valued ones within your budget.
Knowing what you are paying for can help you get the best deal.
Some people may think electric motors are just too expensive given their limited battery life. While, combustion outboards are more of a "default option" when it comes to buying outboard motors, since it has been dominating the outboard market for such a long time.
However, you are paying for a much better user experience with zero noise, pollution, or smell, and significantly less maintenance that can be easily finished by yourself. What makes it even more appealing is the evolving battery technology. Now you have the LiFePO4 batteries to save the cost (unit price as low as $0.5 per watt-hour with ePropulsion E-Series battery), and there will be other even more affordable options in the future.
Editor's Note: In fact, electric outboard motors have already been a popular option, especially for small boats. Taking ePropulsion Spirit 1.0 Plus as an example, it will be more cost-effective than its combustion counterparts with just a few years of use (thanks to the savings of fuel cost and maintenance).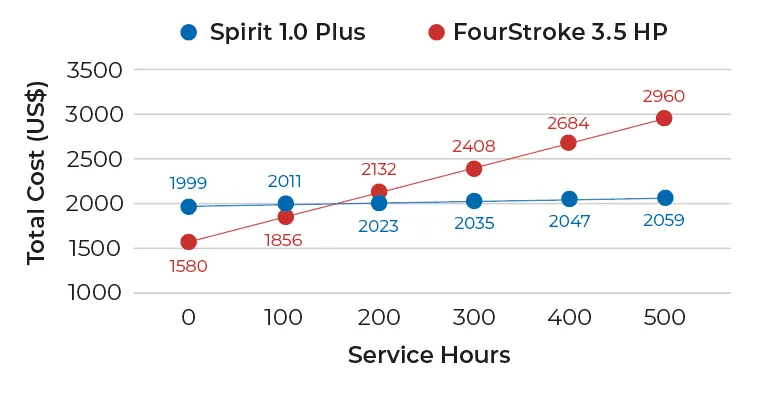 If you are looking to buy small outboard motors, it's highly recommended to consider the electric solution. Click to check out the most-valued electric outboard options.
Purchase Tips for Outboard Motors
Here are some extra tips if you are new to boating and it's the first time for you to buy an outboard motor:
If possible, ask for a test drive before buying an outboard motor.
Don't forget to check the outboard motor weight, shaft length, and security options.
Talk to friends and neighbors with boats and check out their suggestions.
If you have no idea which outboard motor to buy, ask the boat manufacturer for advice, or stop by some nearby boatyards and see what they suggest.
It's important to buy outboard motors from an authorized dealer so you can enjoy the benefit of warranty support.
Outboard Motor Recommendations
Combining all factors that make a satisfying purchase decision, electric outboard motors can be the best solution, especially for small boats, inland fishing, and offshore cruising.
Here are some of the best options you can consider when buying your next outboard motor.
Spirit 1.0 Plus is designed for portability with a lightweight built-in battery, providing virtually silent and clean propulsion for your boats. It's perfect for fishing and going for rides around the lake.
You only need to pay for cheap running costs since you don't need to buy any fuel and do as much maintenance as the combustion motors.
This model is perfect if you want a decent outboard motor that gets you from point A to point B at a reasonable speed. According to our test, you can go 22 miles at 4.5 mph with just one charge or go fishing all day long at trolling speed (tested on a 12-foot aluminum boat with one person onboard).
If you are looking to buy an outboard motor for your smaller boats such as dinghies, fishing boats, sailboats, and tenders, the Spirit 1.0 Plus will definitely not let you down.
*Test Report:
*Customer Review:
"It's so nice to ride electric and not have to deal with a gasoline engine in the cold! The picture is from a trip to our holiday home at the end of November. It is on a small island in Stockholm's archipelago and we go there all year round as long as there is open water." (Sören Dahlström)
Considering buying an outboard motor with a higher power?
Check out the Navy Series outboards with 6 HP and 9.9 HP models for your selection.
The Navy outboard provides efficient and clean power for aluminum fishing boats, dinghies, daysailers, and cruising sailboats, suitable for both saltwater and freshwater.
Featuring advanced direct drive technology, the Navy outboard motors are quiet, maintenance-free, and reliable. The cost-effective LiFePO4 E-Series battery makes a good match when buying the outboard motor.
The powerful outboard motor brings you a much longer trip. With a single charge, you can go 40 miles with Navy 6.0 Evo (on a 12-foot aluminum boat with one person onboard). If you are cruising at 4 mph (or 6.5 kph), it gives you 18 hours of runtime that can last a whole day.
If you want to buy an outboard motor for a quiet, clean, efficient, and longer ride, the Navy Series is your excellent choice. (Dual motor and dual remote control are also available to provide more power.)
*Test Report:
*Customer Review:
"The new ePropulsion Navy 6.0 Evo 9.9HP inherits many merits from classic Navy 6.0 – it's smooth and powerful! But this time, benefiting from the brushless direct-drive technology, it's quieter than ever!" (Blake Yarter)
Buying a Used Outboard Motor
Sometimes you might come across some outboard motors on sale at cheap prices that seem too good to be true.
Is it good to buy an older used boat motor?
The answer varies from person to person.
If you are looking to buy a used outboard motor, be mindful of the potential learning curve required to get used to it, the possibly higher maintenance cost that will build up over the years, and also the availability of accessories which can be a problem for older generations.
So if you know how to work on the boat and enjoy doing the mechanical work and maintenance yourself, the used outboard motor can be a rewarding option.
Remember that the void of warranty and support from manufacturers also comes as a compromise.
It's always suggested to do a thorough test to make sure the used motor works well on your boat. If possible, ask for a trial before buying the outboard motor.
Buying Outboard Motor Online
Considering buying outboard motors online?
There can be some websites with really competitive prices, but be wary of scams.
Don't make your purchase a donation.
So do your research on the brands, read customer reviews, and make sure you buy from a reliable company with a good reputation, an active online and offline presence, and responsive local dealer support.
A good way to confirm whether a company is reliable or fraudulent is to check its recent news and events. Some trusted websites feature a media center so you can get the latest updates.
Some online stores, including ePropulsion, also support ordering through their local dealers, making the shipping more economical and reliable.
If you want to save time doing the research, you can just choose a reputable mass-produced brand whose products are ubiquitous around your area.