A kicker motor will save your day if the main outboard fails, especially if you are fishing offshore.
It's just like a life jacket or a spare tire in your car that keeps you safe in emergencies.
However, the benefit of kicker motors doesn't end here.
Read on to learn all the pros and cons of kicker outboard motors and make a wise decision.
Besides that, we will cover all essentials you need to know about kicker motors, including the kicker motor 101 (definition, control & steering), steps to mount a kicker motor, best picks, and a comprehensive kicker motor buying guide.
After reading this post, you will be fully informed about kicker motors and plan your next steps.
Table of content:
Kicker Motor 101: Basics You Need to Know
Before going into depth, you need to understand several basics about kicker motors to keep us on the same page.
So what's a kicker motor? What does a kicker motor do?
Simply put, a kicker motor is a smaller auxiliary motor (usually within 10 HP depending on the boat size), mostly for navigation when the main engine dies or trolling certain kinds of fish at low speed.
It allows you to travel at a slow speed as if you were to get out and "kick" alongside the boat.
In terms of kicker motor controls, you can choose either manual/tiller control (with the tiller used for both throttle and steering) or remote control (with a remote for throttle and a wheel for steering) to accommodate your fishing styles and current motor setup.
A kicker motor steering linkage can be used to connect the kicker motor to your primary outboard engine for steering from your helm station. Click here to learn detailed steps on how to mount a kicker motor and finish a basic kicker motor setup.
Note: Although you can troll with a kicker motor, it doesn't mean it's a trolling motor.
In fact, they are two different things.
So what's the difference between a kicker motor and trolling motor?
Kicker motors are smaller (electric/combustion) outboards with sufficient power to push big boats at hull speed. Whereas, electric trolling motors are intended for pushing small boats instead of bigger boats around.
If you are in an emergency, you will probably be out of luck if you get a trolling motor to get you back to the dock.
Further Reading: Electric Outboard (Kicker Motor) vs Trolling Motor
Do I Need a Kicker Motor: Pros & Cons of Kicker Outboard Motor
If you've been out boating for some time, you might see kicker motors a lot or hear people talking about kicker outboard motors.
Does it make any sense to add extra weight to the boat and spend the extra dollars on a motor rarely used?
Learning the pros and cons of kicker motors will help you make a better decision.
Kicker motors give you a lot of benefits, including the following:
Works as the backup engine to get you home when the main engine fails (especially offshore, out of sea tow area)
Running a kicker motor helps troll certain kinds of fish at low speeds, such as salmon, trout, walleye, and kokanee
It saves energy since trolling a kicker motor burns less gas than running the main at idle
A kicker outboard motor is key to prolong the life of the main engine if most of your work is slow trolling
Adding a kicker motor would be a more cost-effective solution than going with twins
Kicker motors are also favored by sailboaters and can be used when sailing is impractical
That's why kicker motors are so popular with anglers and boaters who want a piece of mind and better efficiency. However, don't forget the additional weight of the kicker which comes as the major disadvantage of the kicker solution.
With that being said, whether you need a kicker motor on the boat depends on your specific needs and requirements.
Personally, it's worth the added cost for the piece of mind. Imagine the spun props, dead engines, and all sorts of issues that could happen while fishing offshore. The only way you can count on to return home is the backup engine.
Otherwise, you might have to radio the coast guard or police for assistance and towing services which can be hardly available in some areas and at special times.
How to Select a Kicker Motor: Top 3 Things to Consider
Have settled your mind on a kicker outboard motor? There are so many choices with different power ranges and specs that can make you lost.
Here I've listed the top 3 considerations before purchase to narrow down your options and help you find the perfect fit for your boat.
#1. Ease of Use
An easy-to-use kicker motor can save you a lot of trouble, and electric kicker motors go a long way in providing a user-friendly boating experience (compared with the combustion 2/4 stroke kicker motors).
With an electric kicker motor, you can forget about the pull-starting hassles. All you need to do is press the button and twist the throttle, and you are on the way.
The electric kicker motor is quiet and clean. That's to say, it will not scare the fish and wildlife away, perfect for fishing and wildlife viewing.
Besides that, the electric kicker motors run off batteries, so you don't need to think about fuel feeding.
To make things even easier, some electric kicker motors, such as Spirit 1.0 Plus, feature an integrated battery that saves you trouble wiring.
Some of you might be worried about battery life. Actually, the kicker motor doesn't need to be at full throttle to get to trolling speeds, and the runtime and range can be greatly extended if it's just for trolling:
Taking the 9.9 HP ePropulsion Navy 6.0 as an example, you can easily go 40 miles or troll all day long with one charge according to our test*.
Overall, the electric solution is hard to beat in dealing with small engine needs such as kicker motors.
*Click to check the test report and conditions.
#2. Power
The next important thing you need to decide is the power rating.
So how do you size a kicker motor?
A kicker motor is much different from the main motor that's intended for planning.
Remember that you are only going to be moving at hull speed with a kicker motor, which is limited by boat length. For example, a 17′ boat can go around 5.8 mph (5 kts) at top speed.
Extra power won't get you much faster until you have enough power to plane. It would just be extra weight and space.
Generally speaking, a 9.9 HP kicker motor will push 25 or 30ft boats adequately for trolling speeds.
If there are heavy winds and currents, you will want more power to fight against the adverse environment.
If you are not sure about the HP needed to move your boat, leave a comment below and our specialist will get back to you asap. Or talk to our local dealers directly to discuss the best kicker motor solutions for your boat.
#3. Weight
While considering adding a kicker motor, don't forget the extra weight the motor brings, which can affect overall power efficiency.
Make sure the total weight (including your main engine, the kicker motor, people, and gear) is within the limit indicated on the boat capacity plate.
The extra weight of the kicker motor also leads to weight distribution problems.
For example, more weight on the back of the boat will lower the transom in the water, which affects the ride. In that case, you may need to raise your main motor to compensate.
That's how you decide on which side to mount the kicker motor.
Also, remember to calculate the physical space required to turn the kicker motor, especially if you want it side by side next to the huge main engine or control it using a tiller.
Getting a compact electric kicker motor can again save you a lot of headaches.
Further Reading: Outboard Motor Weight & Lightest Options
Best Kicker Outboard Motors
Looking for a reliable kicker outboard motor? All the research and background knowledge comes down to selecting the best kicker motor for your boat.
Here I have listed the top 2 recommendations in different power ranges to satisfy your various boating needs. All of them are compact and easy to use with versatile features.
Spirit 1.0 Evo is a small and portable kicker motor designed for fishing boats and sailboats up to 25 feet.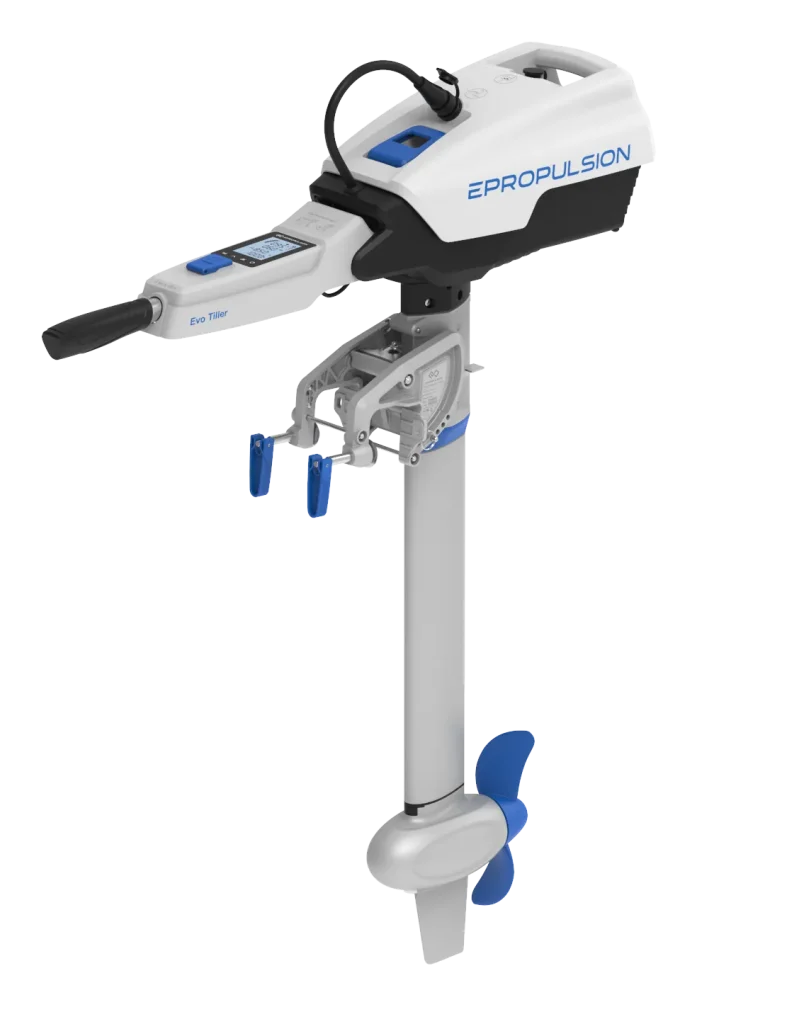 With Spirit 1.0 Evo kicker outboard, the speed and throttle control is realized through the built-in tiller. Remote steering is also available by using the ePropulsion remote.
In fact, it's the only electric outboard under 5HP on the market that allows remote helm steering. If you are looking for a small electric kicker motor with remote steering, be sure to check it out.
It comes with an integrated battery for simplicity and long range. Here is a test report on a 12-foot aluminum boat with one person on board.
| | | | |
| --- | --- | --- | --- |
| Power (W) | Speed (mph / kph) | Runtime (hh:mm) | Range (mile / km) |
| 35 | 2.2 / 3.5 | 12:25 | 80 / 129 |
| 65 | 2.7 / 4.3 | 19:35 | 53 / 85.3 |
| 125 | 3.5 / 5.6 | 10:00 | 35 / 56 |
| 250 | 4.4 / 7.1 | 5:00 | 22 / 35.5 |
| 500 | 5.3 / 8.5 | 2:30 | 13.3 / 21.3 |
| 750 | 5.7 / 9.2 | 1:40 | 9.5 / 15.3 |
| 1000 | 6.2 / 10 | 1:15 | 7.8 / 12.5 |
Click here to learn more about the typical kicker motor setup with Spirit 1.0 Evo, and its real-world performance on different boats.
6 HP and 9.9 HP kicker motors are the most popular types among users, and the Navy Series provides the two hottest power ranges for your selection.
The 6.6 HP kicker motor Navy 3.0 Evo weighs 24.3 kg (53.6 lbs) and is suitable for aluminum fishing boats, dinghies, daysailers and cruising sailboats up to 30 feet.
According to our test, you can go 35 miles at the speed of 4.7 mph (7.5 kph) with this kicker motor and one E80 battery . The data below is collected on a 12-foot aluminum boat (using the kicker motor as its main power source) to provide you with a rough reference in terms of its performance.
| | | | |
| --- | --- | --- | --- |
| Power (Watt) | Speed (mph / kph) | Running Time (hh:mm) | Range (mile / km) |
| 300 | 3.7 / 6 | 13:20 | 49.3 / 79.3 |
| 550 | 4.7 / 7.5 | 7:25 | 35 / 56.3 |
| 1000 | 5.3 / 8.6 | 4:00 | 21.2 / 34.1 |
| 1500 | 6 / 9.7 | 2:40 | 16 / 25.7 |
| 2000 | 6.3 / 10.2 | 2:00 | 12.6 / 20.4 |
| 2500 | 8 / 12.8 | 1:35 | 12.7 / 20.5 |
| 3000 | 10.2 / 16.4 | 1:20 | 13.6 / 21.9 |
While the 9.9 HP kicker motor Navy 6.0 Evo allows you to go 45 miles at the speed of 5 mph (8 kph) on the same boat with one E175 battery. It weighs 36 kg (79.4 lbs), providing sufficient power for boats up to 35 feet.
| | | | |
| --- | --- | --- | --- |
| Power (Watt) | Speed (mph / kph) | Running Time (hh:mm) | Range (mile / km) |
| 500 | 4 / 6.5 | 18:00 | 72 / 116 |
| 1000 | 8-May | 9:00 | 45 / 72 |
| 2000 | 6.7 / 10.8 | 4:30 | 30.2 / 48.6 |
| 3000 | 13-Aug | 3:00 | 24 / 39 |
| 4000 | 11.5 / 18.5 | 2:15 | 25.9 / 41.7 |
| 5000 | 13.5 / 21.8 | 1:50 | 24.7 / 39.8 |
| 6000 | 15 / 24.3 | 1:30 | 22.5 / 36.5 |
Other than that, they share the same structures, designs, and functionality. Some highlights of this electric kicker motor series you will love include the following:
Electric steering provides a clean, quiet, and comfortable ride
Electric kicker motors require significantly lower maintenance than their combustion counterparts
Tiller/manual control or remote control of your choice
Companion E-Series battery provides high energy density and longer life cycles at a competitive price
Digital display keeps you informed of the battery status all the time
Magnetic kill switch and safety wristband keeps you safe in an emergency
Hydrogeneration function allows you to collect electricity from wind and water to extend battery life
Mounting a Kicker Motor: Steps to Follow
Once you get a decent kicker motor, the next thing is to install it.
Luckily, the kicker motor installation is not complex and can be done by yourself.
Follow the steps below to go through the basic kicker motor installation process.
Step 1: Decide Where to Install the Kicker Motor
First thing, you need to choose an appropriate side to mount the kicker motor.
It's a matter of personal preference. If you are right-handed, mounting the kicker motor on the starboard allows you to steer the kicker with your right hand.
Also, consider the boat balance and weight distribution of the boat, and choose a mounting position so the kicker motor will not interfere with the operation or swing of the main engine.
Step 2: Installing Kicker Motor
When it comes to kicker motor installation, you have two options:
If you are looking for simplicity, you can just mount the kicker motor directly on the transom by clamping the motor on or bolting it with screws.
Here is a video tutorial that shows you how to install the 9.9 HP Mercury kicker motor without a bracket.
Otherwise, you can use a kicker motor mount bracket if there is no room on the transom or if you want to raise the kicker motor up or lower the motor down to accommodate different shaft lengths and water conditions.
Click here to see the step-by-step tutorial on rigging a kicker outboard motor and bracket.
Note: If you plan to use the bracket, make sure the position allows for the through-bolting of the kicker motor bracket.
Step 3: Set up the Throttle and Steering System
Again, you have two kicker motor steering options:
Option 1: Tiller Steering
Usually, the small kicker motor features a built-in tiller handle that allows you to control the kicker outboard motor manually. Actually, this is the easiest way for kicker motor steering.
Option 2: Remote Steering
Kicker motor remote steering is also possible with the use of a dedicated kicker motor steering kit.
A kicker motor steering linkage is included to link your auxiliary kicker motor to your main outboard. That way, you can troll using your regular steering wheel for control.
Click here to see the typical Tohatsu kicker motor setup with remote steering.
FAQs About Kicker Outboard Motors
Here is a list of some frequently asked questions regarding kicker outboard motors (with answers) for your quick reference. If you still have any other confusion, feel free to leave yours in the comment and I will get back to you asap.
#1. Should the kicker motor be on port or starboard?
It doesn't really matter which side you mount the kicker motor. However, it's suggested to check your static waterline. If you have any list, the kicker motor can help compensate for it with the extra weight.
#2. How fast does a 9.9 HP kicker motor go?
It depends on a lot of factors, including boat type, load, weather, etc. A typical 9.9 HP electric kicker outboard motor can go 15 mph (24.3 kph) on a 12-foot aluminum boat with one person onboard.
Click to see more test reports of the 9.9 HP kicker motor on various boat models.
#3. What size kicker motor for a 17/16/20 foot boat?
The proper kicker motor size for your boat depends on your boat types and requirements for speed and runtime.
For example, the 3 HP kicker motor Spirit 1.0 is enough to push a 20′ sailboat (RS 21) at 5.5 mph top speed, the 6 HP kicker motor Navy 3.0 Evo can push a 17′ sailboat (Silveryacht 525) at 6 mph top speed, and the 9.9 HP kicker motor Navy 6.0 Evo pushes the 16′ aluminum fishing boat (Bass Tracker 16) at 8.3 mph top speed.
*Click the link to see the details of our real-world test reports on the different kicker motors.