Today, owning a completely green sailboat has been made possible with electric sailboat motors.
Imagine cruising with the silence of an electric sailboat motor and the ease of use with a simple press on the start button. What's better is there are no exhaust fumes at all with significantly less maintenance.
It's so appealing that a lot of sailing liveaboards have made their electric sailboat motor conversion.
However, some sailors are still on the fence, worrying about the range and price of the electric sailboat motor.
If you are one of them, you are in the right place!
This post will guide you through every aspect you need to know about electric sailboat motors to help you make an informed decision.
Besides, you will get professional insights on how to make the electric sailboat motor conversion for your own boat and learn the best electric sailboat motors (with honest reviews).
Table of contents:
Electric Sailboat Motor: Confusion Explained
Can you go cruising with an electric sailboat motor? Can you put an electric motor on a sailboat? Are there any limitations?
Whether electric sailboat motors are a good fit for your boat is not a YES or NO question. Here we will explain your top worries with statistics and facts. That way, you can make a wise decision according to your situation.
#1. Range
You may hear some complaints about the batteries and range of the electric propulsion.
However, their experience may not suit electric sailboat motors.
In fact, even small electric engines work pretty well in many sailboats. That's because most of the time, the wind can power the boat, and the motor is just used for docking or in rare times when there is no wind.
Therefore, it makes more sense to learn electric sailboat motor performance in real-world applications.
Here is a test report of a 3 HP electric sailboat motor on an RS21 racing sailboat:
| | | | |
| --- | --- | --- | --- |
| Power (W) | Speed (mph / kph) | Runtime (hh:mm) | Range (mile / km) |
| 50 | 2.2 / 3.5 | 20:00 | 43.5 / 70 |
| 150 | 3 / 4.8 | 6:50 | 19.3 / 31 |
| 300 | 4 / 6.4 | 3:20 | 12.4 / 20 |
| 500 | 4.2 / 6.8 | 2:00 | 8.5 / 13.6 |
| 700 | 4.8 / 7.7 | 1:30 | 6 / 9.7 |
| 900 | 5 / 8 | 1:05 | 5.6 / 9 |
| 1000 | 5.5 / 8.8 | 1:00 | 5.5 / 8.8 |
*Click to check out the full test report.
As you can see, the small electric sailboat motor can run at 5.5 mph top speed for one hour continuously.
And there is a big difference in terms of range vs speed for electric sailboat motors:
If you lower the speed, the range and runtime can be greatly extended. The slower you go, the further you'll get. For example, if you cut your speed in half, the electric sailboat motor can last 7 hours and go 20 miles within one charge.
That's pretty sufficient if you use the electric yacht motor mostly for docking or as an auxiliary engine.
Faster top speed (and more range) is available with higher power electric sailboat motors depending on your specific requirements. Contact a specialist to design your electric sailboat motor solutions.
Also, don't forget to get the electric sailboat motor with regeneration (See recommendations below).
That's to say, when there is a lot of wind and you're moving rapidly via your sails, they regenerate and store electric power on the batteries to keep you moving at other times. Solar recharging is also a plus.
Essentially, the range depends on how many batteries you have, so it's not a limitation of electric sailboat motors but energy and batteries.
If you are still worried, you can offset this by getting a diesel generator, which is more efficient than a diesel engine. And it is a range extender when you need it, but for 90% of your motoring that you don't need the range, you can rely on the electric sailboat motor.
#2. Weight
Some of you might be concerned about the extra weight of the batteries.
In fact, an electric sailboat motor with lithium batteries weighs less than a diesel engine, particularly if you include the fuel weight.
If you want a lightweight electric sailboat motor solution, make sure you get one with LiFePO4 batteries. Compared with other marine batteries, they are more compact in design with much less weight and higher energy density.
Some more advanced electric motors for small sailboats (such as Spirit 1.0 Evo) feature an integrated lightweight battery. So you don't need to worry about the complex wiring to hook it up or extra space to store the battery.
This is a huge plus if you want to use the electric sailboat motor on a tender or dinghy.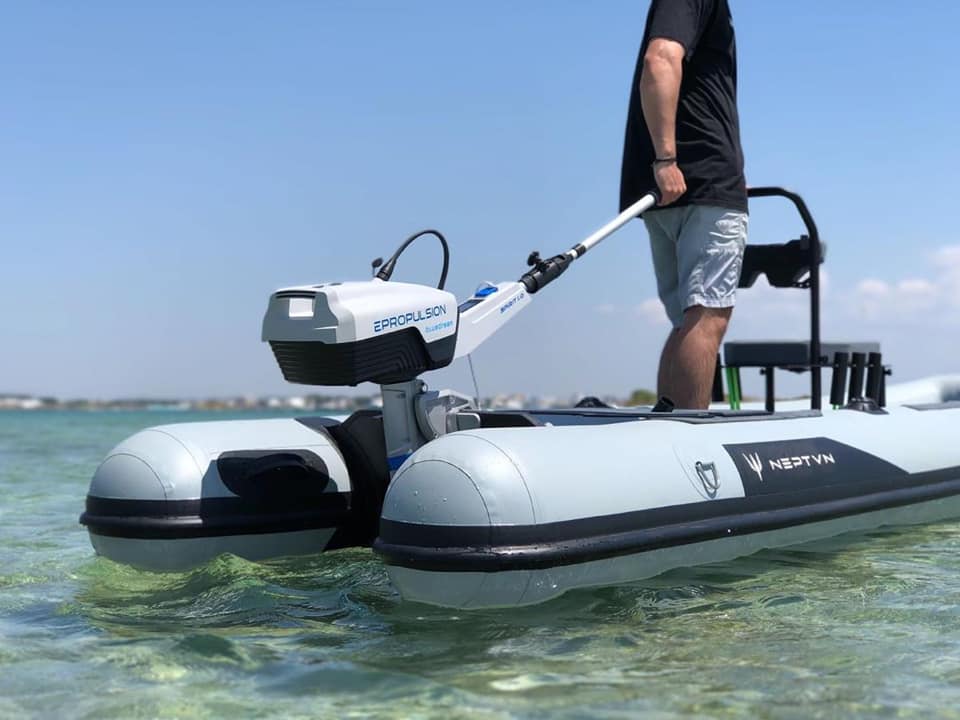 Here is also a chart that collects the weight of some popular electric sailboat motors for your reference:
| | | | | |
| --- | --- | --- | --- | --- |
| Model | HP | Motor Weight | Battery Weight | Note |
| Spirit 1.0 Evo | 3 HP | 11.3 kg / 24.9 lbs | 8.7 kg / 19.2 lbs | 1276 Wh Integrated Battery |
| Navy 3.0 Evo | 6 HP | 24.3 kg / 53.6 lbs | 48 kg / 105.8 lbs | 4096 Wh E80 Battery |
| Navy 6.0 Evo | 9.9 HP | 36 kg / 79.4 lbs | 87 kg / 191.8 lbs | 8960 Wh E175 Battery |
#3. Cost
For many people, another big problem with electric sailboat motors is the cost.
It's true that a gasoline outboard with similar power is a lot cheaper to buy. However, the electric sailboat motor eventually wins in long-term operating cost. That's especially the case if you are going to do a lot of motoring.
Electric sailboat motors save on fuel and maintenance costs, which can build up to a large amount over time.
Here is a chart that compares the cost of a 3HP electric sailboat motor (coming with a built-in battery) with its combustion counterpart: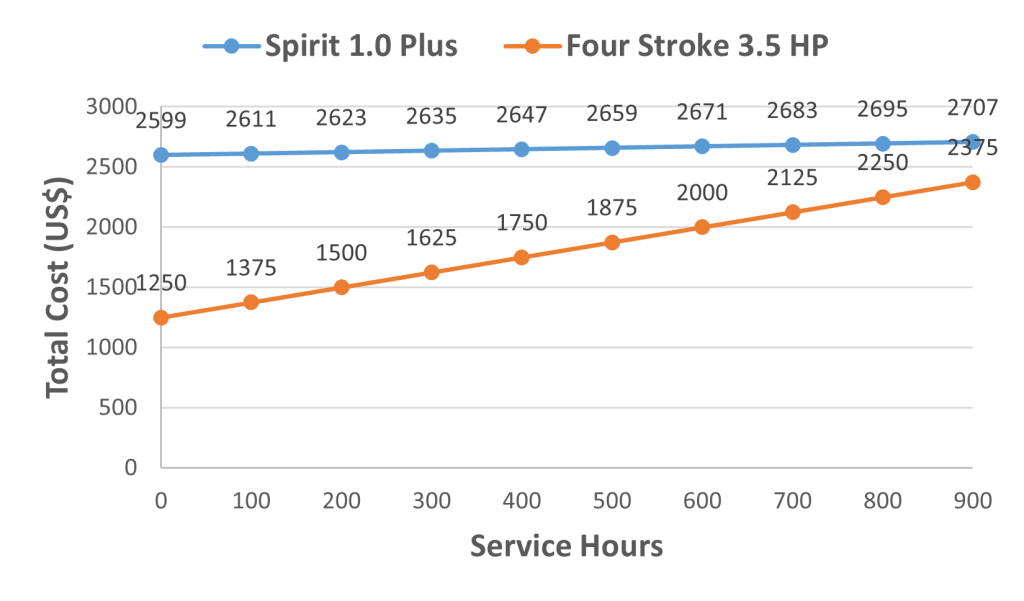 That's to say, you will cover the price difference for electric yacht motors eventually as long as you use it long enough. Click to check the details of the calculation.
What makes the electric sailboat motor even more worthwhile is it saves you a lot of hassles, especially for sailors who only use the engine in and out of the harbor. Dealing with the maintenance of the gas outboard for a 10 minute motor out of and into the harbor is disproportionate and painful.
*The higher horsepower electric sailboat motor may be different in terms of the cost calculation. Check out the outboard motor pricelist by HP for more information.
Electric Sailboat Motor or Combustion Motor
As you may have already noticed, electric propulsion has already been widely used in the marine industry:
It's quiet while motoring, clean to handle, environmentally friendly, with less maintenance and operation costs.
The electric sailboat motors are easier to use with dramatically fewer moving parts to break and no worries about being a diesel mechanic to deal with the hard pulling start. You can have it always on, so it is ready whenever you need it.
And it makes even more sense in sailing applications:
You don't really need to motor much if your plan is to actually sail. If you are completely becalmed, you will probably just need to motor at 2 knots to keep making way, which is easy for electric sailboat motors.
If you mostly use the motor to get into and out of the harbor, the electric sailboat motor also works great for you.
You can always charge up at the dock, motor out of the marina (or even motor to your sailing area or race start), then hoist the sails and when you're through, the batteries are charged again.
The electric sailboat motor is also useful as a backup (kicker) motor in case your system goes down. That's why you can see people pushing a lot of big boats with small electric motors. (Click to learn more information about kicker motors.)
Personally, it's really nice to have an electric auxiliary in the boat – no smelly, messy diesel and motor oil to deal with, a much simpler system with less maintenance, and much, much quieter operation.
However, powerboats tend to have much higher requirements in terms of both power output and runtime. In that case, an electric sailboat motor can be hard to satisfy your needs.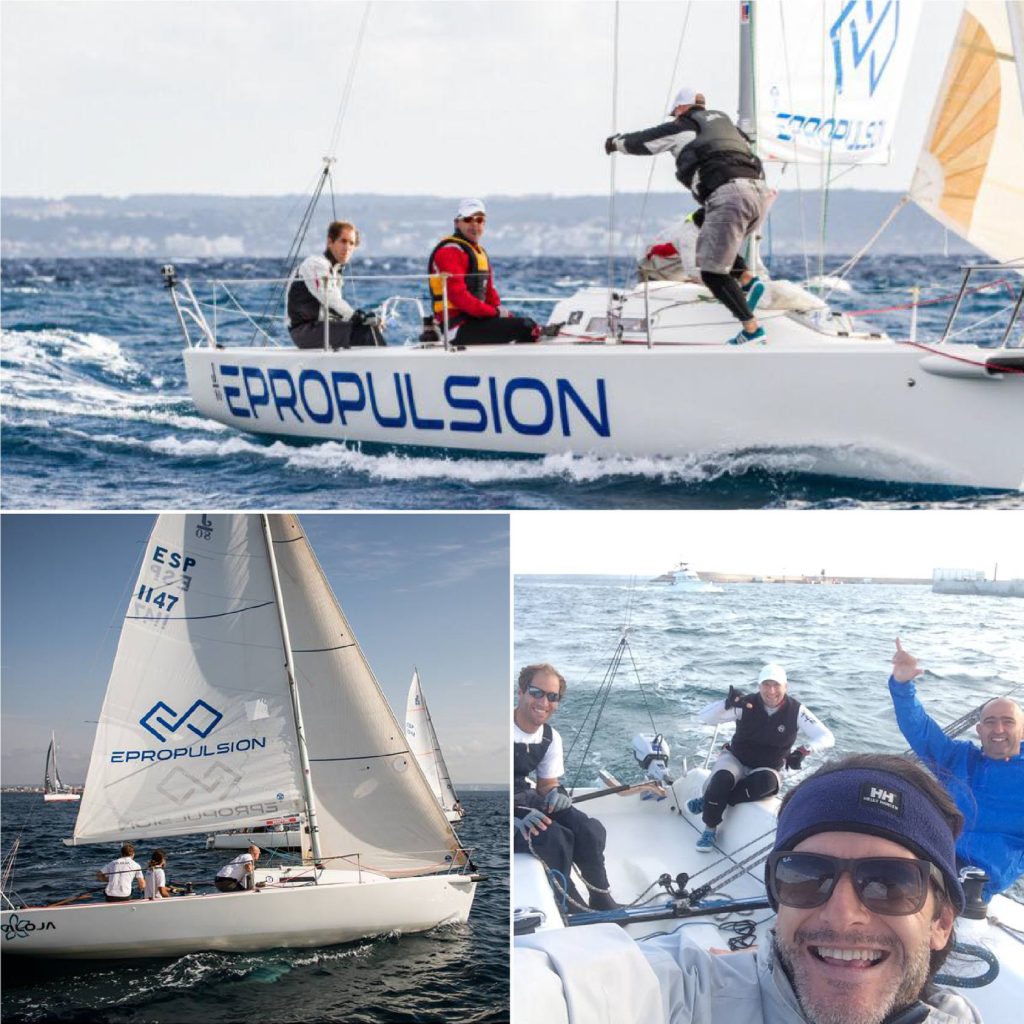 How Do You Size an Electric Motor for a Sailboat?
As a rule of thumb, you will need approximately 1 HP per 550 lb of the displacement of your boat.
Generally speaking, a 3 HP electric sailboat motor can push a sailboat up to 25 ft and a 9.9 HP motor is sufficient for a 30 ft sailboat to motor at a satisfying speed.
However, bear in mind the horsepower you need always depends on your needs and applications.
It's better to check the data from real-world tests to decide whether the electric sailboat motor is suitable for your specific needs.
For example, the 9.9 HP electric sailboat motor Navy 6.0 allows you to go at 6.9 mph (11.1 kph) on a 30 ft sailboat, and the range can be extended to 46.4 miles if you decrease your speed to 2.9 mph (4.6 kph).

Click to see more test reports with other electric motor and sailboat combinations, and find the electric sailboat motor that suits you best.
If you are still not sure about the size of the electric sailboat motor for you, feel free to leave us a comment and we will get back to you ASAP with professional suggestions.
Electric Sailboat Motor Conversion
Basically, there are two ways for you to convert your sailboat to a clean and quiet electric drive system:
You can either convert your current vessel to electric or buy an engineless yacht and install an electric sailboat motor on your own.
#1. Repower Your Sailboat with Electric Motor
If you decide to replace the diesel engine with an electric motor, you will need to do a lot of preparations:
The DIY approach requires an electric sailboat motor kit (including motor and controller), batteries, a good level of mechanical ability and basic electrical knowledge, as well as some common tools such as a voltmeter.
You will need to take the old engine out for the new electric sailboat motor installation. It's not an easy task that involves removing the engine mounts and the drive shaft (dealing with the numerous hoses and cables), taking out the engine, exhaust system, fuel tank, and its attendant tubes, etc.
Remember to balance the boat to avoid listing during the electric sailboat motor conversion.
Then in with the new electric sailboat motor. The installation process can be straightforward if you choose the electric sailboat motor kit wisely (See steps below). Furthermore, you can set up solar charging for your electric sailboat motor with solar panels and charger.
Many sailors have recorded their electric sailboat motor conversion process and experience. Be sure to check them out to get some inspiration. For example, Ed Phillips has documented everything which can serve as a guide for newbies to get started.
Mind you there can be a whole heap that can go wrong in designing and maintaining the electric sailboat motor systems. You really need to be totally on top of it if you want decent performance or reliability.
If you are not that technically inclined, it's better to talk to a specialist first to discuss your plan for a smooth electric sailboat motor conversion.
#2. Install an Electric Motor in a Sailboat
If you own an enginless sailboat, the electric sailboat motor conversion is much easier for you.
All you need to do is to find a reliable electric sailboat motor and install it in simple steps. The whole process can be easily done, even for beginners. Here we take the popular 6 HP electric sailboat motor Navy 3.0 as an example to show you the installation process:
Step 1: Rotate the clamps or use the screws to fix the outboard onto the sailboat.
Step 2: Mount the steering system in the proper position.
Step 3: Install the tiller on the electric sailboat motor.
Step 4: Connect the batteries to the electric sailboat motor system.
Click to check the video tutorial that guides you through each step of the installation.
If you are worried about aesthetic issues and want higher horsepower options, an electric inboard motor can be a better suit for your sailboat. If you prefer an inboard motor for your sailboat, contact our OEM team to get an electric propulsion solution tailored to your needs.
Note: You might find some electric trolling motors rated by #s of thrust on the market. Actually, those electric trolling motors for sailboats can only provide limited speed and range. If you are heading into the wind, the trolling motors for sailboats are definitely not an ideal solution.
Best Electric Sailboat Motors (with Reviews)
Once you've evaluated if electric sailboat motors are right for you, there are a lot of options for electric systems.
Here are some popular electric sailboat motors with positive reviews from customers worldwide. Fast charger is available for all the models recommended to reduce your charging stress.
If you are looking for an electric motor for a small sailboat, be sure to check out the ePropulsion Spirit 1.0 Evo. It's suitable for large daysailers or small cruising sailboats under 25 ft.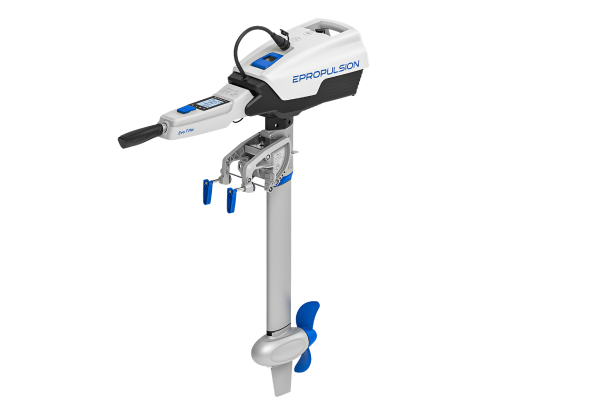 With the Spirit 1.0 Evo electric sailboat motor, you can go 5.5 mph (8.8 kph) at top speed on the 21 ft RS21 sailing boat, or troll for 20 hours continuously at 2.2 mph (3.5 kph) according to our test.
This electric sailboat motor with regeneration allows you to recover energy from the prop while under sail. It will start to generate power automatically when the sailing speed reaches 2 knots.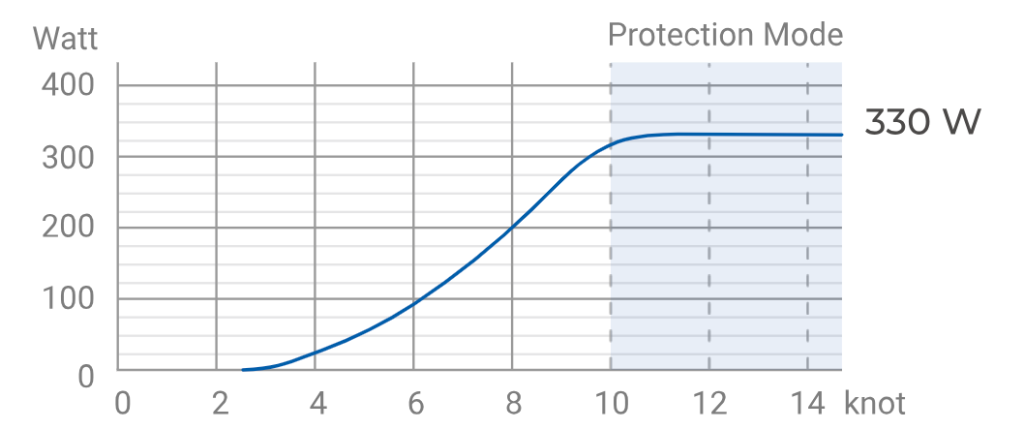 As an electric auxiliary sailboat motor, it can also be easily installed on your tender boats or yacht dinghies since it's portable and easy to transport (with a lightweight integrated battery).
Features You Will Love:
Come with the industry-first hydrogeneration capability
Direct-drive technology makes it maintenance-free
Portable with a 1276Wh large integrated lithium battery for long range
Safety wristband keeps you safe in case of MOB
Digital operation keeps you informed of the battery status
Spirit 1.0 Evo Electric Sailboat Motor Reviews:
"Great weekend with my 17′ sailboat powered by the Spirit Evo. This is great. Quiet and reliable. Went at 3/4 throttle for about 1.5hrs when taking it back to boat ramp." – Robert Taylor
"Very happy with our Spirit Plus. Pushing our Kolibri 560 a 750 Kg sailboat, with ease. Doing about 5.8 km/h at 500W."– Frank van Asten
If you want a little more juice on the electric sailboat motor, check out the ePropulsion Navy Series. It offers 6 HP and 9.9 HP models for your selection and it provides sufficient power for sailboats up to 30 ft.
According to our test, the 6 HP electric motor Navy 3.0 can push the Catalina 25 sailboat (25 ft) at 6 mph (9.6 kph) top speed, while the Olga 33 sailboat (33 ft) can go at 7.5 mph (12 kph) with the 9.9 HP Navy 6.0 motor.
The Navy series electric sailboat motor also comes with regeneration features which can be recharged with hydrogeneration, wind turbine, and solar panel.
Features You Will Love:
Four controls to fit your sailboat installation and your boating style
Accompany LiFePO4 batteries (need separate purchase) are more energy efficient
Digital display offers real-time monitoring of the power and battery
Magnetic kill switch and safety wristband keep you safe on the boat
Electric start saves you trouble pulling the cord to start
Navy Series Electric Sailboat Motor Reviews:
"I have a Navy 3.0 with E80 on a Catalina 25 sailboat. It is working well. Currently I am using about 4% battery to go in/out of the marina by boat." – Aaron Young
"Just finished my 8 weeks sailing journey in the Baltic Sea. The two Navy 3 outboards provide enough power for my 33ft catamaran. The 400W solar panels provided enough energy for engines and all other energy consumed on board with 2-6 persons. The two Navy Batteries provide power for engines and all other on-board electric devices. I never had to use shore power, so totally self-sufficient electric system." – Martin Hildebrand