Small outboard motors are perfect propulsion solutions for small boats, including dinghies, tenders, canoes, kayaks, skiffs, and Jon boats.
However, mind that small outboard motors are not trolling motors that only provide limited power and range (Check our previous post comparing outboard motors vs trolling motors).
A reliable small outboard motor should be lightweight and quiet, yet powerful enough to get you from point A to point B effortlessly, even when dealing with tides or swift rivers.
Having searched around and found yourself overwhelmed by nearly endless options of small boat motors with mixed reviews? Making it even 'worse', now you have affordable options of small electric outboards.
No worries. In this post, we will have a detailed comparison between portable electric boat motors, small gas outboards, and other options available (such as trolling motors), with the best recommendations to help you make a quick decision.
Table of content: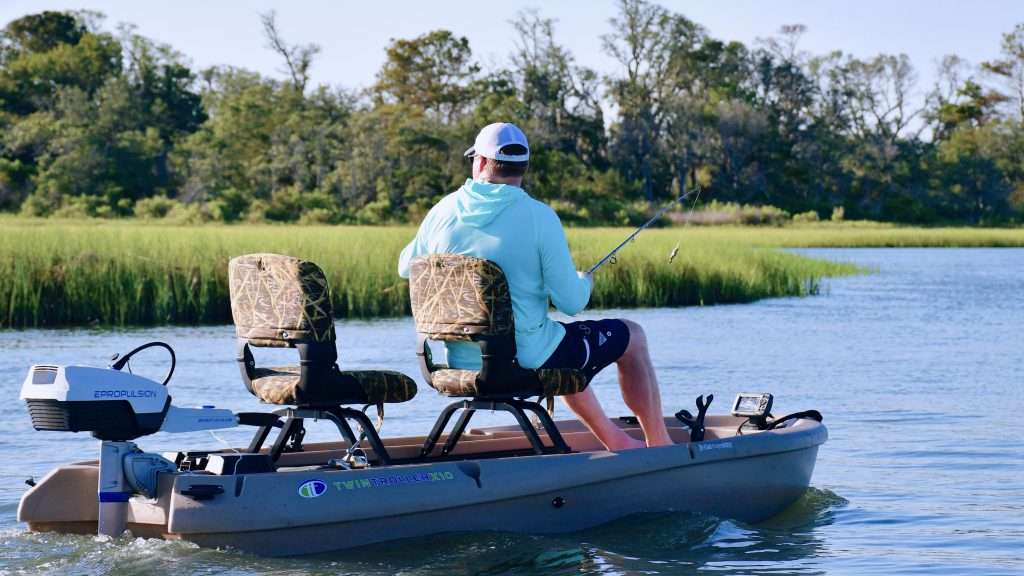 Small Outboard Motor: Electric vs. Gasoline
Here we list the top 5 reasons and occasions you should consider an electric outboard vs. a gas small boat engine.
#1. Quiet
'I'm searching for the quietest small outboard possible.' A quiet ride is one of the benefits of small outboard motors compared with those big engines.
If you want to cruise silently up and down the river, the best solution is to go electric. The electric small outboards are surprisingly quiet because they don't rely on the internal combustion which causes loud noise and vibiration.
Thanks to the industry leading direct drive technology and FOC (Field-Oriented Control) built into the small outboard motors, ePropulsion outboards further reduce the number of internal moving parts and eliminates the gearbox, making the quietness a next level. You will simply hear no noise but the sound of nature.
Here is a video comparison between small gas boat motors and their electric counterparts:
Key takeaway: If quietness is your top priority, small electric outboards will be your best choice. You will feel the difference immediately once you switch over to electric motors.
#2. Lightweight
Portability is another crucial factor for users to choose small boat engines. Usually, the small portable outboards can be hand-lifted easily, making them easy to transport, attach and remove from your boat. The weight for gas and electric small outboards is neck and neck, generally ranging from 9 kg – 10 kg for a 3 HP outboard motor.
However, don't forget to include the weight of gasoline required (for small gas outboard motors) and the battery pack (for electric motors). The electric small boat motors usually come with built-in batteries for easy installation and transportation, making it a more portable solution.
#3. Power & Range
The power is a big drawback for some lightest (or cheap) small outboard motors. With those smallest boat motors, such as trolling motors rated by thrust, users might have difficulty moving forward when caught in the gale or tide, even at its max speed.
If you need more power to help you feel safer on water, you need to consider some higher-powered small outboards, and 2.5 or 3 hp small outboards can be a good starting point to deal with the possible elements on water.
For example, the 3 HP small outboard ePropulsion Spirit 1.0 Plus gives you 4.5 mph speed, 5 hours runtime and 22 miles range with a single charge of its 1276 Wh battery (tested on a 12-foot aluminum boat with one person on board in calm water).
#4. Easy to Use & Maintain
Forget about the ignition and pulling the cord every time to start the small gasoline outboard motor. With electric boat motors, you only need to press one button and you are ready to go. It's simple to use for all your family members.
Electric outboard motors are made for a premium experience. It's easy to operate with the built-in tiller handle, and you will stay informed of the real-time battery status with its convenient digital display. So no worries about getting stuck in the middle of a lake.
Some small boat motors featuring direct drive technology are maintenance-free, saving you a lot of trouble and money in the motor service.
#5. Price
The price might be a big reason that puts off your decision on buying a electric small outboard motor. Some of you might be looking for small boat motors for sale or cheap small boat motors resellers on the market.
It's true that the initial investment is higher than the petrol counterpart, but you will be compensated by the savings on petrol cost, maintenance fees, and the superium experience it provides. You will be surprised that you will start to save within a few years of use (about 150 hours of service time), according to our calculation.
If you want to save some budget on the small outboard motors, you can pay attention to online and offline activities to get some hot deals and save money. For example, you can get a discounted ePropulsion small outboard motor by becoming our pro staff.
Best Small Boat Motors: Top 2 Options
As we have discussed above, electric small outboard motors can be your ideal solution for small vessels in terms of the motor weight, power, range, and cost in the long run.
So what's the best option for a reliable small outboard? Does anyone have a brand they suggest?
Check out the top two electric small outboard motors models recommended by industry professional reviewers and customers from over 40 countries.
As one of the most popular selling models, Spirit 1.0 Plus has everything you may expect from a small outboard motor, plus extended battery life and long range.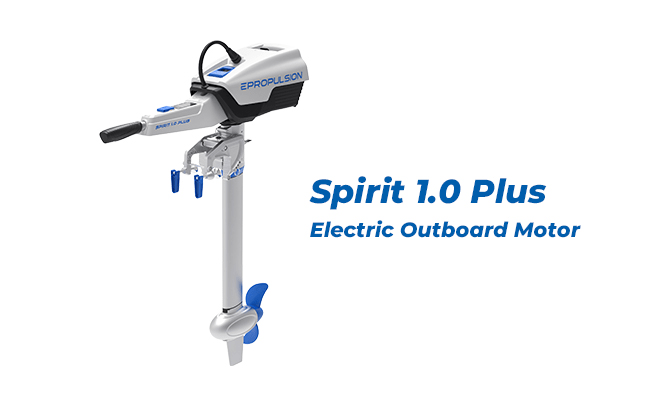 Designed for dinghies, fishing boats, and sailboats, Spirit 1.0 Plus is suitable for various applications, providing you with enough power to go fishing all day long at trolling speed.
Performance:
| | | | |
| --- | --- | --- | --- |
| Power (W) | Speed (mph/kph) | Runtime (hh:mm) | Range (mile/km) |
| 35 | 2.2 / 3.5 | 36:25 | 80 / 129 |
| 65 | 2.7 / 4.3 | 19:35 | 53 / 85.3 |
| 125 | 3.5 / 5.6 | 10:00 | 35 / 56 |
| 250 | 4.4 / 7.1 | 5:00 | 22 / 35.5 |
| 500 | 5.3 / 8.5 | 2:30 | 13.3 / 21.3 |
| 750 | 5.7 / 9.2 | 1:40 | 9.5 / 15.3 |
| 1000 | 6.2 / 10 | 1:15 | 7.8 / 12.5 |
* The performance data is based on a 12-foot aluminum boat with one person and one Spirit battery Plus in calm lake water.

Features you will love:
Quiet, no noise to disturb your journey
Clean power, environmentally friendly
Portable, easy to install and transport
Easy to use, all family members can enjoy the fun
Digital display, real-time access to battery status
Integrated floating battery
Solar charging supported
Free of maintenance, saving cost and trouble
Customer Reviews:
'Tried our spirit 1.0 plus for the first time today on our old tender dinghy and the difference between that and the old gas motor is amazing. Not just noise and smell. But performance too.'
The above comment is quoted from Miles Buckhurst's sharing on ePropulsion Owners Group. Here is also a video that compares ePropulsion small outboard motors with other alternatives (trolling motors and more). Check it out for details:
In addition, ePropulsion offers three years warranty upon product registration. So you are covered if anything happens to your ePropulsion small outboard motor.
Spirit 1.0 Evo has inherited all the benefits from the Plus model and innovatively been integrated with the extra hydro generation function.
It allows the battery to be charged while sailing. If you are looking for a small outboard motor for your sailboat, Spirit 1.0 Evo would be a better fit.
For the hydro generation charging capacity and more genuine comments, you may check out the below review video from The Sailing Frenchman:
If you still need more battery capacity for a longer trip, you can check out ePropulsion E-Series batteries that provide extended runtime at an affordable price.
Conclusion
Small outboard motors bring a lot of convenience and premium experience to your boating activities. Whether you plan to use it for roaming around the small shallow river near your place, or want to go long ways and come back to the start points upriver and against the current, you would be happy and safe with a reliable small outboard motor.